Observations: Notre Dame Goes Stagnant In Loss To No. 20 Virginia Tech
A two-game win streak ended, and a separate skid continued.
Notre Dame, fresh off consecutive wins for the first time this season, lost to No. 20 Virginia Tech 62-51 Wednesday night. It was the Irish's 28th straight loss to a ranked opponent and dropped their record to 5-9, with a 2-6 mark in the ACC. They scored the game's first basket, never led afterward and finished with a season-low point total.
Here are some observations from the game.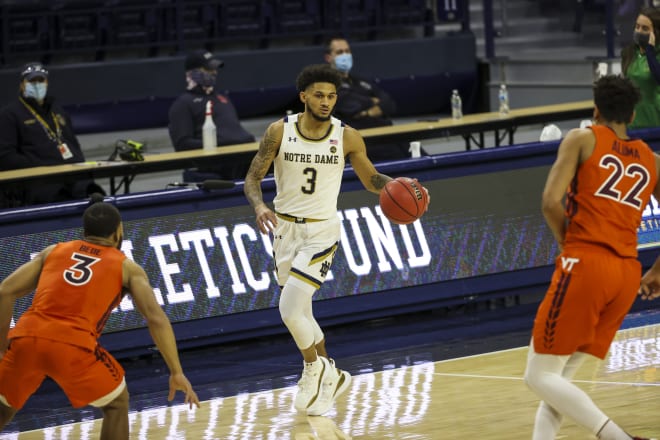 • An athletic, pressuring defense was a problem for Notre Dame again. Virginia Tech was in the face of everyone who caught a pass on the perimeter, living in passing lanes and effective in switching ball screens. It stagnated the Irish offense into an off-the-dribble operation with little movement or ability to swing the ball. It was nearly identical to the second half of a Jan. 10 road loss to the Hokies.
• Notre Dame's only offense in the first half was guard Prentiss Hubb shooting off the dribble or attacking switches when a big man was on him. He scored 17 of the 22 first-half points and assisted on two more. Forward Nate Laszewski – whose foul-drawing ability was Notre Dame's sole point source last time out against Virginia Tech – took one shot in the first half. Notre Dame couldn't get him the ball despite several matchups with smaller guards.
• Hubb ended with 22 points on 8-of-20 shooting, with three assists and four turnovers. Laszewski had 10 rebounds, but finished with only seven points on 3-of-4 shooting. None of his attempts were from deep. As a whole, Notre Dame took only 18 three-pointers, with Hubb supplying eight. The lack of ball reversal and movement didn't open up many clean looks from deep.

• The final team tallies in important categories: 35.7 percent shooting, eight assists on 20 field goals, 12 turnovers.
• The Irish had nine turnovers, eight field goals and two assists in the first half. Laszewski's only basket of the opening 20 minutes was a dunk on a roll to the basket when Virginia Tech missed a defensive assignment. He and Hubb combined for seven of the nine turnovers in the half.
• There's not much of an interior scoring presence for Notre Dame opponents to fear or think about double-teaming. Laszewski's added strength has helped him improve as an all-around scorer, but Virginia Tech took him away with switches and single coverage. Forward Juwan Durham had three points on 1-of-4 shooting, again handled with one-on-ones. With no need to send help down low, defenses can stretch out and get in the face of Notre Dame's guards.

• All told, Notre Dame's defense was fine. The Irish kept Virginia Tech from doing excessive damage out of ball screens by "icing" them when they on the sides of the court, forcing the ball handler to reject the screen. They had four steals, seven blocks and played a mix of man and zone defense. Virginia Tech averaged 0.90 points per possession, the third straight Notre Dame opponent to be held under 1.0. The Hokies shot 40.3 percent from the floor.
• One problem area on defense was Hokies sharpshooter Hunter Cattoor, who made two three-pointers on sets out of timeouts. Notre Dame lost him in on a couple other occasions. He ended with 13 points on 4-of-9 shooting. All the makes were threes.
• Elsewhere, Durham committed three first half fouls (one was a charge) and didn't start the second half because of it. When he came in, Virginia Tech went right at him in the paint with and scored easily. Brey eventually put in freshman Matt Zona, and Durham didn't play the final 14 minutes. Hokies forwards Keve Aluma and Justyn Mutts were a combined 12 of 24 from the floor for 28 points and 23 rebounds. Each posted a double-double.