Notre Dame-Texas A&M Sweet 16 Preview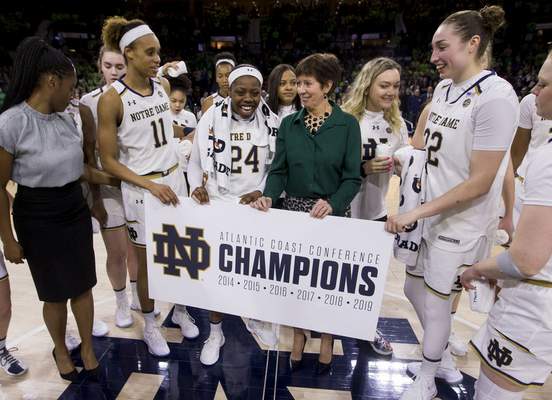 It's Notre Dame-Texas A&M III in the NCAA Tournament on Saturday afternoon in the Chicago Regional.

In 2011, the Aggies defeated Notre Dame 76-70 to capture their lone national title, and last year in the Sweet 16 it was the Fighting Irish who held on to defeat Texas A&M by six, 90-84, en route to their second national championship.
Notre Dame (32-3) and the Aggies (26-7) meet again 4 p.m. ET (ESPN2) inside Wintrust Arena, where the Irish defeated DePaul 101-77 on Nov. 17. The winner will advance to Monday's Elite Eight to face the winner of No. 2 seed Stanford and No. 11 seed Missouri State at 9 p.m.
In last year's Sweet 16 matchup versus Texas A&M, the Irish fell behind 37-24 but pulled within 47-45 at halftime. Sparking the Irish was Marina Mabrey (25 points, nine assists), who converted 7 of 11 from three-point range, with her final make beyond the arc putting the Irish up for good, 54-51, early in the third quarter.
The Aggies pulled to within 68-67 early in the fourth quarter, but a Mabrey to Arike Ogunbowale (27 points, five assists) feed for a lay-in began an 11-3 Irish run that helped put the game away.
Notre Dame remains an ultra-veteran team with four seniors (including graduate student Brianna Turner) and a junior in the starting lineup, while Texas A&M features four sophomores and a junior.
Sophomore guard Chennedy Carter is sixth in the nation in scoring with a 22.9 average, and as a freshman last year against Notre Dame she tallied 31 points and seven assists. However, Texas A&M is missing three vital pieces from last March.
First, Anriel Howard, who had 26 points and 14 rebounds (eight on offense) against the Irish, transferred to Mississippi State — the SEC champ that defeated A&M 92-64 — this summer. Second, Danni Williams, who averaged nearly 15 points per game, used her graduate transfer year at Texas.
Third, sophomore guard Aaliyah Wilson, who had been averaging 13.8 points and 4.1 rebounds per game, suffered a torn ACL on Dec. 14 that sidelined her for the season.
Notre Dame head coach Muffet McGraw praised the Aggies on how they have "overachieved" with such a young lineup that also includes sophomore guard Kayla Wells (15.0 points per game), sophomore forwards Ciera Johnson at 6-4 (12.1 points and 8.2 rebounds) and 6-2 N'dea Jones (7.7 points, 11.4 rebounds), and junior point guard Shambria Washington, whose three-pointer with 23 seconds left helped defeat Marquette 78-76 in the second round.
"I'm tired of people second-guessing this team," said Texas A&M's 73-year-old coach Gary Blair. "I'm tired of people trying to figure out when I'm going to retire. If what I do and my staff does it as well as they do, why not let us keep coaching?"
10 Consecutive years Notre Dame has advanced to the Sweet 16. The Irish join UConn, Stanford and Baylor as the four to have done it each year since 2010.
9 Active Division I players who have scored at least 2,000 points and grabbed 1,000 rebounds in their career — with Notre Dame junior Jessica Shepard among them. Teammate Turner could become the 10th. She has 1,010 career rebounds (most ever at Notre Dame) and 1,964 points.
8 Games in the last 12 that Shepard has posted a double-double in points and rebounds. Last year Shepard recorded six double-doubles over the last eight games.
7 Over the last seven games the junior Young has dished out 52 assists compared to 15 turnovers and has become the glue of the team with her versatility. Meanwhile, over the last eight contests, Mabrey's numbers are similar with 52 assists and only 12 turnovers.
6 National title games reached by the Irish. The only other schools to achieve as many since the start of the tournament format in 1982 are Connecticut, Louisiana Tech and Tennessee.
5 The starting quintet of Ogunbowale, Young, Mabrey, Shepard and Turner are the most prolific scoring group in NCAA Division I history. Those five have amassed 9,905 points.
The 2017-18 Ohio State squad is in second place with 8,492 points. The highest total on the men's side was the 2008-09 North Carolina national championship team with 8,216 points.
4 Double-doubles over the last six games by Young. She has achieved 11 double-doubles this season, which continues to break the single season program record by a guard. In addition, her 16 career double-doubles sits one back from Lindsay Schrader (17), who holds the Irish record by a guard.
3 Career record holders at Notre Dame in major categories: Ogunbowale in scoring (2,517 points), Turner in rebounds (1,010) and Mabrey in three-pointers converted (265).
2 Notre Dame's .518 field-goal percentage is the second best in the country. That number also tops the 2013-14 squad's .506 figure, but ranks second to the 1987-88 unit that was at .532.
1 Notre Dame's scoring offense of 89.2 points per game is the best in the country and currently a school record. The 2013-14 Irish squad led by Kayla McBride and Natalie Achonwa, which did not lose until the NCAA Championship versus UConn, finished at 86.1.
Prediction: Notre Dame 91, Texas A&M 75