Notre Dame-Syracuse: Another Shootout In The Making?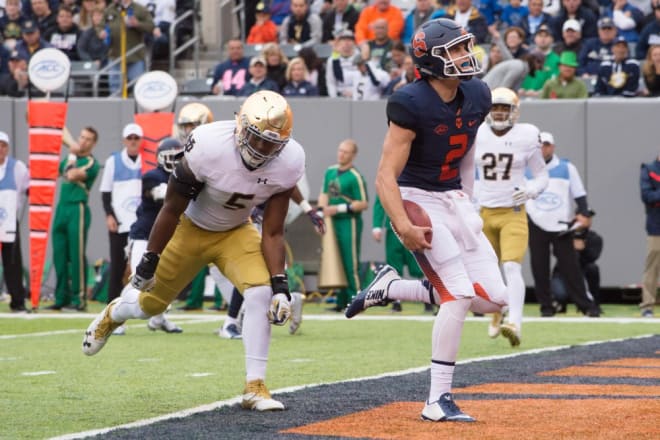 The last time Notre Dame and Syracuse met on the gridiron was on Oct. 1, 2016. The 1-3 Fighting Irish, who six days earlier fired defensive coordinator Brian VanGorder, won a 50-33 shootout against the Orange at MetLife Stadium in New Jersey.

Notre Dame rolled up 654 total yards, with quarterback DeShone Kizer completing 23 of 35 passes for 471 yards with three touchdowns. Syracuse amassed 489 total yards, with then-sophomore quarterback Eric Dungey completing 31 of 51 throws for 363 yards while adding 49 yards and three touchdowns on the ground.
The combined 1,143 yards produced in that game unofficially might be the most in a contest involving the Irish. Also, thanks to a kickoff return for a touchdown by C.J. Sanders, the score already was 23-13 with 10:06 left — in the first quarter.
Dungey is back for Syracuse and leads one of the nation's most prolific and up-tempo offenses again during a surprising 8-2 start in which the Orange ranked:
• No. 7 nationally in scoring offense with a 44.4 average. In eight of those 10 games, the Orange tallied at least 40 points. The two they didn't were a 30-7 trouncing of Florida State and a 27-23 loss at No. 2 Clemson — which it had upset a year earlier.
"A lot of similar players from '16 — they're just better," Notre Dame head coach Brian Kelly said during his Tuesday press conference. "They're better on the offensive line, they're better on the defensive line.
"The quarterback, obviously, is a veteran player that has seen it all, and a lot of the credit goes to Dino Babers for building the program up to where it is, and they deserve to be where they are."
The only other offenses Notre Dame has faced this year that rank among the top 50 in scoring are Michigan at 20th (37.2) and Wake Forest at 44th (31.8).
• No. 14 in total offense at 482.2 yards per game. The beauty of it is the balance displayed with 266.1 passing yards per game (36th in the country) and 216.1 rushing yards per game (27th).
Contrast that to two years ago and that Notre Dame game in Babers' first season when the Orange averaged 321.3 passing yards per contest and only 119.7 rushing yards per game. Last year, it was 294.8 passing and 161.5 rushing. With the threat of the run, more can be achieved in the fast-paced attack.
"The ability to run it equally as well as throw it," Kelly said of another difference of Syracuse this year from two years ago. "They're going to work off how you align defensively, so you have to have a fundamentally designed way of how you are going to play and then go to work off it from there."
Last week against Florida State, one of the worst rushing teams in the country, Notre Dame used nickel package as its base, with Nick Coleman, who intercepted a pass on the second play that he returned to the FSU 3-yard line, at nickel. Unlike the Seminoles, though, the Orange is not one-dimensional on offense.
"If you line up in base, you know what they're going to attack," Kelly said. "If you line up in nickel, you know how they're going to attack you.
"So you have to go from that and be able to support the potential weaknesses if from one or the other."
• No. 3 in plays run per game at 84.9, after leading the nation last season with 87.8.
This, however, should not be alien to the Notre Dame defense, as it has already faced up-tempo teams such as Wake Forest, Northwestern and Ball State, the latter running a record 97 plays versus the Irish.
From a scheme standpoint, however, Kelly said the Orange distinguish themselves by the physicality that is displayed by the 6-4, 226-pound Dungey, who has passed for 2,193 yards and 14 touchdowns this year while rushing for 690 yards (second most on the team) and 12 scores.
"[Dungey's] toughness kind of envelopes that entire offense," Kelly stated. "It's not a finesse spread offense. There is a toughness to it, and I think it comes from him. … Great intangibles, great leadership."
Whereas Wake Forest runs tempo at a faster pace than Syracuse, the Orange presents other problems.
"They do a good job with their cadence, trying to get you offsides, which gives them a lot of free shots, so you have to be disciplined," Kelly said. "You have to have great communication at all three levels. … We've played tempo teams, so that's not going to be a reason why they win the football game. It can be a reason why we give up big plays if we're not on top of things."
The combination of excellent experience with Dungey and along the offensive line also has helped elevate the performance of the running back and receiver units. Moe Neal is the top rusher with 712 yards to complement Dungey, and the rebuilt receiving corps features top pass catcher Sean Riley and Jamal Custis.
Kelly said Neal — who also leads the nation in punt return average with 17.4 on 13 returns — reminds him of Wake Forest standout Greg Dortch. Meanwhile, Custis' 42 catches average a robust 17.4 yards.
"One of the things they've done well is they've upgraded at the running back position to the level where they've got some home-run threats," Kelly said. "… They've got a tight end now that can help them in the running game."
With Dungey and all the veterans up front, Kelly compared it to facing the triple option of Navy in that nothing is going to be foreign to them.
"You try to come up with a scheme against it, they've seen it, so you better be fundamentally sound," Kelly said. "You better do what you do really well, because they're going to do what they do."
Notre Dame's offense also became more productive after junior quarterback Ian Book, who ranked No. 1 nationally in completion percentage (74.5) and is now No. 4 in pass efficiency (170.0 rating, behind only Oklahoma's Kyler Murray, Alabama's Tu'a Tagovailoa and West Virginia's Will Grier), ran it from games four through nine. The Irish averaged 38.8 points per outing in the six games with Book after producing only 23.3 in the first three contests when he did not start.
Even without the injured Book last week, Brandon Wimbush and Co. put up 42 points versus Florida State to elevate the season average to 39.3. Per Kelly, Book was cleared by the medical staff to return to practice this week, and therefore would be the starter.
"He went through all of the workouts [on Monday], threw the ball, he was in the weight room," Kelly said. "He'll practice today for the first time."
When asked if he would need to evaluate Book this week in practice to see whether or not he is available for Syracuse, Kelly was affirmative.
"Not really," he replied. "We're pretty clear that he's ready to play."
In this potential shootout, every available bullet helps.