Notre Dame-Stanford: Numbers, Turning Point & More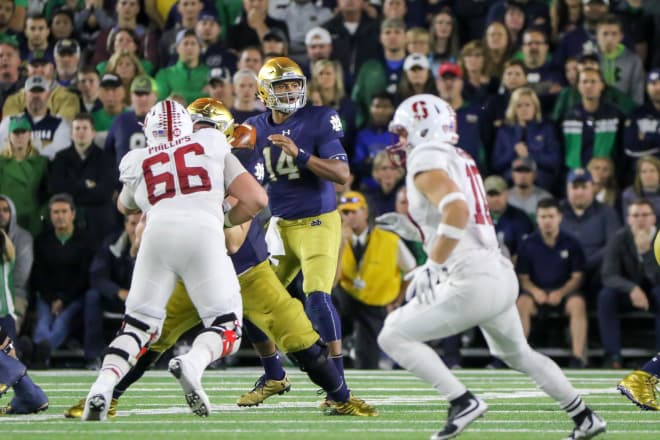 By The Numbers
2 Games in a row Notre Dame allowed a non-offensive touchdown by the opponent that proved to be the difference in defeat. North Carolina State tallied on a blocked punt Oct. 8 to lead its 10-3 win, while Stanford's Quenton Meeks scored on an interception return on the first series of the second half to cut its deficit to 10-7. It was the first pick six by an Irish foe since Arizona State had two on Nov. 8, 2014 in its 55-31 victory.
Notre Dame's defense has allowed only 11 points the past two games.
3 Straight losses for Notre Dame at home, a first since losing the first six home contests in 2007 before defeating Duke (28-7). The Irish also have lost three straight on Oct. 15 since the epic 31-30 win over No. 1 Miami in 1988. Notre Dame lost 21-14 to BYU in 1994, 34-31 to No. 1 USC in 2005 and now Stanford.
5 Consecutive games this series that came down to the final possession, if not the final play. Stanford won 27-20 in 2013, 38-36 last year and 17-10 this year Notre Dame won 20-13 in overtime in 2012 and 17-14 in 2014.
It is also the fifth straight loss by Notre Dame by seven points or less, beginning with the 38-36 loss at Stanford in last year's regular season finale. The Irish lost six straight such contests in 2009-10, and also six in 1985-86.
7 Points this game has been determined by six times in the last 10 meetings since 2007. The Irish won by seven in 2007 (21-14) 2008 (28-21), 2012 (20-13 in overtime), while Stanford won by the same amount in 2009 (45-38), 2013 (27-20) and this season (17-10).
12 Tackles by Stanford defensive lineman Solomon Thomas, 10 of them solo. It was perhaps the most dominant performance by an opposing lineman against the Irish since Syracuse's Arthur Jones had an amazing 15 tackles in the Orange's 24-23 win at Notre Dame in 2008 on Senior Day.
13 Points scored by Notre Dame in the last two games, a 10-3 loss at North Carolina State and 17-10 at home to Stanford. That is the lowest over a two-game stretch since the 10 it had in losses to Penn State (31-10) and Michigan (38-0) in the second and third games during the 3-9 season in 2007.
124 Points scored by Notre Dame versus Stanford in head coach Brian Kelly's seven seasons (2010-16) while going 2-5 versus the Cardinal. That comes out to a modest 18.7 average per game, and the only time the Irish tallied more than 20 was in a 38-36 defeat last year.
2004 The only other season Kelly was 2-5. It was Kelly's first season with the Central Michigan Chippewas, who finished the year 4-7. It was the lone sub-.500 season in his head coaching career dating back to 1991.
Turning Point
Notre Dame held a 10-0 halftime lead over offensively challenged Stanford, and the Irish also would have the opening possession in the second half. After picking up a first down at his 36-yard line, junior quarterback DeShone Kizer attempted to fit a pass to sophomore Equanimeous St. Brown in a tight window, but Stanford cornerback Quenton Meeks had excellent coverage and picked off the toss. He then weaved through traffic and cut to the sideline for a 50-yard touchdown, shaking off an attempted grab by freshman wideout Kevin Stepherson.
Although the Irish still held a 10-7 advantage with 13:16 still left in the third quarter, the Cardinal found new life while Notre Dame was never able to regain momentum. It even attempted a quarterback change with Malik Zaire after Kizer threw another interception the next series.
Stat Of The Game
While getting out-scored 17-0 in the final 30 minutes, Notre Dame's 36 plays in the second half accounted for 120 yards total offense.
The Irish rushed for 108 yards on 17 carries in the first half (6.4 yards per carry), but in the second half its 18 rushes (including sacks) netted 45 yards. Notre Dame completed 6 of 11 passes in the first half for 79 yards and no interceptions, but after the intermission it was 8 of 18 for 75 yards, notably two interceptions on the opening two series.
It was the second straight game Notre Dame failed to score a touchdown in the second half, and it had only a field goal at North Carolina State the week prior. On paper, the Irish were "balanced" against Stanford with 154 yards passing and 153 rushing overall, but wasn't able to generate consistency with either attack.
Quoting Brian Kelly
On going with Zaire at quarterback on several possessions after back-to-back interceptions by Kizer:
"I just felt like it was important to try to get some energy back. We lost some energy, and I thought going to Malik would do that … With DeShone's experience, felt like giving him a shot at the end, that would give us our best chance of winning.
"I don't think there's really a question about who the starting quarterback is. DeShone is the starting quarterback. Each game is treated as a game in itself. We're trying to win the game. Malik is a really good quarterback. I was looking for a little bit of energy and kind of stem the tide and the flow of the game, but DeShone Kizer is the starting quarterback."
On being 2-5:
"This is a bitter pill to swallow, certainly. Losing our fifth game now by one possession, everybody is — I love those kids in there. They had great energy. They wanted to win. They did everything that they knew in terms of what they felt like they could do to win, and they just came up a little short again.
"You've got to keep fighting, and we'll get out on the other end of it. It's a tough spot we're in right now, but they're committed. Coaches are committed, and we'll find a way. We'll get through this rough spot."
----
• Talk about it inside Rockne's Roundtable
• Subscribe to our podcast on iTunes
• Learn more about our print and digital publication, Blue & Gold Illustrated.
• Follow us on Twitter: @BGINews, @BGI_LouSomogyi, @BGI_CoachD,
@BGI_MattJones, @BGI_DMcKinney and @BGI_CoreyBodden.
• Like us on Facebook