Notre Dame-Stanford: Elite 8 Preview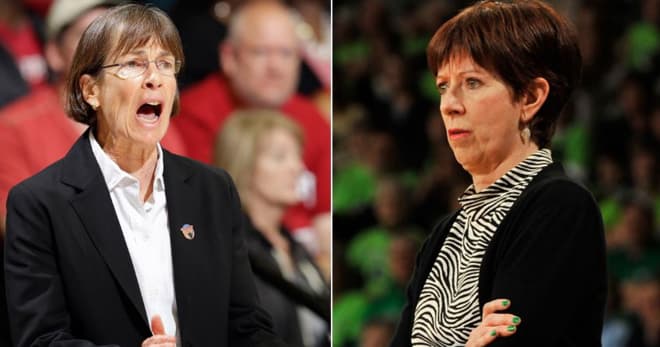 The third time must become the charm for Notre Dame's record-breaking four-woman scholarship seniors and graduate class when they confront Stanford tonight in the Chicago Regional for a berth into this weekend's Final Four.

In 2016, the No. 1 seed Fighting Irish were stunned 90-84 by head coach Tara VanDerveer's Cardinals 90-84 in Lexington, Ky., to finish the year with a 33-2 record.
The following year on the same court, No. 1 seed Notre Dame was felled by Stanford again, 76-75, this time in the Elite 8, to finish 33-4.
This year, just like two years ago, the reigning national champions, enter as a No. 1 seed again with the same 33-3 ledger they had two years ago. Like Notre Dame, 31-4 Stanford enters the game with a 12-game winning streak. The game will tip-off at Chicago's Wintrust Arena shortly after 9 p.m. on ESPN2.
If that history isn't enough, consider that Stanford also is the lone team to defeat No. 1-ranked Baylor this season, 68-63, back on Dec. 15.
The Cardinal is led by 6-4 senior Alanna Smith, who is averaging 19.6 points and 8.6 rebounds per game, and tallied 15 points in the upset of Notre Dame two years ago. The Australian is a lethal three-point shooter, converting 79 of 199 for a .397 percentage.
Sophomore point guard Kiana Williams is the top three-point shooter with 87 makes, but went 0 of 11 versus Missouri State on Saturday. She is averaging 14.1 points per contest and has handed out a team high 167 assists.
Junior guard DiJonai Carrington also is a double-digit scorer (13.9) and active on the boards with a 7.5 rebounds average per game. Stanford does use its bench more liberally with 10 players averaging at least 10 minutes a game.
Hall of Fame head coach VanDerveer has won two national titles, been to 12 Final Fours, and her 1,067 wins are the second most in the game. The Cardinal possesses a mentally tough operation that was annihilated at home 88-48 by Final Four team Oregon on Feb. 10 — and then beat the Ducks 64-57 to win the Pac-12 championship.
Our 10 to 1 countdown includes:
10 Points needed by senior guard Arike Ogunbowale to reach 2,561, surpassing Austin Carr's hallowed school record of 2,560 set from 1968-71 on the men's team. A very, very important caveat to note is that Carr achieved his feat in only 74 games, mainly because freshmen were not eligible per NCAA rules in his day. His 34.6 scoring average remains behind only Pete Maravich for the best in NCAA history. Tonight will be Ogunbowale's 147th game — one short of doubling Carr's total.
9 Previous times head coach Muffet McGraw has been to a Regional Final (Elite 8), and this will be the seventh in the last eight seasons. The Irish are 8-1 in such contests for a .889 winning percentage, easily the best by any school with at least five such appearances. UConn is second with a 19-5 ledger (.792), Stanford third at 13-6 (.684) and Tennessee fourth (.643 while going 18-10). The lone Irish loss in the Elite 8 came two years ago … to Stanford.
8 Points needed by the Notre Dame starting five tonight to collectively reach 10,000 points in their college careers. With 9,992 among Ogunbowale (2,551), Jessica Shepard (2,298, with 1,186 at Notre Dame), Brianna Turner (1,976), Marina Mabrey (1,856) and junior Jackie Young (1,311), they are the most prolific scoring group in NCAA Division I history.
The 2017-18 Ohio State squad is in second place among women's teams with 8,492 points (even excluding Shepard's first two years at Nebraska, the Irish are at 8,880). The highest total on the men's side was the 2008-09 national title North Carolina team, led by Tyler Hansbrough, with 8,216 points.
7 The seven-point, hard-fought victory (87-80) by Notre Dame on Saturday versus Texas A&M marked the first time in this year's 33-3 campaign that Notre Dame won a game by only single digits. Prior to that, it had won its 11 previous games by an average of 30 points, and never less than 18 (95-77 versus North Carolina in first round of ACC Tournament).
6 Victories Notre Dame needed in the NCAA Tournament this year to reach 1,000 in its program's history. It is halfway home with the first three versus Bethune-Cookman, Michigan State and Texas A&M. Three more would win the national title.
5 Points totaled in three NCAA Tournament games by senior sharp-shooting guard Mabrey, who injured her right knee shortly before the start of the NCAA Tournament. The all-time three-point leader in school history is 2 of 14 shooting (1 of 11 from three-point range) — and sooner or later, per law of averages, is projected to break out of her slump. She has continued to provide efficiency in the attack, though, with 17 assists and only three turnovers in those contests.
4 Top 10 teams Notre Dame has defeated this season while posting the nation's top RPI and strength of schedule. It's all top 8 from here on out, beginning with Stanford.
3 Career record holders at Notre Dame in major categories: Ogunbowale in scoring (2,551 points), Turner in rebounds (1,016) and Mabrey in three-pointers converted (266). With 363 career blocked shots (100 this year, including 13 in the NCAA Tournament), Turner is seven away from also breaking Ruth Riley's 370 from 1997-2001.
2 Notre Dame's .518 field-goal percentage (1,236 field goals in 2,386 attempts) is the second best in the country, behind Iowa's .521. The Hawkeyes will play Baylor — which has the No. 1 field-goal percentage defense — for a spot in the Final Four.
Notre Dame's figure also tops the 2013-14 squad's .506 mark but ranks second to the 1987-88 squad's 53.2 percent. The '88 Irish — McGraw's debut season — shot significantly less, making 836-of-1,572.
1 Notre Dame's scoring offense of 89.1 points per game is the best in the country and currently a school record. The 2013-14 Irish squad led by Kayla McBride and Natalie Achonwa that did not lose until the NCAA Championship versus UConn finished at 86.1. Stanford is averaging 74.3, which would place it 40th.
Prediction: Notre Dame 74, Stanford 65