Notre Dame Spring Notebook: Defense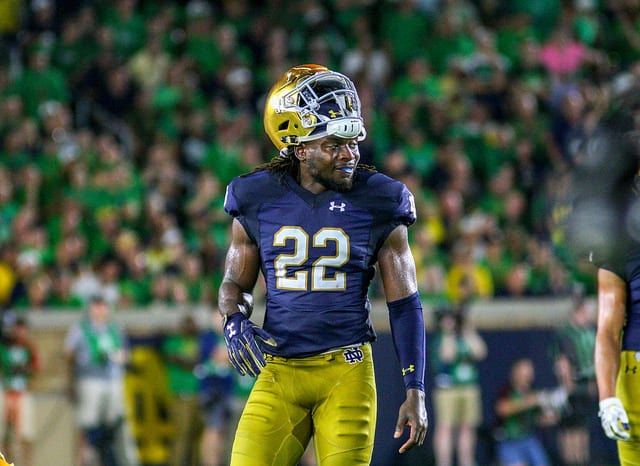 A year ago at this time, first-year defensive coordinator Clark Lea inherited a veteran Fighting Irish unit with nine returning starters plus Navy transfer Alohi Gilman, who would add instant impact.
This year the returning starting group has been whittled to six, although at least three areas might be defined as primary strengths:
• The senior defensive end quartet with Julian Okwara, Khalid Kareem, Daelin Hayes and Ade Ogundeji ranks among the finest in the country.
• The safety tandem with Gilman and Jalen Elliott, who has started all 26 games the past two years, is as veteran as they come.
• Senior field cornerback Troy Pride Jr. has a chance, according to Lea, to rank among the "elite" in the country, similar to Julian Love last year.
Where Lea and the staff are especially seeking answers are at the Mike and Buck linebacker positions on the inside. The one absolute probably would be fifth-year senior Asmar Bilal, who started 10 games at rover last year.
"Physically and in terms of game experience, he enhances the unit," Lea said of Bilal. "Honestly, this is going to be how hard can we work at it the minute the spring game is finished. These guys are going to have to take maybe Sunday off and on their own get back to work on Monday and work in earnest through the summer."
Junior Jordan Genmark Heath moved to linebacker from safety late last spring, and sophomore Jack Lamb is working his way into a potential three-for-two rotation there the way Lea had it two years ago with Nyles Morgan, Greer Martini and Te'von Coney, with Coney the swing man.
"If you end up with three guys, you feel good about in terms of in the box — three for two and one guy has to play two spots," Lea said. "If you end up with four, then you're kind of locking them in position. When you look at third down, it's the ability to move guys into the positions that we think are the best of scenarios. I love the multiplicity, I love the fact that we have the body types that can fit in various spots and skill sets.
"Am I pleased with our level of execution right now? No. We have a long way to go. The potential is there. We have to keep working at it."
Lamb in particular has the third-down attributes, but Lea is pushing for more.
"He has a natural instinct in coverage we're going to use to our advantage," Lea said. "Plus his length. When you start dropping a guy that's 6-4 into the middle of the field, the 'dig' window tightens inevitably, especially when he has a great awareness of what's going on behind him. He's shown a knack for that.
"My urgency with him at times in practice is about where we need to get him to. It's about a belief that he can be the player that he wants to be and there is no reason to wait on it. I don't treat Jack like a first-year player because he enrolled early [in 2018]. He's smart too, he knows it cold in the meetings.
"We're going to have some urgency with him to see where we can get him so that we're not limiting him to just what he does really well. Maybe there's another layer in there where he can become a really good first- and second-down player for us too."
Another sophomore, Shayne Simon, has worked all three linebacker positions, including rover, but Lea believes the 6-3, 230-pound Simon's future will be on the inside, Mike or Buck, if not swing at both.

"When you look at him physically and how he's grown … that frame will continue to grow," Lea said. "Tightened spaces for him allow him to play physically and play flat pass. We see him as a factor in the box right now."
However, Lea said he isn't married to the idea of using a rotation if the starters are consistently productive, as Coney and Drue Tranquill were last year.
" If someone takes it and runs with it, then we have to put the best guy out there," Lea said. "In an 80-play game if somebody is playing 60 and someone 20, that's great. If it's more even, that's fine too."
The rover position is more defined with junior Jeremiah Owusu-Koramoah and Paul Moala there, and then freshman Jack Kiser (shoulder surgery) joining them this summer.
"[Owusu-Koramoah's] gone from just trying to survive schematically and everything focused on can I get a line right and make the right call, to showing some consistency that way, to now really tightening down on his second level skill set: block destruction, tackling," Lea said. "He's an incredible athlete, so you don't worry about that with him. It's being in those positions and having exposure to fitting the B gap at times or tackling a screen on the perimeter. The more he does it the more he adepts to it. He's gradually improved. I'm excited where he's headed."
Corner Lessons
With starting cornerbacks Pride and sophomore Houston Griffith, getting burned is part of the life of a cornerback. Better to learn more of it now in the spring than too much of it later in the season.
After playing safety and nickel as a freshman, the transition for Griffith to corner creates learning about playing press coverage, off man, transition points from pedal to turn positions…
"Those are the finer points that don't always come naturally, have to be learned — and sometimes as a corner those are learned by the ball going over your head," Lea said. "That's part of life. For me to yell at Houston for a deep ball is like me being a fan. I need to give him the information he can use to learn and develop from snap to snap. From a strength and power and speed standpoint, he has it. Certain techniques we're deploying for him he does really, really well. He's a great tackler … he's looked really good and as clean as we've had.
"For him, it's getting comfortable with techniques and repetition in some of the things that are more challenging for him. The potential is there."
As for Pride, dealing every day in practice with what head coach Brian Kelly said could be a potential first-round pick in Chase Claypool has its own benefits.
"As a competitor you have to learn to respond to negative outcomes by moving on to the next snap, by getting information you can use to learn from it," Lea said. "You don't have to go too far back into the season, the Cotton Bowl, to realize how one play can impact a sequence of events. Unless we are able to clear that snap and move on to the next and reset on our technique and reset on our focus, you're going to experience a spiral and a snowball effect of negative outcomes.
"I want Troy to experience what it is to get beat … He can't be so outcome-oriented that he's not staying within his process. Part of that is how I respond to a positive outcome or a negative outcome, but another part of that is if I did not get the result I wanted, where did I falter within the play from a technical standpoint or a fundamental standpoint? That's where as coaches we can assist these guys."
Nickel Options
While junior Avery Davis and senior safety Elliott have worked there this spring, fifth-year senior Shaun Crawford, who started there in 2017 before missing 2018 with a torn ACL, is expected to challenge for the role come August. The rovers could operate there as well.
"We've left Paul and Jeremiah in some of those situations too, and they've held up fine," Lea said. "When you have a little more athletic safety body at the rover position, that kind of expands your playbook in base situations. And then in third down, it could be Shaun, it could be Avery, it could be some combination of TaRiq Bracy coming on the field and moving to the corner and to the slot. We want to respond to whatever the opponent dictates for us.
"We don't do that in the spring necessarily because this is really about base installations and base techniques and learning and playing within the system. Once we get into the season and it becomes about game planning, we're going to be outside the box, like we did last year with Julian Love at times."