Notre Dame's Struggles And Defensive Changes No Issue For Dallas Gant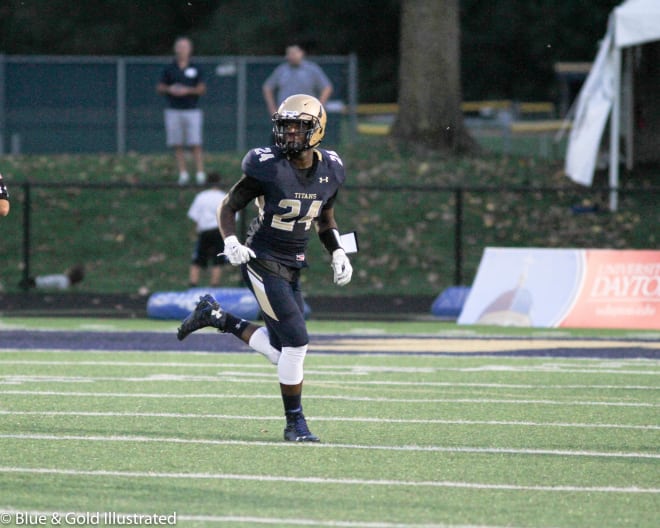 Even with the not so ideal start in the first six games of the season for Notre Dame, some of the top prospects across the country aren't panicking when it comes to the Irish and their 2-4 record.
Toledo (Ohio) St. John's four-star 2018 outside linebacker Dallas Gant is one of those student-athletes.
Being on the defensive side of the ball, Gant did have some contact with former defensive coordinator Brian VanGorder, but not enough in order to affect his opinion on the Irish when the decision was made to relieve VanGorder of his duties.
"They're just trying to get their defense in order," Gant said. "I understand [the change] though. They're going to figure things out.
"I think by watching them the defense has to pick it up obviously. [DeShone] Kizer is playing pretty good."
The 6-3, 208-pound Gant has told BlueandGold.com in past interviews he doesn't have a top list, but is focusing on a few schools such as Notre Dame, Ohio State, Penn State and Michigan State. The Irish are still high in the four-star's mind.
"Real good," Gant said when asked how everything was going with Notre Dame. "I was down there for their game against Michigan State. Tough one they lost, but it was fun. I had a good time.
"I love Notre Dame. They're obviously a great place with great tradition and all that. I watch them a lot actually. I like to watch DeShone Kizer, who played at Central Catholic [here in Toledo], so I watch them a lot. They're very high on my list."
Gant stays in consistent contact with linebackers coach Mike Elston.
"He got to coach me at Irish Invasion and I got to know him a lot better down there," Gant said. "I've had a lot of contact with him and he's a great guy."
Gant will be headed to Happy Valley Oct. 22 for his next visit when Ohio State visits Penn State. He said he will probably be in South Bend again this fall, but isn't sure when.
In his last prep game, Gant recorded eight tackles including five solo in a 37-14 win over Oregon (Ohio) Clay.
Gant is ranked as the No. 13 outside linebacker and No. 229 overall player nationally in the 2018 class by Rivals.com.