Notre Dame's Michael Young Moving Up From 'Middle' Class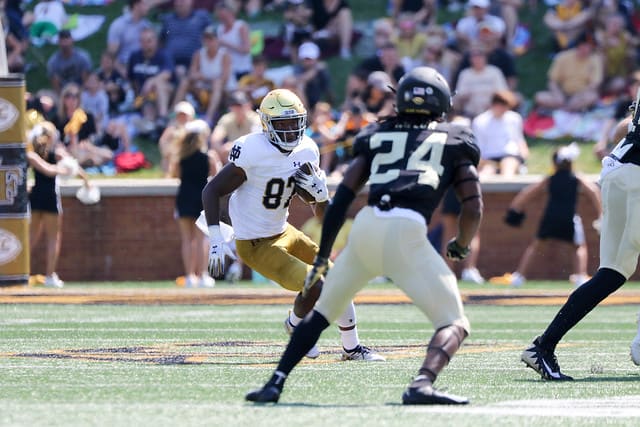 Middle-child syndrome often occurs to college football players. He is the figure who is not as well established in the lineup as those older than him, yet at the same time also tends to get overlooked because there is more intrigue about the development of the younger talent behind him.

That perfectly encapsulates Notre Dame 2019 junior receiver Michael Young.
Older receiving corps brethren Chase Claypool and Chris Finke combined for 99 catches last year. Claypool recently was described by head coach Brian Kelly as someone with first-round potential, while Finke is one of the team's eight SWAT team leaders.
Meanwhile, a quartet of sophomore receivers that include Kevin Austin, Lawrence Keys III, Braden Lenzy and Joe Wilkins Jr., prompt more interest on whether they could enhance Notre Dame's vertical game this season. Earlier this spring, Fighting Irish senior cornerback Troy Pride Jr., the fastest man on the team, was asked specifically about the sophomores and how they could aid the team speed.
"The sophomores are fast — but you've got to count in Mike Young," reminded Pride of not overlooking the middle child of the receiving corps. "He's got some wheels."
In fact, it is Young who has separated himself this spring in the first group with Claypool, now lined up in the boundary where Miles Boykin starred last season, and Finke, who is in the slot. As the X receiver on the field side, the 5-10, 190-pound Young is situated in a spot where his playmaking abilities can be best showcased.
Two years ago he was the relatively fragile freshmen much like fellow Louisianan Keys or Lenzy were last year. He flashed early explosiveness in camp before hitting the proverbial freshman wall, and seeing limited action thereafter. In the Citrus Bowl versus the home-state LSU Tigers, though, he caught a fourth-quarter touchdown pass that helped knot the score before Notre Dame rallied to a dramatic 21-17 triumph.
Last year Young had his moments again, as two of his receptions — a 66-yard catch-and-run at Wake Forest (longest passing play of 2018) and 47-yard TD at Northwestern — were among the three longest from the wideouts. Also, his 48-yard kick return in the fourth quarter of a 22-17 victory versus Vanderbilt provided a temporary boost.
Still, his 125 snaps on offense last season tied Austin for fourth most among the receivers, way behind the trio of Claypool (846), Boykin (788) and Finke (646). It wasn't merely the physical that held Young back as a freshman, and then even as a sophomore.
"Very cerebral coming in, thinking a little bit too much," Kelly said. "Worried about the peripheral and not focused enough on take care of yourself, take care of the basics of catching the football, turning upfield and doing your job.
"I think he's now settled in to the level of confidence that he can do that every single play, so we're starting to see that."
Not only has Young been healthy throughout the spring — a bugaboo in the past — but he's learning to shake off the negatives, although in Tuesday's open practice a dropped pass on a crossing route had him screaming at himself quite audibly.
"I'm my own worst critic," Young admitted. "Whenever something didn't go my way, I always got very down on myself. And then I looked around and saw what everyone else was doing — 'Oh, he did this great. Oh, he did that great. Oh, Coach is probably thinking he's better in this facet of the game … or I' m not as good as they want me to be.' I was putting a lot of that on myself and it was just taking my game completely down.
"...I wasn't' playing football. It was, 'What should I do here? Should I do this, should I do that? Oh wait, let me line up first. My gloves — are they on the right hand?' I was thinking too much instead of just playing the game."
Overall, he has attempted to maintain a more steady demeanor this spring while recognizing that Boykin had only 18 career receptions entering his senior season last year, or that Finke (six catches as a junior in 2017) was the "overlooked" one entering 2018 before blossoming. Young is also mindful that it wasn't until his junior season of high school that he began to emerge as a major college prospect, especially with his explosiveness.
"It's just understanding that everybody is going through the same things I've gone through," Young said. "I'm not in this alone. … They just always tell me, 'Just focus on yourself, focus on what you need to do, never get too high, never get too low ... just go out and compete."
Young won't define what would entail a breakout year for him in 2019, but he knows part of it is would be the coaching staff having the confidence in him to be on the field at any time in any role.
"I'm just a playmaker," he said. "You put the ball in my hands and I'll show you what I can do. I can be the speed guy. I can go get it on the post or go [route]. I can be the intermediate guy — the hitches, the digs. I can be the short, quick guy to try to take if for 70 9yards].
" At this point in my career I understand what the coaches are asking me to do. Whatever they need me to do, I do… I can be the physical guy, be the blocker — I don't have the stature for it but I'll definitely get in there and give you a good fight."
That's one way for Notre Dame's middle child at receiver to start drawing more attention.