Notre Dame's Jarron Jones Primes To Be On Big Stage In 2016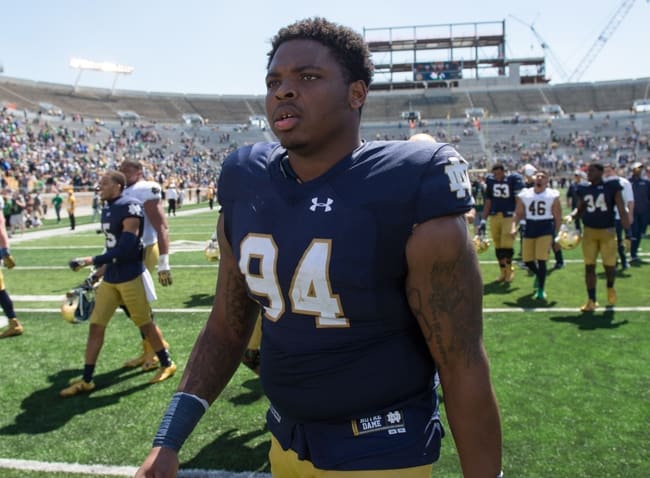 Almost a year ago to this day (Aug. 15), senior nose guard Jarron Jones involuntarily kicked off a forlorn stretch over the next month in which Notre Dame would lose six starters for the year on offense or defense.
A third-degree MCL injury in Jones' right knee necessitated surgery that kept him shelved the entire regular season. Plus, he was sidelined the final three games the season prior (including the Music City Bowl win versus LSU), and the spring, because of a Lisfranc injury.
Prior to that setback, the 6-5 ½, 315-pound Jones had been the anchor in the middle of Notre Dame's defensive line. His stats in 2014 were virtually identical to classmate Sheldon Day — each had 40 tackles, 7.5 for loss, while Day had nine quarterback pressures to Jones' seven — even though Jones' role at nose guard centered more on eating up blockers than making plays.
Because of his size and reach, which has led to him blocking four kicks, two short of the Notre Dame record, Jones was even perhaps deemed a better NFL prospect than Day, who would be selected in the fourth round last April.
Notre Dame head coach Brian Kelly used that proverbial carrot at the end of the stick last fall to keep Jones engaged and motivated while sophomore Daniel Cage and freshman Jerry Tillery rotated in his place.
"It's Notre Dame. All you need is one good fall," said Kelly at the time. "You play well for one fall here at Notre Dame, it's an on-Broadway play. Everybody's going to see you. I just remind him of that: If he has a really good fall here, he'll get plenty of suitors."
Unfortunately, Jones' ambition and passion for the game — often questioned in the past — got the better of him in 2015. Blaming himself for not being able to play in the two-point losses at Clemson (which would finish the regular season No. 1) and Pac-12 champion Stanford, especially not being able to line up to block the Cardinal field goal as time elapsed, Jones pushed himself to return for the Jan. 1 Fiesta Bowl versus Ohio State.
Jones did suit up for the game against the Buckeyes, but was able to take only 13 snaps in the 44-28 defeat. The short-term joy quickly was replaced by more long-term damage that included a stress reaction in his foot that set him back again in the winter and in the spring.
"That was more on me," said Jones of his winter/spring woes. "The trainers were excellent. The trainers kept asking me if I was okay and I would say, 'Yeah, I'm fine' — because I had that adrenaline going, that I want to play. There's nobody to blame but myself for that, so I had to suffer the consequences."
They included what he termed a "horrible" spring, which made him the second option at nose to Cage (while Tillery moved to Day's vacated defensive tackle spot). That's why he wasn't taken aback when Kelly stated on Friday that Jones' current threshold for snaps in a game were a modest 20 to 30.
"What Coach Kelly said, as of right now, I can't agree more with based on what I did in the spring," said Jones after Saturday's practice at Culver Academy. "… I was a 20-to-30 snap guy, but I'm trying to aim for more. I've literally spent whole summer getting into shape, lost 10 pounds, trying to prove myself like the rest of the guys.

"…I'm very hungry. Obviously my goal, aside from winning a national championship, is being the best D-tackle in the country. I feel like I can be because I feel like there's a lot that I bring to the table and to this team that I can help produce and win games. It's just showing what I can actually do, besides having to listen to 'what he could be' while I'm sitting on the sidelines."
Because the first few days of practice are without pads, Jones said it's irrelevant at this point to ask how he would assess his first day.
"It'll probably take for me until when we have our first scrimmage for me to see exactly how I feel," Jones said. "We were just running around today. I felt like we were just doing OTAs (Organized Team Activities) with just helmets and jerseys on. I couldn't really tell how I was feeling, but I felt great. No setbacks or anything, I was able to do everything. It's just really all about when we get the pads on, we'll see then."
Meanwhile, Kelly actually bumped up his hopes for Jones' snap count per game.
"Twenty-five to 35 plays are a pretty good number for a big guy like that," said Kelly after Saturday's session. "If he can give us explosive plays at that number, along with Daniel Cage … That's a good place to start, and anything more than that we'll be very happy. Those are going to be impactful plays when he's in there."
When asked if the presence of his freshman brother, linebacker Jamir Jones, on the team helps to uplift him, the older brother responded the passion has to come from within himself first and foremost.
"Now it's about getting used to the swing of practice, practicing day in and day out, trying to [meet] the standards that we as leaders set each other to," Jones said, "Now it's just doing all the small things and helping lead the younger guys."
"I just want to prove myself, outwork Cage and Pete (Mokwuah), show that I can be a dependable player, because this past spring I didn't do that. I did a horrible job of being in shape … I let my injuries get the best of me."
Preparations for his potential big stage, "on-Broadway play" in 2016 have begun.
----
• Talk about it inside Rockne's Roundtable
• Subscribe to our podcast on iTunes
• Learn more about our print and digital publication, Blue & Gold Illustrated.
• Follow us on Twitter: @BGINews, @BGI_LouSomogyi, @BGI_CoachD, @BGI_MattJones, @BGI_DMcKinney and @BGI_CoreyBodden.
• Like us on Facebook.