Notre Dame fails to close again in second half slump at Syracuse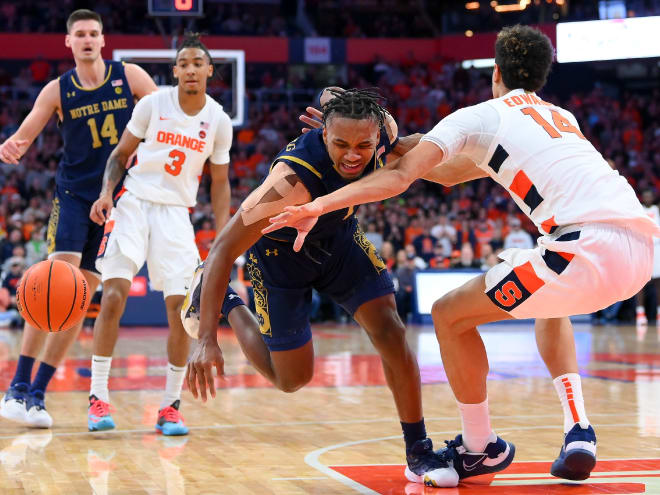 It was fun while it lasted for Notre Dame.
But it never really figured to last.
For a team that has struggled to finish all season, it was an educated guess that some brilliant 3-point shooting would fade before the Irish could take out Syracuse in front of 20,666 in the JMA Wireless Dome in Syracuse, N.Y., Saturday night.
A late scoring drought and leaky defense opened the door for the Orange to turn back ND, 78-73, and sweep the season series.
"I just feel for our guys," said Irish head coach Mike Brey, whose club led for 26 minutes and by a dozen, 59-47, at the 12-minute mark of the second half. "We had 15 threes, we had 21 assists. We were really good.
"But I think an area that hurts us is when we really have to defend to win a game and stick our chest in there, at least on the road, we haven't been able to do that. So we're disappointed because we played fearlessly."
SUBSCRIBE TO INSIDE ND SPORTS TO STAY IN THE KNOW ON NOTRE DAME ATHLETICS
JOIN THE CONVERSATION ON THE INSIDER LOUNGE MESSAGE BOARD
The Irish (9-9, 1-6 ACC) lost 62-61 to Syracuse in South Bend on Dec. 3, and gave themselves a chance to avenge it with some terrific shooting Saturday against the Syracuse zone.
They were 9-for-18 from the 3-point line at the half to edge ahead 40-36 at the break, and finished 15-for-37 (40.5%) for the day. But that level is tough to sustain and getting any other higher-percentage shots off to protect the second half lead was a big challenge.
Syracuse (12-6, 5-2 ACC) wound up with 36 points in the paint to 20 for the Irish and was 14-for-18 from the free throw line to ND's 4-for-5.
There were nine missed 3-point attempts for the Irish over the final 10:55. The only make was from grad student and Niagara transfer Marcus Hammond — he had his best day in a Notre Dame uniform with a team-high 18 points (6-for-10 field goals, 4-for-7 on 3-pointers) — to give the Irish a 71-69 lead with 2:57 to play.
The rest of the unraveling followed from there.
With the score tied at 71, the Irish couldn't get the ball inbounds under their own basket, a pass from Trey Wertz failing to connect with Nate Laszewski.
The Irish couldn't defend the paint without fouling over the next minute and Syracuse hit 5-of-6 attempts.
Hammond shot an airball 3-pointer with 1:17 to go, and Dane Goodwin bounced one off the iron after getting a decent look on a corner three with 36 seconds to go.
With the ball in its hands and trailing 76-71 with 20 seconds to go, ND got its last bucket on a Laszewski rebound, but only 1.8 seconds remained.
Judah Mintz finished it off with two free throws.
"That's maybe the best zone offense we've ever run," Brey said. "And we did have some good looks there, some really good ones, Dane and Nate a couple. But we didn't make those shots the last six or seven minutes, so credit Syracuse, some tough kids."
The worst of the Irish defensive breakdowns came around the five-minute mark.
The Irish had just pushed its lead to 68-62 on a drive and dunk by JJ Starling, but Maliq Brown delivered easy back-to-back dunks, Chris Bell followed with one of his five threes and Mintz hit an open 15-footer to tie it at 71 with 2:30 to go.
It ruined a promising start and there was a lot to like for a long time for the Irish.
Besides Hammond's strong night, Goodwin had 15 points, including 10 by halftime.
Leading scorer Laszewski, who had just two points in the first meeting, hit his average at 14 points on 5-for-8 shooting (3-for-5 on threes) and grabbed 10 rebounds. His defense also helped limit 6-foot-11 Jesse Edwards to 13 points after he had scored 22 in the first meeting.
Wertz went 4-for-8 on threes for 12 points.
The Irish also had only five turnovers, four below their average, but could only coax six from the Orange.
They also doubled up the Irish on second-chance points, 16-8.
Sitting one game from the bottom of the 15-team ACC, the Irish get their next chance to find some answers when Florida State visits Purcell Pavilion Tuesday at 7 p.m. EST.