Notre Dame's Brian Kelly On Bobby Dodd Preseason Watch List
Entering his 10th season as Notre Dame's head coach, Brian Kelly is the reigning Dodd Trophy Coach of The Year recipient after having led the Fighting Irish to the four-team College Football Playoff in 2018.
He also is one of the 23 on the 2019 preseason Dodd Trophy Watch List released today (July 25).
Named after 1945-66 Georgia Tech head coach Bobby Dodd, one of four individuals to be enshrined in the College Football Hall of Fame as a player and head coach, the Dodd Trophy is awarded to the head coach of a team who enjoys success on the gridiron, while also stressing scholarship, leadership and integrity.
Taken into consideration on the 2019 watch list is each program's graduation rate, commitment to service and charity in the community, projected success for the 2019 season and Academic Progress Rate (APR).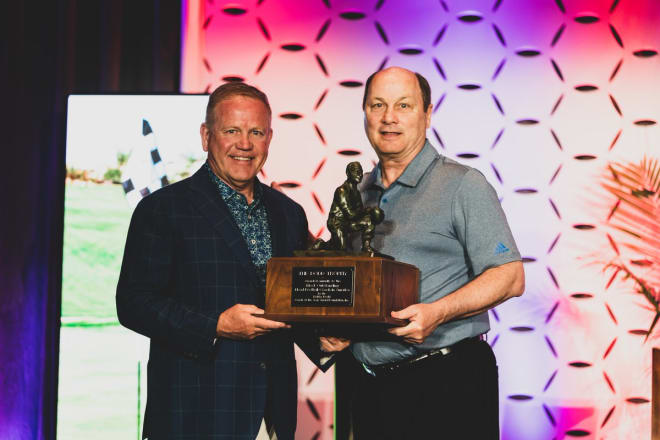 The watch list was created through a selection process by the Bobby Dodd Coach of the Year Foundation and Chick-fil-A Peach Bowl, based in Atlanta, where Dodd coached Georgia Tech to a 165-64-8 record, including 9-4 in bowl games with six conquests coming in a major bowl.

Of the 23 coaches on the watch list this year, six are previous winners of The Dodd Trophy: Kelly (2018), Stanford's David Shaw (2017), Iowa's Kirk Ferentz (2015), Alabama's Nick Saban (2014), Clemson's Dabo Swinney (2011) and Washington's Chris Petersen (2010).
Three of Notre Dame's 2019 opponents also have their head coaches on the watch list: Kirby Smart (Georgia), Jim Harbaugh (Michigan) and Shaw (Stanford).
A midseason watch list – adding to or narrowing the field – will be released in the fall. A panel consisting of previous winners, national media, a member of the Dodd family and a College Football Hall of Fame member will identify the final list of potential recipients at the conclusion of the 2019 season. The winner will be announced in Atlanta during the week of the Chick-fil-A Peach Bowl.
Starting in September, the Dodd Coach of the Week Award will also be presented weekly to the coach whose program embodies the award's three pillars of scholarship, leadership and integrity, while also having success on the playing field during the previous week.