Notre Dame Remains No. 3 In College Football Playoff Rankings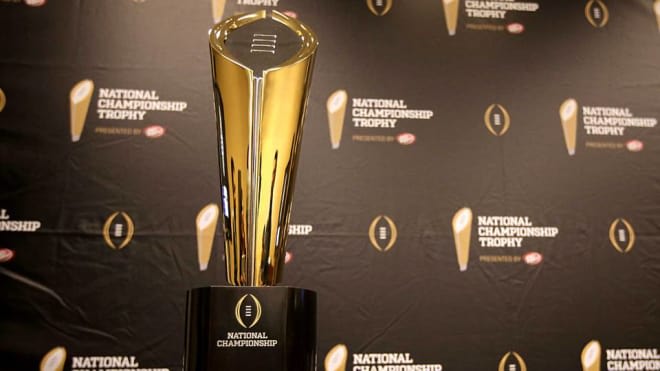 Notre Dame remains No. 3 in the College Football Playoff rankings after a 42-13 blowout win over Florida State last week.
Even without junior quarterback Ian Book, who averaged 301.8 yards through air in his six starts, the Irish were able to jump out to a quick 17-0 advantage and continued to pull away from the Seminoles in South Bend.
The Irish remain behind both Alabama and Clemson — the top two teams for the third straight week — with Michigan rounding out the top four currently in the CFP if the season ended today. The Wolverines are the lone team of the group that was not in the initial top four rankings.
Now ranked in the top four for three straight weeks, this is the longest the Irish have remained in the group during the history of the CFP. Notre Dame was in the committee's top four for two weeks in both 2015 and 2017 before ultimately falling out.
With none of the committee's top 10 teams from a week ago falling, there were no significant changes this week near the top with each remaining in the same spot as a week ago. It is the first time that the order of the top 10 remains the same from one week to the next.
Notre Dame is the lone top-10 team set to face another top-25 program this weekend with the Irish headed to New York to face No. 12 Syracuse in Yankee Stadium. A win over the Orange could give the Irish three wins over current teams ranked in the committee's top 25.
Under the latest rankings, Notre Dame claims a 24-17 win over No. 4 Michigan and a 31-21 victory on the road against No. 22 Northwestern, which moved back into the top 25 after claiming the Big Ten West crown in a 14-10 win over Iowa.
Here is the full top 25:
1. Alabama — 10-0
2. Clemson — 10-0
3. Notre Dame — 10-0
4. Michigan — 9-1
5. Georgia — 9-1
6. Oklahoma — 9-1
7. LSU — 8-2
8. Washington State — 9-1
9. West Virginia — 8-1
10. Ohio State — 9-1
11. Central Florida — 9-0
12. Syracuse — 8-2
13. Florida — 7-3
14. Penn State — 7-3
15. Texas — 7-3
16. Iowa State — 6-3
17. Kentucky— 7-3
18. Washington — 7-3
19. Utah — 7-3
20. Boston College — 7-3
21. Mississippi State — 6-4
22. Northwestern — 6-4
23. Utah State — 9-1
24. Cincinnati — 9-1
25. Boise State — 8-2