Notre Dame Pulls Away From Chicago State In 89-62 Win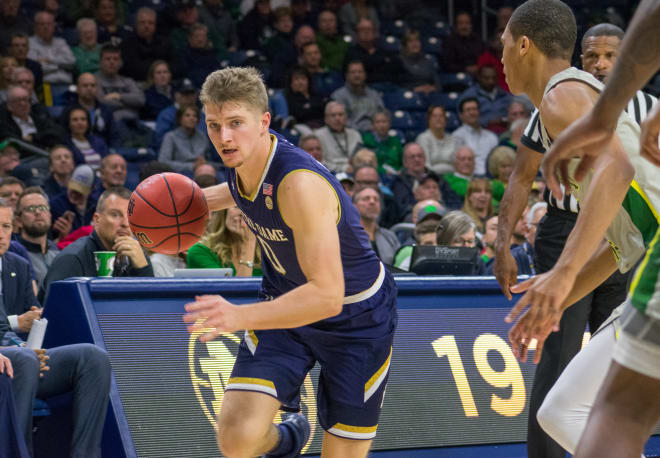 Notre Dame (2-0) built an 18-point lead in the first eight-plus minutes, but needed a strong second half to pull away in an 89-62 victory Thursday night over Chicago State (0-2).
It was a career-night for senior forward Elijah Burns going for 15 points in the win while adding five rebounds to help the Irish add to what was just a five-point half time advantage.
Take a look at Blue & Gold Illustrated's half-by-half recap of the Notre Dame win.
FIRST HALF
After hitting just 4-of-22 behind the arc against UIC, Notre Dame came out firing in the opening four minutes connecting on 3-of-5 three-point attempts to help build an early 15-6 advantage over the Cougars.

Junior forward John Mooney got the scoring going against with a triple at the top of the key, which was followed up by a DJ Harvey three-pointer to go up 6-2 early. Harvey got another bucket after grabbing the offensive rebound before guard TJ Gibbs joined the three-point start with one of his own.
Mooney and Gibbs each got layups right after to put the Irish on a 7-0 run to take the nine-point edge going into the first break.
Notre Dame remained hot from the field going on a 13-4 run to further extend the lead. Gibbs and Mooney each found the bucket inside while forward Nate Laszewski and guard Rex Pflueger added three-pointers during the run. Laszewski also pulled down a nice offensive board off a miss from guard Prentiss Hubb, which led to an and-one conversion.
The Irish began the first 9:30 of game action 11-of-16 (68.8 percent) from the field and 5-of-10 behind the arc to go up 28-12 early.
It took about 10 minutes, but Chicago State began finding a rhythm going on a 12-0 run to eventually cut the Notre Dame lead to 28-22 with 8:42 left in the half behind six points from forward Christian Jacob and two triples via guard Delshon Strickland.
Notre Dame answered with a 4-0 run over the next minute-plus getting a pair of free throws from guard Dane Goodwin and a triple via forward Elijah Burns to extend the Irish lead to 33-22 with 6:49 remaining in the opening half.
A game of runs continued with the Cougars going on a 9-2 run to make it 35-31 Notre Dame at the under-4 media timeout. The Irish hit just 1-of-6 attempts during the stretch.
Back-to-back baskets by Jacob and guard Rob Shaw tied the game up at 35 for Chicago State, who even had two chances to take the lead on following possessions.
But, a nice finish by Burns in the paint and a three-pointer from Laszewski with under 10 seconds to go allowed Notre Dame to go up 40-35 to end the half.
Laszewski led all Irish scorers with nine points with Mooney right behind at seven. Gibbs, Harvey and Burns each had five. Notre Dame shot 45 percent during the opening 20 minutes (15-of-33) and hit 7-of-19 (37 percent) of its three-point attempts.
Chicago State did hold a 15-13 edge on the boards in the first half and scored 20 points in the paint to Notre Dame's 16.
SECOND HALF
Much like the first half, Notre Dame started off strong going a 6-0 run to push its lead to 46-35 with 17:53 remaining.
Burns scored the first three points of the run with Gibbs following with a three-pointer to give the team some momentum early in the final 20 minutes.
The Irish extended to 12-0 after a thunderous dunk from Burns, which led to a foul and an and-one conversion from the senior. Pflueger followed it with a three-pointer to help put the game back in full Notre Dame control at 52-35.
Hubb finally got into the scoring column with a three-point play of his own to keep the Irish up 17 at 57-40 with 14:12 remaining. Burns and Laszewski combined on a 6-0 run to put the Irish advantage back to over 20 (64-42) at the 10:28 mark.
Three of Notre Dame's next five baskets came via the three-pointer with Pflueger, Goodwin and Hubb each hitting one to make it 77-47 Notre Dame with under seven minutes to play.
Guard Robby Carmody also notched his first points of the game in the second half hitting a pair of free throws to make it a 79-47 Irish advantage.
Notre Dame kind of coasted over the next few minutes with Harvey scoring four-straight points to keep the Irish up over 30. The Harvey field goal with 5:31 left was the last the team hit for over four minutes before guard Nik Djogo ended the drought with a layup.
Ultimately, the Irish went on to defeat Chicago State 89-62 to move to 2-0 on the season.
Burns led the Irish with 15 points while adding five rebounds. Laszewski (12), Harvey (11) and Gibbs (10) rounded out the top four scorers for Mike Brey's group.
Pflueger finished with nine points, three rebounds and five assists. Carmody added eight points and three rebounds while Goodwin and Mooney each had seven points. Harvey led Notre Dame in rebounds with seven.
The finished 31-of-71 (43.7 percent) from the floor and 13-of-40 (32.5 percent) behind the arc.
Notre Dame held Chicago State to 29.2 percent over the final half and 42.6 percent (20-of-47) for the game. The Cougars turned it over 13 times total and eight over the final 20 minutes.
Forward Cameron Bowles tied Burns for the game-high in points with 15 while Strickland and guard Anthony Harris each scored 13.