Notre Dame Players Don't Feel Blamed For Losses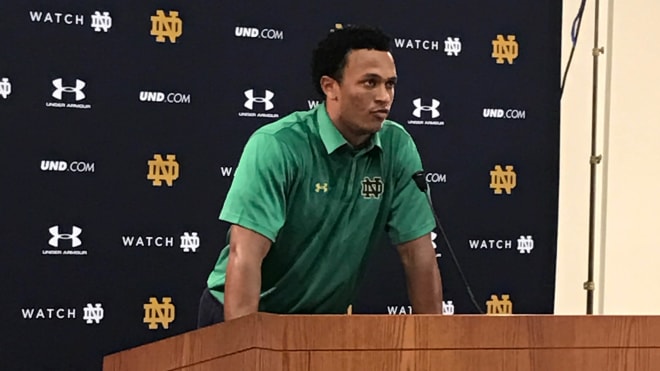 Notre Dame head coach Brian Kelly has taken plenty of heat nationally for his comments after the loss to NC State, with many believing that Kelly tends to blame players for the team's struggles.
The seventh-year coach's fiery demeanor was on display during the game as he appeared to be yelling at junior center Sam Mustipher for repeated poor snaps.
And after the game, Kelly called the snapping of the ball "atrocious."
Senior linebacker James Onwualu was asked Wednesday what he thinks when he hears Kelly say such things.
"Yeah, I mean, that's tough," Onwualu said. "Obviously some guys don't perform in every game and it's tough at this level. Obviously, don't love seeing that from a head coach, but sometimes it's necessary, I guess."
Junior quarterback DeShone Kizer — who has shouldered much of the blame for some of the struggles this season — followed Onwualu into the auditorium for interviews about 30 minutes later.
Here is Kizer's answer when asked about the perception that Kelly blames players after losses.
"Blame is definitely not the word," Kizer said. "In this game there are 11 guys who are required to do their job. And in order for us to go out there and to give a better result than we have in these last six games, you have to challenge guys. And when you guys sit up here and ask about specifics on guys, he's going to let you know exactly what happened and in order for us to not up come out successful.
"That can be perceived as blame, but perception is part of what we do here working with the media. James (Onwualu) walks in and he gives an answer, and it's perceived as if he's saying that it's a horrible thing that coach puts blame on guys. But I'm sitting here having a conversation with (Onwualu), and all he's trying to say is, 'Hey, yeah, it's tough when the coach calls you out.' But we take that as a challenge here.
"We accept everything as a team. But individually you're going to have to get challenged to play your best. And when you're 2-4 right now, everyone has to point their finger at themselves and look at themselves in the mirror and accept those challenges so that we can come out and be more successful and hopefully put together the wins that we need to put together in the second half of the season."
Fighting Irish Media, Notre Dame's own production arm, released a video on Tuesday featuring a clip of Kelly talking to the team in the locker room following the loss.
"You were ready to play, you were excited to play, you were energized to play, and I got to do better," Kelly said in the video. "I couldn't find a way to win that game for you.
"All I can tell you is I'm just going to work harder, I'm going to coach harder, I'm going to commit harder, I'm going to do everything that I can to make sure that we get all three units, special teams included, playing and ascending to the level that we're capable of."
Onwualu said it's important that the team hears such comments from Kelly.
"It's just a reminder that we're all in it together, and we're working towards the same goals," Onwualu said. "He's a 2-4 coach as well. So like I said, we're all in this together. A lot of the fans can see what he does on the sideline as negative. But it's high stress, especially in a situation we're in now. Everybody wants to win and everybody wants to get it right. So obviously it's his job as the head man to be the enforcer of that."
Senior receiver Torii Hunter Jr. was also asked about Kelly's comments in the FIM video.
"It's definitely important to understand that," Hunter Jr. said. "To make everybody understand that we're all in this together. You know, we're going to win together, we're going to lose together. So it was definitely important that he relayed that message to us and just make sure that everybody was on the same page."
Senior left tackle Mike McGlinchey said he doesn't feel as if Kelly blames the players. If Kelly criticizes a player after a game, McGlinchey said that's a conversation that's a message that has already been relayed privately to the player.
It's not necessary, McGlinchey said, for Kelly to apologize to anyone for he says.
"It comes down to a whole team effort, both coaching and playing better," McGlinchey said. "Obviously he's the head coach, and he's going to take a lot of fault for what's going on in our program right now, but it comes down to a mindset, like I said, of executing our job and doing our job one day, one play at a time. The more we can focus on that, the more success that's going to come. And I don't think it's necessary for him to say that, because we all know it's on us. Obviously it's one of those things that he said, but it's on us, and we all know that.
"We know he's not blaming us. If Coach Kelly really wanted to blame us, he would come up and say it in our face like he has done before if we've screwed up.
"He takes care of us more than I could even imagine anybody ever doing. Obviously, things get said, and we're 2-4, and things are said after a football game. Everybody's pretty emotional after certain things like that, and things can easily get misstated, and that's all that that is."