Notre Dame-Northwestern: 10 To 1 Countdown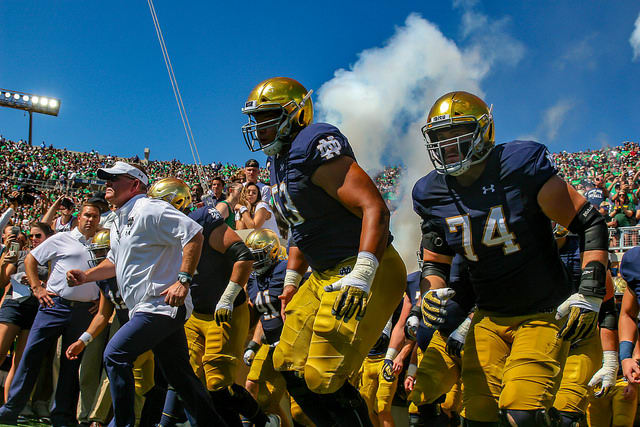 10 A victory versus Northwestern would run Notre Dame's winning streak to 10, dating back to the Jan. 1 Citrus Bowl. That would be the school's second-longest winning streak in the past 25 years from 1994-2018, behind only the 12-0 start in 2012. No other Fighting Irish teams since 1994 have won more than eight in a row.

9 With a win at Northwestern, this would be only the eighth Notre Dame team in the 69 football seasons since 1950 to record a 9-0 start. The others were 1964, 1970, 1973, 1988, 1989, 1993 and 2012. Each one of those teams on the final day or game had an opportunity to win the national title.
The 1973 and 1988 were consensus champs, the 1964 unit shared the title with Alabama and Arkansas, the 1970 crew finished No. 2 after defeating No. 1 Texas in the Cotton Bowl, the 1989 outfit placed No. 2 after toppling No. 1 Colorado in the Orange Bowl, the 1993 edition came in at No. 2 despite defeating No. 1 Florida State in the regular season, and the No. 1-ranked 2012 team fell to Alabama in the BCS Championship.
8 While junior quarterback Ian Book ranks seventh nationally in pass efficiency (170.2 rating) and No. 1 in completion percentage (.765), an overshadowed stat is the Notre Dame defense, led by its outstanding pass pressure, is No. 8 in the country in team passing efficiency defense (102.89 rating).
This is especially important to note because although Northwestern ranks 27th nationally in passing yards per game (280.1) while averaging 44.5 attempts per contest, it is only 112th in passing efficiency (115.80 rating) among 129 teams.
7 In the last seven seasons (2012-18), this marks the fifth time Notre Dame entered the month of November with either zero or only one defeat, with the others occurring in 2012 (8-0), 2014 (7-1), 2015 (7-1), 2017 (7-1) and this year (8-0).
Consider that in the 18 previous years from 1994-2011 it occurred only three times: 1998 (6-1), 2002 (8-0) and 2006 (7-1).
6 Starters or "co-starters" for Notre Dame tonight who hail from the greater Chicago area and will be near their old stomping grounds: top receiver Miles Boykin, tight ends Cole Kmet and Nic Weishar — both of whom should see more action with Alize Mack ruled out because of a concussion — right guard Trevor Ruhland, All-American cornerback candidate Julian Love and long-snapper John Shannon.
5 Consecutive victories Notre Dame has posted against Northwestern when playing in Evanston at Ryan Field, formerly known as Dyche Stadium. This occurred from 1966-76, when in those five meetings the Irish outscored the Wildcats 204-24. The two also met at Chicago's Soldier Field in 1992 and 1994, which were 42-7 and 42-15 Irish wins, respectively.
The last time Northwestern won at home versus Notre Dame was Oct. 27, 1962, when head coach Ara Parseghian's Wildcats crushed the Irish 35-6 to improve to 6-0 and move to No. 1 the following week in the Associated Press poll. The Cuban Missile Crisis also was that weekend in which nuclear holocaust was an utmost concern.

4 Road games for the Fighting Irish in their final five games this year. Per the University's media relations office, the team will travel an estimated 8,731 miles in the 30 days from Oct. 26 through Nov. 25 to San Diego (Navy), the bus trip to Evanston (Northwestern), Newark (Syracuse) and Los Angeles (USC).
3 Teams in the nation that average fewer yards per game than Northwestern in running the football, a sharp contrast to last weekend when Navy was No. 3 in the country in rushing yards per contest. Among 129 Football Bowl Subdivision teams, the Wildcats are No. 126 with a 91.1 average. Next week's opponent, Florida State, is 127 (83.5), while Nov. 24 foe USC is 114th (120.9).
2 Games in a row Northwestern has won against the Fighting Irish, with both at Notre Dame Stadium: 17-15 in the 1995 opener when the Irish were a 28-point favorite, and 43-40 in overtime on Nov. 15, 2014, when Notre Dame was ranked No. 15 and the Wildcats entered on a four-game losing streak in which they had averaged only 12.5 points per game.
Pat Fitzgerald starred at linebacker for the 1995 Northwestern team that stunned the college football world by winning the Big Ten and going to the Rose Bowl, and then coached his alma mater, as he does now, in the 2014 win.
1 Northwestern is seeking its first win in 13 tries against Notre Dame when the Fighting Irish are in the AP top 5. Notre Dame is No. 3 this week in the AP but No. 4 in the College Football Playoff poll, and the latter is all that matters now. The Wildcats have defeated Notre Dame only two time in 22 previous meetings when the Fighting Irish were ranked in the AP Top 10.
The first such defeat occurred Oct. 28, 1961 when Parseghian's Wildcats won 12-10 at No. 8-ranked Notre Dame. Parseghian was 4-0 against his future team that he would lead to glory. The only other coach since the 20th century to hold a 4-0 mark versus the Irish is Nick Saban (3-0 at Michigan State and 1-0 at Alabama).
The second such loss to Northwestern was the aforementioned triumph at Notre Dame in the 1995 opener when Lou Holtz's Irish were ranked No. 9.