Notre Dame National Signing Day Primer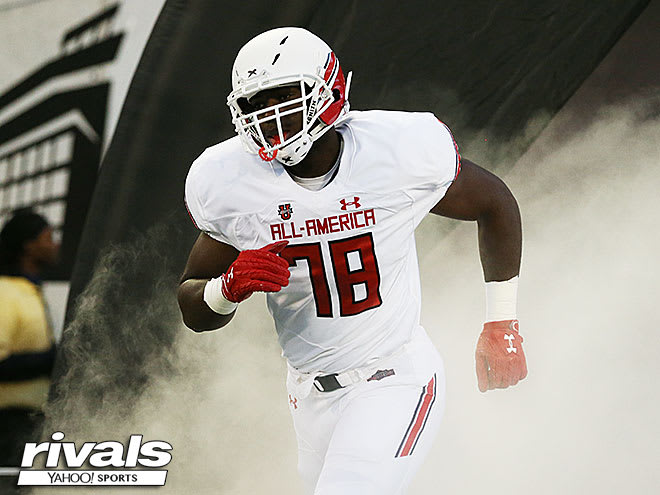 With 21 signed and one committed, Notre Dame currently sits at No. 7 in the Rivals team rankings with less than 24 hours to go until the traditional National Signing Day on Wednesday.
Notre Dame is looking to finish the class of 2018 off with a bang, and are in prime position to do so Wednesday with several targets still in reach.
Here's the latest with each remaining target as we head toward the final day of the 2018 recruiting cycle.
TOP STORYLINES
FILLING NEEDS
Notre Dame is in a position to fill multiple key needs on Signing Day including defensive end, cornerback and offensive tackle. The Irish have long been search for an additional edge presence to go with signee Justin Ademilola and landing Eason would end the staff's journey in that regard.
After striking out in 2017 at cornerback, the Irish have landed three prospects who will begin their career at the position: Houston Griffith, TaRiq Bracy and Joseph Wilkins Jr. Notre Dame though has continued to push for another cornerback in the class and Washington (D.C.) St. John's product DJ Brown would fit the bill for the Irish. Washington (D.C.) H.D. Woodson Rivals250 cornerback Noah Boykin is also on the board, but is expected to head elsewhere.
Notre Dame got the 2018 offensive line class rolling early landing commitments from Cole Mabry and John Dirksen last February and March respectively. Since then Luke Jones has joined the mix, but adding at least one more to the group continues to be a goal with Tampa (Fla.) Berkeley Prep five-star offensive tackle Nick Petit-Frere and Mission Viejo (Calif.) High three-star tackle Jarrett Patterson left on the board.
RACING TO THE FINISH
Notre Dame is in position to add several more players to the class, and could end the cycle with anywhere between 22-28 signatures.
A class of 28 would tie the class of 2006 for the largest group for Notre Dame in the Rivals era (2002), which is also the last time the Irish landed more than 25 in a single class.
BGI is expecting Notre Dame to land multiple players tomorrow with a good possibility of the class exceeding 25.
To see who we are predicting to land in South Bend, check out our FINAL PREDICTIONS
FIVE-STAR STATUS
Notre Dame remains strongly in the mix for one of the top offensive lineman and players in the country in Petit-Frere. The Florida product shot up the rankings in recent updates due to his senior film and play during the Under Armour All-American Game.
If Notre Dame can land Petit-Frere, it would give the Irish their first five-star player since landing defensive end Daelin Hayes in 2016. Petit-Frere would become the first five-star offensive lineman since Quenton Nelson in 2014 to ink with the Irish.
In fact, Petit-Frere would be just the third five-star offensive lineman to sign with Notre Dame in the Rivals era joining Nelson and Sam Young (2006).
Top Contenders: Notre Dame, Georgia Tech, Tennessee

The Skinny: This one really seems pretty cut and dry. Notre Dame was in need of a second running back in the class after the dismissals of Deon McIntosh and CJ Holmes, and they are likely going to get one in Flemister on Wednesday.
Running backs coach Autry Denson made Flemister a priority after offering him, and Notre Dame made a huge impression on the Georgia talent and his family during an official visit the weekend of Jan. 27.
If everything goes the way we expect it to, Flemister will be in the class.
Recruiting reporters David McKinney and Corey Bodden, as well as football analyst Bryan Driskell, all predict Flemister will choose the Irish.
Top Contenders: NC State
The Skinny: Notre Dame offered Eason in early January and was able to convince the three-star prospect to take an official visit. All indications are that trip went well and a flip to the Irish is imminent.
At first, Eason was unsure if he would take any other visits due to his commitment to NC State. But, he did and the Wolfpack have already landed a JUCO defensive tackle, the position Eason would play for the program, which signaled their staff was covering their bases.
Adding another defensive end to Justin Ademilola has been a goal for the Irish for quite some time and it appears that need will be met come tomorrow.
McKinney, Bodden and Driskell all predict Eason will pick Notre Dame.
Top Contenders: Northwestern, California
The Skinny: Like we've stated before, it is quite possible Brown would already be in Notre Dame's class had he made his official for the Echoes banquet as planned. But, the Irish appeared to be full at the position thus causing Brown to cancel the trip.
Obviously, there are no hard feelings from Brown as he took his Irish official Jan. 28-30 and backed off his long-time commitment to Virginia shortly after leaving South Bend. Northwestern and California are also contenders for Brown, but we expect the three-star to ink with the Irish tomorrow.
McKinney, Bodden and Driskell all predict Brown will pick Notre Dame.
Top Contenders: Texas, SMU
The Skinny: Notre Dame has been on Keys for almost a year now, and the vibe out of Louisiana is that the hard work will pay off come 11 a.m. eastern time on Wednesday.
Keys has a great relationship with wide receivers coach DelVaughn Alexander, and his mother, LaTanya Manning, appears to be fully on board with her son heading out of state to play college football.
Official visits to Texas and SMU posed threats to Notre Dame, with Texas giving the most push, but Notre Dame should get good news when Keys makes his announcement on Wednesday.
McKinney, Bodden and Driskell all predict Keys will pick Notre Dame.
Top Contenders: Ohio State, Florida, Alabama, Michigan
The Skinny:
UPDATE (2:04 p.m. - Tuesday): Based on some new information, it's beginning to look like Ohio State is going to be the pick. However, nothing is official until a letter is signed, so there could still be some drama left on this one.
This is it. It's the big one. Notre Dame has been working non-stop throughout the entire recruiting cycle to try to land Petit-Frere, and they're about to find out if it's going to pay off.
Petit-Frere has executed one of the quietest recruitments of all time, and there was little to no intel available at any point in his process.
In fact, when Petit-Frere announces his commitment, it will be the first time he's publicly acknowledged interest in any school without mentioning 10 others. There's been no top 10s, no demands to respect a decision, and no long notes app tweets. This is a decision full on intrigue and shrouded in mystery.
McKinney, Bodden and Driskell all predict Petit-Frere will pick Notre Dame.
Top Contenders: USC, UCLA
The Skinny: This one was easy to predict. Tuliaupupu was long thought to be a USC lean, and that's where he's going to end up.
Notre Dame did well to make it even a little bit interesting, but the Irish were never going to be able to overcome the Trojans lead. Clark Lea and Brian Polian deserve a ton of credit for making the push they did, but it won't be enough.
Even if UCLA is able to pull of the upset, Tuliaupupu won't be leaving California.
McKinney, Bodden and Driskell all predict Tuliaupupu will pick USC.
Top Contenders: UCLA
The Skinny: A lot of people in the recruiting world were quick to assume UCLA for Patterson once Michigan was out of the picture and the Bruins only had Notre Dame to fend off.
But that news came before Notre Dame sent four members of the coaching staff out to California to meet with the three-star.
That visit made a big impression on Patterson, and could just be the factor that gives Notre Dame the edge in the end. Is UCLA the safe bet? Probably. But this is recruiting, and safe bets go bust all the time.
McKinney and Bodden predicted Patterson to Notre Dame while Driskell picked UCLA.
Top Contenders: Florida, Maryland, Virginia
The Skinny: Notre Dame has made a major push for several months and the Rivals250 prospect almost joined the class, but couldn't pull the trigger and remained committed to Maryland.
But, Boykin ultimately backed off his pledge to the Terrapins on Jan. 24 which came just days after an official to Florida. Boykin told Rivals analyst Adam Friedman that he "pretty much" knew where he would be going following the Florida trip.
The Gators flipped momentum their way late the process and the Notre Dame staff kept plugging away until the very end. But, we expect Boykin to head to Gainesville.
McKinney, Bodden and Driskell all predict Boykin will pick Florida.