Notre Dame Moves Into Top 5 In National Recruiting Rankings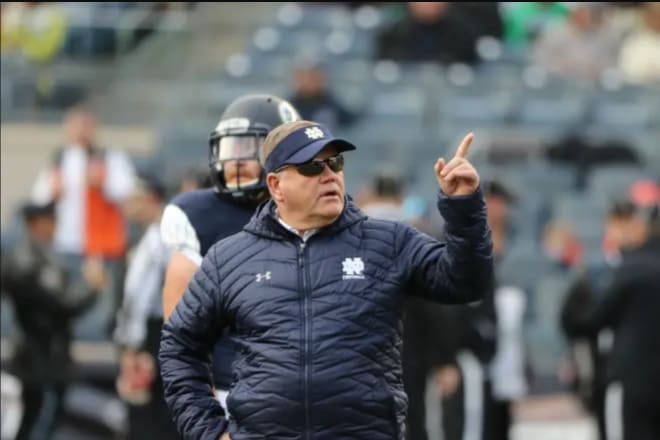 Notre Dame now has a Top 5 recruiting class.
The Fighting Irish moved to No. 5 overall in the Rivals national team recruiting rankings after landing a monster commitment from four-star offensive tackle Tosh Baker on Wednesday.
Notre Dame raced past Penn State, Florida and Florida State and now has a total score of 1,206. Clemson, LSU, Alabama and Miami are the only four schools ranked ahead of Notre Dame.
Notre Dame currently holds 10 verbal commitments — eight four-star prospects, one three-star prospect and one unranked prospect.

Baker gave the Irish a big boost as he is ranked as the No. 9 offensive tackle and No. 51 overall recruit in the country. Baker has a 6.0 rating, which equates to an All-American with first to third round NFL potential.
"Baker is the ideal fit for the left tackle position due to his elite pass blocking potential, which comes from having superior length and excellent athleticism for such a long athlete," wrote BGI's Bryan Driskell. "His best asset at this point is pass blocking, and he projects to only get better in this area.
"That fits in extremely well in the Notre Dame offense. Notre Dame prefers long and athletic tackles, and Baker gives them that."
Baker is Notre Dame's highest ranked commit in its 2020 class.
Of Notre Dame's 10 commits, six are ranked inside the Rivals250.
Baker is the first offensive lineman to jump onboard for the Irish this cycle.