Notre Dame Linebacker Greer Martini Ruled Out For USC Game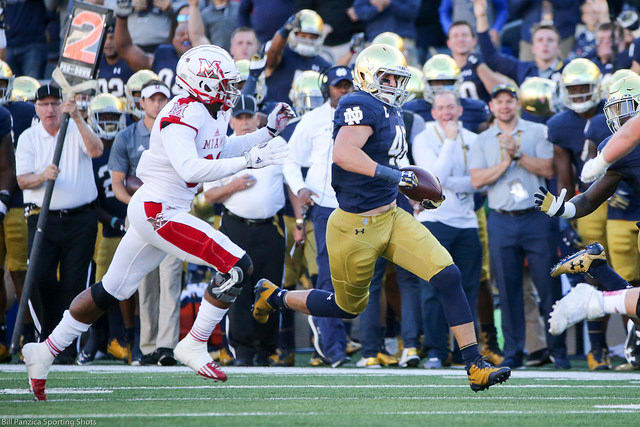 Notre Dame starting senior captain and Buck linebacker Greer Martini underwent a procedure for an injured meniscus and has been ruled out for the USC game this Saturday, per head coach Brian Kelly following Thursday's practice.

"I think there's a good chance we'll have him back for North Carolina State (Oct. 28)," said Kelly. "He had a small procedure done to clean up a small meniscus. He was moving around today pretty good, but we would be rushing to get him back. We'll hold him out this week but we feel really confident we'll get him back next week."
Martini injured his knee in a practice during the bye week and had the scope performed last Thursday. Kelly listed him as "day-to-day" during Tuesday's press conference but left no doubt this afternoon.
In Martini's place, junior Te'von Coney will receive the start, and he essentially has been a co-starter on the inside in a 3-for-2 rotation with Martini and senior Mike linebacker Nyles Morgan.
Coney, who has rotated some at Mike, has 231 snaps this season compared to Martini's 228. Coney is second on the team in tackles with 42 (2.5 for loss, including a sack), behind Morgan, while Martini is third with 39 (two for loss, plus a team high two forced fumbles and an interception).
Such a rotation is unlikely minus the veteran Martini. Sophomore Jamir Jones could possibly see some action but "not a ton of work," per Kelly.
"Te'von will play quite a bit in the game, and then when we get into nickel we change the rotation up there a little bit as well," he said.
Coney's work in pass coverage is where the prime improvement is needed, but Kelly said former safety and current senior rover Drue Tranquill likewise could be an option along the inside, where he has seen some reps in practice. Tranquill's backup, junior Asmar Bilal, will remain exclusively at rover.
"Drue will be the next guy, and then getting into some other packages," Kelly summarized.
Morgan and Tranquill have both taken 340 snaps this season (an average of 57 per game) and will remain mainstays . Tranquill was recently named one of the 20 quarterfinalists for the Lott IMPACT Award, and Morgan has taken his game to another level — with higher ground still ahead — both physically and mentally.
"We'd love to continue to see him grow in the passing game," Kelly said of Morgan. "He's been really good with his run fits this year… he's really conditioned himself well, physically very strong. This is his best year since I've been with him.
"The growth would be — because he's on the field for every down — in pass situations."
Maybe even more significant was the way Morgan developed as a leader since last winter.
"Emotional stability is important for leaders so they're not up and down," Kelly said. "He was a bit of an up-and-down guy at times. He's been so stable in terms of every single day you know what you're going to get from Nyles Morgan."