Notre Dame Lands 2019 CB K.J. Wallace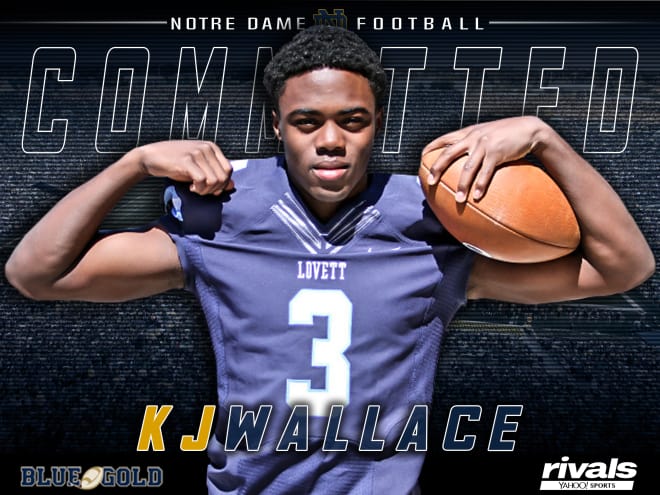 On the plane ride home from his Junior Day visit at Notre Dame, Atlanta Lovett 2019 cornerback K.J. Wallace knew South Bend was his new home.
The 5-foot-10, 182-pounder announced Sunday his intentions to become the third member of Notre Dame's 2019 class joining Reno (Nev.) Damonte Ranch quarterback Cade McNamara and Bowling Green (Ky.) South Warren defensive tackle Jacob Lacey.
"Actually on the plane right back, I had a dream," Wallace told Blue & Gold Illustrated. "It was my little sister and for whatever reason I could see her when she was really little and she was telling me to go … That was the tipping point for me. It was weird. I don't know. I just knew I needed to do it.
"They're going to give you the tools necessary to have a successful life with and without football. It's all up to you to take advantage of the resources all over the place. It's a great university."
Even though it was his first time at Notre Dame, Wallace found the perfect fit to continue his academic and athletic career.
"It checks all the boxes with academics, big-time football," Wallace explained. "I love the coaching staff. Also, the connections with the alumni base, every game is sold out. The only downfall is that it's cold. I'll figure it out. I just loved it.
"Honestly, I expected to commit at the beginning of the season. But, I know this is the place for me … I loved everything about the campus and the coaches. We met a few players and I like their strength and conditioning program too. I just loved everything. I couldn't find much wrong about it."
Spending time with cornerbacks coach Todd Lyght during the visit helped Wallace feel comfortable with the Irish.
"It was me and another DB going kind of one-on-one with Coach Lyght going over some defensive stuff," Wallace said. "I thought that was really exciting. Not normally do you get to have a one-on-one conversation on a Junior Day like that. I'm not sure how to describe it. The whole feeling was amazing. It's the best visit I've ever taken.
"He's been to my school multiple times, probably three or four times just this little period. I don't even really look at him as a coach. He's my coach obviously, but I can just relate to him."
The Wallace family also has a connection to running backs coach Autry Denson.
"My dad actually played high school ball with him, so they knew each other," Wallace said. "I've always liked Coach Denson. He's a pretty cool guy. It was good to talk with him and meet him."
Though listed as an athlete on Rivals, Notre Dame likes Wallace at cornerback. The three-star prospect, who ranks as the No. 48 athlete in the class, picked Notre Dame over offers from Auburn, Duke, Georgia Tech, Nebraska, Penn State, South Carolina, Stanford, Tennessee, Vanderbilt, Virginia and Wisconsin.