Notre Dame Itinerary Laid Out Through Dec. 29 — And Beyond
Click HERE to sign up for an annual subscription to BlueAndGold.com and get your FREE gift code for $99 in Irish apparel and gear!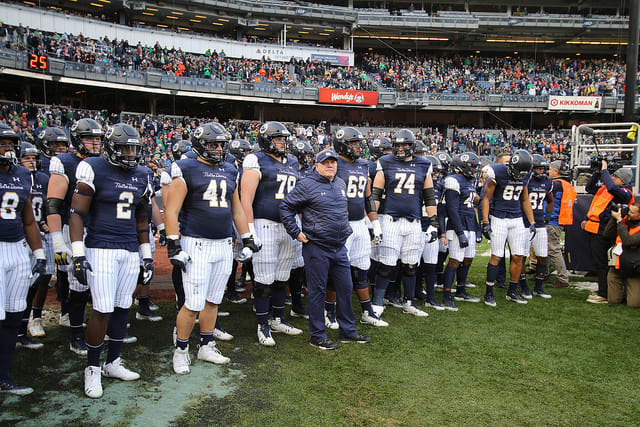 Notre Dame has been to 35 bowl games since eliminating its 44-year bowl ban on them in 1969, but the school's inaugural foray into the College Football Playoff will have a different postseason feel.

First is the knowledge that the next game is not necessarily the swan song for the seniors nor the entire team. Whereas a bowl game was a finality, the Dec. 29 Cotton Bowl versus Clemson in the CFP (begun in 2014) is just another step toward attempting to reach the ultimate prize on Jan. 7 at Levi Stadium in Santa Clara, Calif.
"We expect to win and to continue to play," said Fighting Irish head coach Brian Kelly of the mind-set required to not believe this is "the final game."
At the same time, it's akin to a season opener versus a marquee opponent — a la Michigan this year on Sept. 1 — with also a time to recuperate and get back to some basics, similar to spring drills.
"This is like spring ball preparation, preseason camp and in-season wrapped all in one," Kelly summarized.
While the top Power 5 conference teams, and even Group of 5 units, had league championship games to prepare for last week, Notre Dame utilized the Nov. 25 through Dec. 1 period as a recruiting period for the coaches and a somewhat recuperation time for the players. There were no formal football practices, but three days of weight training, with some unsupervised 7 on 7 work within the parameters of NCAA rules that include the 20-hour work week dealing with football activities.
A folk tale that has mistakenly gained legs over the years is that a bowl team gets an extra "15 days" of practice (a la, 15 allowed spring practices). There actually is no cap there, and often there isn't even the time to get those 15 in.
Here is the tentative itinerary laid out by Kelly through Dec. 29.
Monday Dec. 3 through Sunday Dec. 9
There will be four days of workouts — weight room, running and some 7 on 7 — and then the first two practices for the Cotton Bowl will be Saturday and Sunday (Dec. 8-9), following the Echoes Award Banquet on Friday evening.
This Thursday (the 6th) is the last day of classes for the fall semester prior to final exams week, with "reading days" from Friday through Sunday (7th through 9th).
Monday Dec. 10 through Friday Dec. 14
Final exams week at Notre Dame, with none of the other sports slated for game action during these five days, either. There will be workout sessions for the football team but not always or necessarily the "traditional" type of practices.
"We have to be really intentional with the times," Kelly said. "We really only have small, slotted windows, so our practices have to be segmented a little bit different."
Saturday Dec. 15 through Friday Dec. 21
This is when the earnest game preparation for Clemson truly begins before the team leaves home that Friday to spend the weekend (Dec. 21-23) with families for the Christmas holiday. Kelly said he will lean some on playoff preparation with his experience at Grand Valley State — where his Lakers had to win four games apiece in the playoffs in 2002 and 2003 to capture the Division II national titles.
One of the objective is to not peak early while building a crescendo toward the game.
"I've got a pretty good sense of how we need to prepare," Kelly said. "…You've got to get them peaking for December 29th — and peaking in a sense of tackling and execution and special teams and all of those things that you've got one shot at it. You have to have all of those things humming at a high level against great competition. …
"There's going to be some days where we're out there just in helmets. There's some days out there where we're running bench control with every kind of situation that can happen in the game, and there will be some times out there running inside-drill where we're grinding, 70-play scrimmage, tackling. So all of that has to be part of the plan, and you have to do it while you've got exams going on and making sure that you're resting and recovering."
Monday Dec. 24 through Saturday Dec. 29
The team will reconvene in Dallas to spend Christmas Eve together. From there, it becomes like a normal practice routine during the regular season from Tuesday (Dec. 25) through Friday (Dec. 28) prior to Saturday's (Dec. 29) showdown.
Oh, and there is one more item on the checklist after the game.
"We'll fly all back here together in preparation for the Championship Game," Kelly said.
Confidence is not in short supply these days.