Notre Dame Football Notebook: March 30 Practice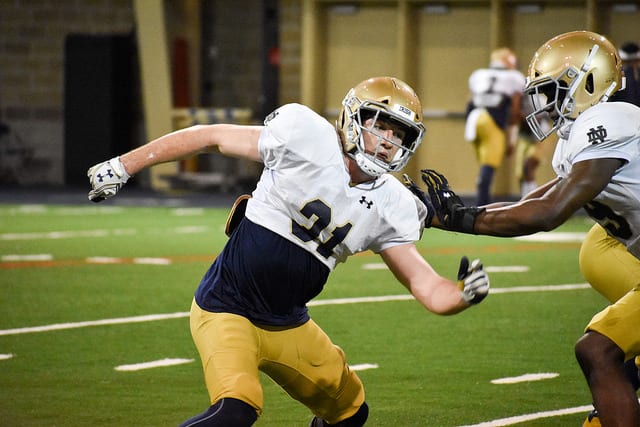 While the competition for the starting linebacker positions is and will remain a primary topic this spring, throughout the summer and even August camp, a little more crystallization has developed with at least two players.

One is that 6-2, 227-pound fifth-year senior Asmar Bilal will in one way or another, whether at Mike or Buck, be a regular in the lineup. In each open practice, he has come out first in both tempo and Team drills. This is hardly a surprise because his 10 starts last season at rover make him far and away the most veteran figure, and his 97 career tackles are triple that of any other linebacker (junior Jordan Genmark Heath has 32, 16 apiece his first two seasons, many on special teams).
"We've seen enough there that he's in the rotation," confirmed head coach Brian Kelly following Saturday's practice, Notre Dame's ninth this spring, that was open to the media.
A second figure whose presence is becoming more conspicuous is 6-4, 227-pound Jack Lamb, who redshirted last season while battling injury setbacks that dated back to a deeply bruised patella at the outset of his senior season at Temecula (Calif.) Great Oak High. With his range and movement, Lamb — who was Rivals' No. 77 player overall nationally in its 2017 top 100 — has been effective against the pass but he combines that finesse with physicality in the box.
"If you ask our offensive linemen, they would tell you that he was the toughest guy that they had to deal with last year on scout team when he was healthy," Kelly revealed. "He was physical, he was difficult to block. Now that he's healthy, he's making the strides necessary for us to see him on the radar.
"Those two guys have done some things that give us an eye toward the fall. The rest is we have to see consistency in performance from everybody else."
Kelly reiterated that this spring is not going to be the "end all" in the linebacker competition, and it would be premature to draw any firm conclusions.
"We're at the fundamentals of linebacker play: base, strike, tackling — today we didn't tackle very well with our young players," Kelly said. "We're in good position, but we're just not there yet. This is going to be a process of continue to be patient, continue to work with them, be positive with them."
In an effort to continue the growth, the Irish head coach also has mandated that offensive coordinator Chip Long for now employ more of an inside-out run game and challenge the defense along the perimeter while it engages in more press coverage. It is about working on the skills sets that need to be honed.
"We're trying to service each other [collectively] in what we're doing in the spring," Kelly summarized.
Other elements that still appear to be in place are sophomore Shayne Simon taking his reps at Buck, although he also has trained at rover and, from what we saw today, Mike as well, giving him a clean sweep of all three spots. Meanwhile, junior Jeremiah Owusu-Koramoah and sophomore Paul Moala provide complementary skill sets at rover.
Running Back Stable Growing
If linebacker is the primary question mark on defense because of inexperience and dealing with position switches, then running back would be the main one on offense minus the graduating Dexter Williams.
However, the tandem of senior Tony Jones Jr. (392 yards rushing, six catches for 157 yards in 2018) and junior Jafar Armstrong (383 yards rushing, 14 catches for 159 yards) provide a stronger base of understanding from their experience and success in vital situations last year. Armstrong in particular was quite active in the passing game (he originally was recruited as a receiver) in Saturday's practice, but he was slowed the second half of the 2018 campaign while battling through a knee infection.
"Dealing with injuries and setbacks tend to make a player deal with the rigors of college football so much better," said Kelly of Armstrong. "Let's not underestimate that being a big check. He's physically healthy … that's another check. And I think he really knows the offense well and knows where he fits. We've found a nice niche for him and I know he knows he feels comfortable in the role."
Sophomores Jahmir Smith (5-11, 207) and C'Bo Flemister (5-11, 195) also flashed in a scrimmage situation at the close of practice. With the No. 2 offense going against the No. 2 defense, Smith first made an explosive cut-back move on a run of about 25 yards. Then he absorbed the day's most thunderous hit, from sophomore safety Derrik Allen, in a violent collision (after bursting for about 10 yards) that reverberated loudly. Both popped up and went right back to business.
The final play of practice saw Flemister take a short screen, juke one tackle and refuse to go down on several other good hits, keeping his balance all the way into the end zone for about a 20-yard tally. Finding a role for them is the next objective.
"Every day we see a little bit more that starts to define the kind of running backs they are because, quite frankly, they didn't get much work [last year]," Kelly said. "We're starting to see what they can do for us."
Practice Notes
• Fifth-year senior Chris Finke was the standout with his activeness and consistency thanks to precise routes and finishing plays, deep, intermediate or short.
• Sophomore wideout Braden Lenzy did practice some but has been a little limited with a grade 1 hamstring injury. Classmate Joe Wilkins also has been gradually coming back from an injury but taking more reps.
• About one-third of the way through practice, sophomore cornerback TaRiq Bracy suffered a first degree ankle sprain while covering on a corner route in which he came to an abrupt halt on the track surface of Meyo Field inside the Loftus Center. Replacing him were senior walk-on Temitope Agoro, a regular on special teams last year, and sophomore Noah Boykin.
Junior Avery Davis, who was a quarterback as a freshman and running back as a sophomore, worked behind Houston Griffith at boundary corner, and almost had a pick six when he timed an underneath route perfectly but couldn't quite hang on to the pass.
"Physically he's got the tools to play that position," said Kelly of Davis. "His economy of movement is what we're really trying to get. He's not understanding yet how a defensive back moves compared to a wide receiver. Once we get that [technique] down, I think we'll see him close quicker, be in better position to play the ball in the air."
• The tight end position this season will feature the junior tandem of Cole Kmet and Brock Wright — Notre Dame's lone Rivals top 100 additions from the 2017 recruiting haul — but a couple of sophomores are beginning to enhance the depth. In the four open practices we've witnessed, this was definitely the best and smoothest one for the 6-6, 255-pound George Takacs. Classmate Tommy Tremble at 6-3, 237 provides a different dimension.
"We're moving that tight end and he's extremely athletic," said Kelly of Tremble. "He can get off the zone read and block in space, very agile, so there is definitely a role. Within our offensive structure, we also have that tight end that's in an 'H' position. He suits that H-back position quite well for us."
• Kicker Jonathan Doerer remained somewhat inconsistent on field goals. Although where we positioned about 140 yards away made it difficult to view where the ball was placed and if it indeed went between the uprights, most of his half-dozen field-goal attempts were 50-50. Leg power is not an issue, but accuracy has been in the 30-to-45-yard range. In a scrimmage situation he missed his first one from about 38 yards way right, but converted the next one from about the same distance.
Freshman punter Jay Bramblett served as a holder, whereas previously it had been walk-on quarterback Nolan Henry.