Notre Dame Notebook: Depth Chart Overview For Opener
Head coach Brian Kelly's initial opponent preview on game week took place Wednesday afternoon.
The official two-deep (and sometimes three) also was released by Notre Dame for Monday night's opener at Louisville.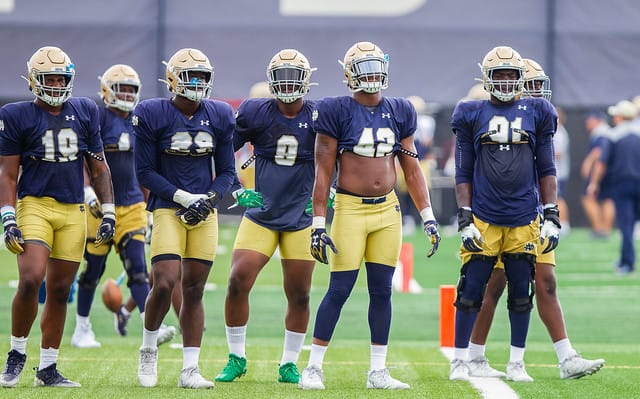 Notre Dame Offense Overview
This was status quo with what we saw in the open practices this month, specifically after collarbone surgeries to junior starters Cole Kmet and Michael Young at tight end and wide receiver, respectively.

QB: Ian Book, Phil Jurkovec
RB: Jafar Armstrong OR Tony Jones Jr., Jahmir Smith
X Receiver (Wide): Chris Finke, Braden Lenzy
Z Receiver (Slot): Lawrence Keys III, Joe Wilkins
W Receiver (Boundary): Chase Claypool, Javon McKinley
Tight End: Brock Wright, Tommy Tremble
LT: Liam Eichenberg, Josh Lugg
LG: Aaron Banks, Trevor Ruhland
C: Jarrett Patterson, Colin Grunhard
RG: Tommy Kraemer, John Dirksen
RT: Robert Hainsey, Andrew Kristofic
• Regarding whether sophomore wideout Kevin Austin will be available at all this year, Kelly held the company line.
"His situation is such that he is still on this football team and he is still practicing with us," he said. "Other than that, I've made my statements regarding him. … I expect him to be with us the entire year."
• Making their first career starts will be sophomore slot Keys and center Patterson. Wright did have a start at tight end last year versus Florida State in a goal-line situation to open the game.
Although still listed at only 173 pounds, Keys is described as "sturdier" than last year.
"Assignment correct has been another thing that he's really worked on," Kelly said of Keys. "We need to rely on players, as well, that we know they're going to be there and line up the right way, be relied on that they're going to be accountable. He's been really accountable in all those areas.
"Then you just take his athleticism. Everybody can see that when he touches the ball he's got great speed. One of the things that he does that's a little bit different than all of our guys is that he catches the ball at full speed. Some guys have to throttle down a little bit."
• Although not listed on the depth chart, freshman running back Kyren Williams was noted as someone who will be in the rotation, and can help mitigate the receiving situation — as can Armstrong — by lining up at slot.

Notre Dame Defense Overview
Similar to offense, the released two- or three-deep was similar to what was seen in sessions open to the media earlier this month.

SDE: Khalid Kareem, Ade Ogundeji, Jamir Jones
DT: Myron Tagovailoa-Amosa, Jayson Ademilola, Howard Cross III
NT: Kurt Hinish, Jacob Lacey, Ja'Mion Franklin
Drop End: Julian Okwara, Daelin Hayes, Justin Ademilola
Mike LB: Drew White, Shayne Simon OR Bo Bauer
Buck LB: Asmar Bilal, Jordan Genmark Heath OR Jack Lamb
Rover: Jeremiah Owusu-Koramoah, Paul Moala
Boundary CB: Troy Pride Jr., Houston Griffith OR Donte Vaughn
Field CB: Shaun Crawford, TaRiq Bracy OR Avery Davis
SS: Jalen Elliott, D.J. Brown
FS: Alohi Gilman, Kyle Hamilton
• Defensive end is considered the team strength, and Kelly reiterated it on the basis of the depth.
"One guy that we haven't talked much about, and I will just say that he's had his best camp since he's been here, is Daelin Hayes," said Kelly of the 13-game starter. "I think that says a lot about what we can do, when we haven't talked about a guy like that."
On many other occasions in the past, freshman Isaiah Foskey would have been vying for serious playing time, whereas now just cracking the three deep is a challenge.
"We're really blessed and talented at that position," Kelly said. "That doesn't mean [Foskey] won't play this year."
• The linebacker positions, as anticipated, will remain fluid. A lot will be based on playing to strengths and packages, or scheming against what the opposition does best.
"We're in a position where they got to go play in a live game for us to really continue this process of solidifying rotation and finding those guys," Kelly said. "I think you're going to see Drew and Asmar probably starting the game.
"They've all made significant progress and have done the things we've wanted them to do. They've earned playing time. … You're going to be able to see as the game unfolds where they fit in these different packages we'll run.
"Then we'll see how that kind of plays out in our evaluation over the next couple games."
• Although Crawford also has lined up at nickel and safety this August, he is listed as the top man at field corner, but Kelly said that position also will see much rotation.
Notre Dame Special Teams Overview
Kicker and Kickoffs: Jonathan Doerer, Harrison Leonard

Punter: Jay Bramblett, Leonard
Holder: Bramblett, Nolan Henry
Long Snapper: John Shannon, Michael Vinson
Punt Returns: Chris Finke, Alohi Gilman
Kick Returns: Jafar Armstrong, Kyren Williams
• Shannon and Finke return as the lone incumbents at their spots.
• With the junior Doerer and freshman Bramblett replacing four-year starters, Kelly said "we have prepared them as well as I've ever prepared our special teams going into an opener.
"I can't play for them. We've recruited them. We've made decisions that these are the best players in the recruiting process. We've got to support them. We've got to go let them play.
"Based upon what we've seen, we are very encouraged. When they put people in the stands, turn the lights on, the scoreboard ... we hope it changes in a manner that brings their game up even more. If that's the case, we're going to be in pretty good shape."
Freshman rover Jack Kiser has earned a spot as a potential core player on special teams.
"We think he can be a difference maker there," Kelly said.