Notre Dame Evaluating Four-Star 2019 OT Enokk Vimahi
Get a FREE 30-day trial using promo code BGI30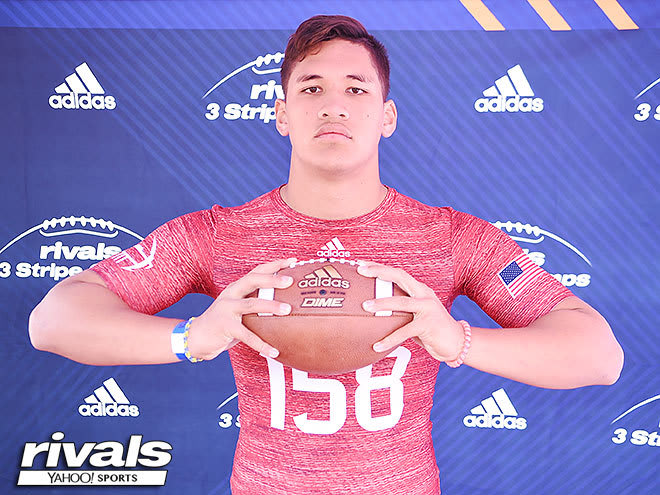 It's no secret that Notre Dame special teams coach has connections in Hawaii.
Polian has had massive success recruiting the state for the Irish in the past, and was back in Hawaii this week.
One of the stops Polian made while in Hawaii was Kahuku (Hawaii) High to evaluate four-star offensive tackle Enokk Vimahi.
Vimahi, one of the first 100 class of 2019 prospects to receive a star rankings from Rivals, currently holds offers from BYU, Fresno State, Hawaii, Nebraska, Oregon and USC.
A Notre Dame offer could be on the horizon, but Vimahi said he was honored just to have Polian visit school.
"Notre Dame is a very prestigious school," Vimahi said. "Just knowing that I'm on their radar now makes me feel good. Hopefully, the time will come where they extend an offer. I really
appreciate the interest from them."
Although he's all the way in Hawaii, Vimahi said he knows plenty about what Notre Dame has to offer, and is quite intrigued by it.
"The education," Vimahi said of what stands out about Notre Dame. "I went to a college fair and the reps there from Notre Dame told me about their business school. I want to major in business and knowing they've been in the top five for the past decade really stuck out to me because that's what I want to major in."
So, it would seem there is mutual interest on both sides, but will an offer come?
If it does, Vimahi said the Irish would immediately enter contention to land his services.
"It would be really special," Vimahi said of a potential Notre Dame offer. "The school is all the way in Indiana, and when you're in Hawaii you don't realty get a lot of attention from schools on the East Coast, it's mainly from the Pac-12. Notre Dame extending an offer from that far of a distance would mean they're really interested"