Notre Dame Earns No. 1 Seed In Chicago Regional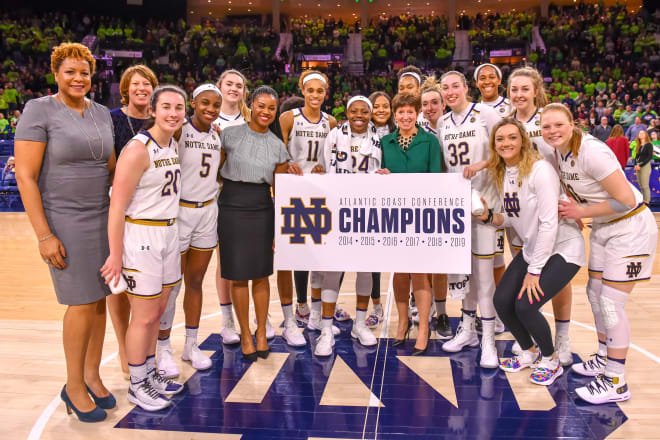 Early starts were the theme on Selection Monday for the Women's NCAA Basketball Tournament.

An inadvertent ESPN leak of the brackets resulted in the Selection Show having to move up to 5 p.m. ET instead of the originally scheduled 7 p.m. slot. Notre Dame's (30-3) practice was halted after only 40 minutes so the staff and players could quickly scurry in to witness the revelation of the brackets.
"I didn't want to hear that," said head coach Muffet McGraw, who gave the team time off last week to decompress during spring break. "We lost a lot of practice time today and I'm disappointed. I don't think we'll bring them back tonight."
Next the brackets revealed the reigning national champion Fighting Irish as the No. 1 seed in the Chicago Regional tipping off at 11 a.m. Saturday (March 23) versus No. 16 seed Bethune- Cookman (21-10).
"I like to get up and play, I do like to get it going," said McGraw of the early start time.
A first-round victory by Notre Dame would then advance it to Monday night (March 25), also at the Purcell Pavilion, versus the winner of No. 8 seed Central Michigan (25-7) versus No. 9 Michigan State (20-11).
Should the Irish advance into the Chicago Regional for the Sweet 16 and potentially the Elite 8, the No. 2 seed is Pac-12 champion Stanford (28-4), which eliminated Notre Dame in the 2016 Sweet 16 and in the 2017 Elite Eight, both in Lexington, Ky.
With Connecticut dropped to a No. 2 seed in the Albany Regional for the first time since 2006, Notre Dame's eight straight No. 1 seeds lead the nation in that category now. It also finished as the nation's top scoring team (89.0 points per game) after a late season rampage in which it finished with nine straight victories while averaging 96 points (never less than 89) and shooting 54 percent from the floor. Those nine wins in a row were by an average of 29 points — none lower than 18 — and six of them came versus ranked teams now in the NCAA Tournament.
• Senior Arike Ogunbowale leads the scoring onslaught with a 21.0 average, but the program's all-time leader in that department also has averaged about five rebounds and four assists per game while becoming the nation's most electrifying and explosive player in the open court.
• Senior forward Jessica Shepard has basically averaged a double-double with 16.5 points and 9.9 rebounds per game, and is peerless with the outlet pass that so often triggers the lethal Irish fast break.
• Graduate student/forward Brianna Turner (14.4 points, 7.5 rebounds per game) has played the best basketball of her career the past month, earning ACC Defensive Player of the Year honors for the third time.
• Senior Marina Mabrey (13.9 points per game, second in assists with 133) became the school's all-time three-point leader during the ACC Tournament and her marksmanship beyond the arc balances out the high-low combination that Shepard and Turner provide as post players.
• Junior Jackie Young is the program's top all-around player, with the skills to handle the point, the power to finish with strong drives inside, and defensively guard the opposition's best player, whether in the post or perimeter. Her scoring (14.8 points per game) and rebounding (7.3) mirror Turner's, yet Young also paces the team in assists with 168, highlighted by two triple-doubles.
"We are playing great basketball right now," McGraw acknowledged. "All five of our starters are just playing to their potential. I think we're doing everything we can do. We're playing great as a team, our chemistry is terrific — we're even playing a little better defensively. I love the way we're rebounding…"
She was especially gratified with the mind-set the unit returned with after the break with two strong practices. Since the 72-65 loss at Miami on Feb. 7, the collective group has been determined to work its way back to a No. 1 seed and take on a tournament outlook of every contest becoming an elimination game.
"I think what happened was we were waiting for the (NCAA) tournament the whole year," McGraw said. "The season was long, we couldn't see the end in sight, we lost our focus and came out and played poorly in the two road games we lost. At that point we were like, 'Hey we only have (six regular season) games left.' …Unfortunately it took us that extra loss to get us to this point."
"Having those losses really helped up our intensity," Turner said. "We didn't want to have any close games (in the ACC Tournament), we wanted to come in and dominate, and I think we really did … We just want to stay focused on our defense and our rebounding."
The seniors already have cemented their legacy with a national title … but to quote Wall Street's fictional character Gordon Gekko, "greed is good."
"We just want to keep on leaving our legacy and keep on putting more marks on this program," Mabrey said. "It's a refocusing period … The season is so long and sometimes you can just get complacent of where you are and just think we're going to beat people. Sometimes it's good to just have a wake-up call."
"You win or go home — that's all our focus is about," Ogunbowale summarized. "It doesn't matter who's in front of us. Every game is a championship game because if we lose, our season is over. I think everyone is coming with that mindset."
At the same time, McGraw said the veteran unit has a loose demeanor that comes from knowing it is prepared and peaking at the right time.
"Probably Mike [Brey] should be coaching this team," joked McGraw of the self-proclaimed loosest coach in America. "They're all very loose — and I'm the one who is very tense."