Notre Dame Attempting To Salvage Disappointing Campaign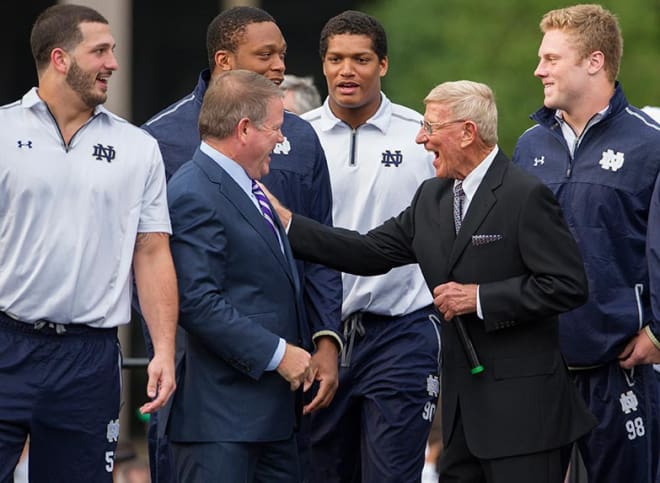 With a 2-4 record at the halfway point of the 2016 season, Notre Dame's football campaign is in salvage mode.
It begins with just winning the next game, versus a Stanford operation that also has been reeling while coming off back-to-back 44-6 and 42-16 defeats to Washington and Washington State, respectively. Next it's about the Irish putting together a two-game winning streak for the first time this season.
The modest next step then is to at least become bowl eligible with six victories. Among the 128 Football Bowl Subdivision teams, 80 will participate in postseason play (62.5 percent), so for any Power Five school, few things are a greater validation of failure than not even being eligible to make a bowl.
"The push is obviously to get ourselves in that position," Notre Dame head coach Brian Kelly said on Sunday regarding what the team has left to play for this year. "We've got a lot of work just to continue to work on the problems that we have. We can't get ahead of ourselves.
"Big picture, certainly that's very important. You definitely want that opportunity to give them more opportunities on the field, more meeting time."
Reaching six to eight regular-season victories will and should never be considered a successful or fulfilling year at Notre Dame, especially in a head coach's seventh season like Kelly's. Nevertheless, here were the five best salvage operations in Fighting Irish football when the team was still under .500 at or after the halfway mark of the season.
1. 4-5 In 2010
Kelly has come full circle since his first season.
A humiliating 35-17 defeat to Navy was followed by a 28-27 defeat at home to Tulsa to fall to 4-5. The only good news was there was a bye week coming up to recalibrate while freshman quarterback Tommy Rees had to take over for the injured Dayne Crist.
Following the bye, Notre Dame's defense became stellar and the offense more power oriented while defeating No. 15 Utah (28-3), Army (27-3) and ending an eight-game losing streak to USC with a 20-16 victory at the Los Angeles Coliseum. The cherry on top was a 33-17 bowl win versus Miami (the Hurricanes, Trojans and Cadets are all on the back half of this year's schedule at well).
The salvage operation by the first-year coach at least inspired confidence about the future. It's trickier, if at all possible, to achieve in year seven.
2. 2-4 in 1986
In Lou Holtz's first season, the Irish even were 1-4 just before the halfway mark while playing the nation's most treacherous schedule.
It managed to reach .500 at 4-4 before losing heartbreakers to eventual national champ Penn State (24-19) and at SEC champion LSU (21-19). Finally, it made a dramatic rally from a 37-20 fourth-quarter deficit to win 38-37 at USC on a John Carney field goal as time expired.
Never was a 5-6 season at Notre Dame so revered, especially after going 30-26-1 the previous five years.
Like with Kelly in 2010, that's the benefit of having a pass in one's first season.

3. 3-4 in 1984
Fourth-year head coach Gerry Faust was under tremendous fire, especially after losing three straight home games (Miami, Air Force and South Carolina). Now at 3-4, he had to go to No. 6 LSU, that year's SEC champion, and then play Navy, Penn State and at Pac-10 champ USC, where the Irish hadn't won in 18 years.
"You could go 4-7," ABC college football announcer Keith Jackson told Faust prior to the LSU kickoff.
"Or 7-4," replied the always optimistic Faust.
Indeed, Faust's Irish stunned LSU (30-22), rallied to beat Navy (18-17), crushed Penn State (44-7) and in conditions almost comparable to the one at North Carolina State this past weekend, won 19-7 at USC to finish 7-4 and move to No. 17 in the AP poll.
A 27-20 loss to No. 10 SMU in the Aloha Bowl ended the run, putting Faust on the ultimate hot seat in year five. He would step down after the 5-6 campaign.
4. 2-5 in 1997
First-year head coach Bob Davie's start was compared somewhat to Holtz's 1-4 beginning in 1986, but not as well received because he was the man replacing a national title coach, whereas Holtz replaced Faust.
Still, Davie's Irish responded with a 5-0 finish to the regular season — highlighted, like Faust in 1984, with a 24-6 victory at No. 11 LSU in Death Valley. In that win it became the first and still lone Irish team to finish a game without a turnover and penalty.
Alas, they had to meet the Tigers again in the Independence Bowl, and LSU notched a 27-9 win.
5. 1-4 In 1962
Joe Kuharich had become a dead-coach walking in his fourth season with this start after finishing 5-5, 2-8 and 5-5 his first three years. Yet the Irish resonded with their longest winning streak in his tenure, four, to improve to 5-4, before getting shut out 25-0 at national champ USC, his first loss in four tries versus the Trojans.
The following spring, worn out by the criticism, Kuharich accepted an offer in the NFL from commissioner and longtime friend Pete Rozelle to be supervisor of officials.
----
• Talk about it inside Rockne's Roundtable
• Subscribe to our podcast on iTunes
• Learn more about our print and digital publication, Blue & Gold Illustrated.
• Follow us on Twitter: @BGINews, @BGI_LouSomogyi, @BGI_CoachD,
@BGI_MattJones, @BGI_DMcKinney and @BGI_CoreyBodden.
• Like us on Facebook