Notre Dame 2019 Spring Superlatives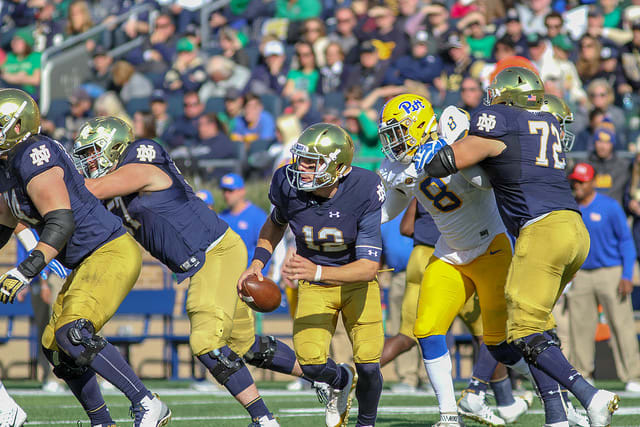 Spring practice starts tomorrow, Saturday, March 2, with two more morning sessions on Tuesday (March 5) and Thursday (March 7) before the school and team go on spring semester break from March 9-17.

Practice then will not resume until Tuesday, March 19 prior to concluding with the annual Blue-Gold Game on Saturday, April 13.
Overall, Notre Dame returns seven-and-a-half of its 11 starters on offense and six of 11 on defense from last year's 12-1 team that advanced to the four-team College Football Playoff for the first time in the five-year history of the event.
The returning starters on offense are quarterback Ian Book, wide receivers Chase Claypool and Chris Finke, and offensive linemen Liam Eicheberg and Robert Hainsey at tackle and Tommy Kraemer and Aaron Banks at guard.
We also classified junior tight end Cole Kmet as a "co-starter" because he and Alize Mack, who turned pro this winter, came out together with the No. 1 unit in seven of the 13 games last season.
Fifth-year senior Trevor Ruhland also started five games at left or right guard last year, and he is the likely front-runner to succeed graduated three-year starting center Sam Mustipher. The 60 career starts returning along the offensive line are close to the 65 from 2018. However, whereas Mustipher and Alex Bars had 52 of the 65 entering 2018, five different linemen this year have a minimum of five career starts.
On defense the returning starters are ends Khalid Kareem and Julian Okwara, linebacker Asmar Bilal, safeties Jalen Elliott and Alohi Gilman, and cornerback Troy Pride Jr.
Notre Dame also needs to replace four-year starters Justin Yoon and Tyler Newsome at punter and kicker, respectively.
Here is the breakdown of most career starts — with the number in parentheses indicating the number of starts last year.
Most Career Starts Offense
WR Chase Claypool — 20 (12)
OG Tommy Kraemer — 20 (10)
OT Robert Hainsey 16 (13)
OT Liam Eichenberg 13 (13)
QB Ian Book 10 (9)

WR Chris Finke 8 (7)
TE Cole Kmet 7 (7)
OG Aaron Banks 6 (6)
OG/C Trevor Ruhland 5 (5)
RB Tony Jones — 4 (3)
RB Jafar Armstrong 2 (2)
TE Brock Wright 1 (1)
Most Career Starts Defense
S Jalen Elliott — 26 (13)
CB Troy Pride — 19 (12)
S Alohi Gilman — 13 (13)
DE Kahlid Kareem 13 (13)
DE Daelin Hayes — 13 (1)
DE Julian Okwara — 12 (12)
LB Asmar Bilal — 10 (10)
S Devin Studstill — 9 (0)
CB Donte Vaughn — 5 (1)
CB Shaun Crawford — 3 (0)
LB Jordan Genmark Heath — 1 (1)
S Houston Griffith — 1 (1)
Most Career Rushing Yards
1. Tony Jones Jr, 624 yards — The second-leading rusher last year (392 yards) has served as a capable complementary back the past two years behind Josh Adams or Dexter Williams while averaging 4.9 yards per carry, but can he handle a lead role?
2. Ian Book, 487 — Nimble-footed quarterback has demonstrated some underrated escape skills against the rush and the capability to burn a defense off the zone read, rushing for 207 yards as a sophomore and 280 as a junior, and he ran for four touchdowns last season.
3. Jafar Armstrong, 383 — Converted from wide receiver when he was a freshman that redshirted in 2017, he averaged 5.3 yards per carry and rushed for seven touchdowns last season while "learning on the run."
4. Avery Davis, 70 — Like classmate Armstrong, the former quarterback shifted to his new position last spring, and his 22 carries averaged 3.2 yards.
Note: Although Jahmir Smith (six carries, 28 yards) and C'Bo Flemister (one carry, no yards) saw brief action as freshmen last season, both preserved a year of eligibility.
Most Career Passing Yards
1. Ian Book, 3,084 — 2,628 came last year when he started nine of the last 10 games and set a single-season Notre Dame completion percentage of 68.15, just ahead of Jimmy Clausen's 68.00 in 2009.
Note: Current freshman Phil Jurkovec did attempt two passes in a mop-up role last season but did not complete any.
Most Career Catches
1. Chase Claypool, 84— He was the top returning wideout last year too with only 34. The rising senior more than doubled that output with 50 grabs last year that included four scores.
2. Chris Finke, 65 — Many might have thought the former walk-on would get supplanted by younger talent last season, but his 49 catches totaled 571 yards and two scores, and he was named one of eight SWAT Team leaders on the team this winter.
3. Cole Kmet, 17 — Started seven games in a double tight end alignment last year as a sophomore, nabbing 15 passes, and now he is the full-fledged starter.
4. Jafar Armstrong, 14 — Recruited originally as a receiver, the junior running back is an alluring weapon when he lines up in the slot or in a two-back formation.
5. Tony Jones Jr., 12 — Caught six passes each of his first two seasons out of the backfield, highlighted by his 51-yard tally at USC last season.
6. Michael Young, 11 — Snared only seven passes in 2018, but had two of the four longest (66 at Wake Forest, and 47-yard touchdown at Northwestern).
7. Kevin Austin, 5 — The freshman totaled 90 yards on his catches last season, and his opportunity for more playing time or impact will come this spring.
Most Career Tackles
1. Jalen Elliott, 124 — Fourth in tackles last year (67), he makes safety one of the team's top strengths in 2019 and will attempt to start every game for the third straight season.
2. Asmar Bilal, 97 — Ten-game starter at rover is expected to downshift to inside linebacker this spring to help replace the productive and graduated combination of Drue Tranquill and Te'von Coney.
3. Alohi Gilman, 95 — Elliott's comrade at safety is virtually a lock to be a captain after his impact last season as a transfer from Navy. If one includes his freshman year with the Midshipmen, he would have the top overall tackle total with 171.
4. Troy Pride Jr., 81 — Had underrated junior campaign at cornerback opposite consensus All-American Julian Love, adding 10 pass breakups and two interceptions to his 47 stops.
5. Daelin Hayes, 72 — Basically a co-starter with fellow senior Julian Okwara at drop end, Hayes has 11.5 tackles for loss and five sacks.
6. Khalid Kareem, 63 — The return of he and senior classmate Okwara at end, along with Hayes, give Notre Dame one of the best bookend tandems, and even trios, in the country. Kareem has 16 career tackles for loss and 7.5 sacks.
7. Devin Studstill, 60 — Senior safety started nine games as a 2016 freshman but now is battling just to make the two-deep.
8. Julian Okwara, 59 — Impactful pass rusher off the edge has 17 career tackles for loss (team high 12.5 last year), and 10.5 sacks (eight in 2018). He has also recorded two interceptions and was credited with 21 quarterback hurries last year.
9. Donte Vaughn, 41 — Senior cornerback will be a prime contender to replace Love at boundary corner, but off-season shoulder surgery likely will limit him this spring.
10. Jordan Genmark Heath, 32 — Junior will vie for vacated Buck linebacker spot manned by Tranquill after converting from safety last spring. He had 16 tackles each of his first two seasons.
Most Career Interceptions
1. Jalen Elliott — 4
2. Shaun Crawford & Troy Pride — 3 apiece
3. Alohi Gilman & Julian Okwara — 2 apiece