{{ timeAgo('2022-07-19 20:27:14 -0500') }}
basketball
Edit
Notebook: Freshman duo pushing for starting roles at Notre Dame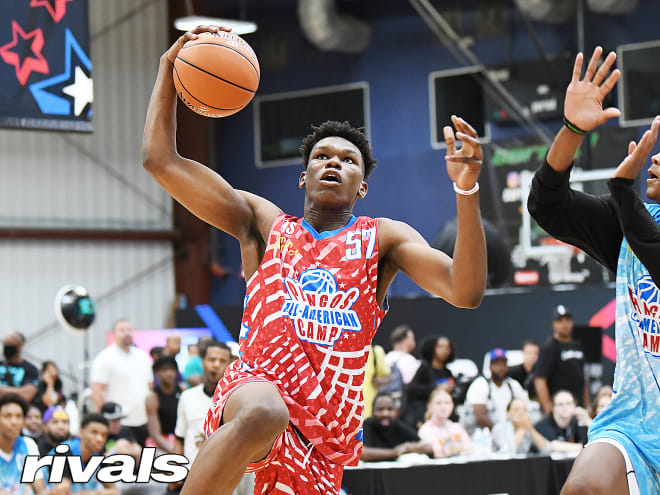 SOUTH BEND — On a roster that includes six graduate students, two of Notre Dame's freshmen demanded attention at Tuesday's men's basketball practice.
The 12th summer practice ended on a sour note with fifth-year guard Cormac Ryan going down in serious pain with an apparent ankle injury, but even that couldn't distract from the potential on display from freshman guard JJ Starling and freshman forward Ven-Allen Lubin.
The duo has impressed so much this summer that head coach Mike Brey has already considered starting both of them alongside Ryan, graduate senior guard Dane Goodwin and graduate senior forward Nate Laszewski.
SUBSCRIBE TO INSIDE ND SPORTS TO STAY IN THE KNOW ON NOTRE DAME ATHLETICS
JOIN THE CONVERSATION ON THE INSIDER LOUNGE MESSAGE BOARD
The plug-and-play nature of Starling's game shouldn't be too surprising. Rivals rated the 6-foot-3, 170-pound McDonald's All-American as a five-star prospect out of La Porte (Ind.) La Lumiere. Starling, who was ranked as the No. 3 point guard and No. 21 overall in the 2022 class, could fill the role that freshman Blake Wesley played last season to propel him into the first round of last month's NBA Draft.
"He's led us in assists a couple times (in summer practices)," Brey said. "He has the body to get to the bucket, too. He gets to the paint and makes plays. He loves to defend. He's very ready.
"Those three old guys know they need him. A similar dynamic to old guys knowing they needed Blake. They've been good with him."
The 6-7, 205-pound Lubin wasn't a slouch as a recruit either. Rivals ranked the Orlando (Fla.) Christian Prep product as the No. 4 power forward and the No. 45 overall prospect in the class. Because the Irish are thin in the paint, there was always going to be a chance he'd play a significant role. He's taken advantage of his early opportunities.
"Lubin has been really impressive" Brey said. "We're going to need him. One of the young bigs needed to step forward with Nate. (Lubin) has the been the one who's probably been the most consistent all summer. Good passer. Got length. He can block a shot or two, can rebound. He's going to be a key."
Niagara graduate transfer Marcus Hammond and graduate senior Trey Wertz are positioned to be the first two guards off the bench for the Irish. Junior forward Matt Zona (6-9, 240) could fill the role of eighth man in the rotation for added size.
The goal for Brey is to find players who can play around Ryan, Goodwin and Laszewski. He's already dubbed the veteran trio as Notre Dame's Big Three.
"The three of them are just really men and know how to play," Brey said. "If you play with them the right way, you'll play."
Next on the agenda   
The Irish coaching staff will head down to Augusta, Ga., for four days of Peach Jam, the annual event hosted by Nike's Elite Youth Basketball League. The showcase will allow the staff to do some recruiting, but it will also give Brey a chance to run into coaches interested in filling the open assistant coaching position on Notre Dame's staff following the recent departure of Ryan Humphrey to Oklahoma.
"When I walk in the gym at Augusta, not only am I watching prospects, but I'm kind of bumping some assistant candidates too," Brey said. 'It will be a great four days to get a lot of work done on both fronts. We've had a lot of people reach out. We'll take our time in August and do it."
Pat Rogers, Notre Dame's new director of basketball operations, has been given recruiting travel assignments to fill the void of a third assistant coach. Brey hopes to have the search completed by Labor Day in early September.
Brey doesn't want to limit his options for a third assistant coach. It doesn't have to be a coach best suited to mentor the Irish post players. With the experience of associate head coach Anthony Solomon and assistant coach Antoni Wyche already on staff, Brey's given thought to making a younger hire. Solomon has been given the assignment of Notre Dame's big men for now.
"We'll see what the fit is," Brey said, "and we'll go from there."
Brey recently added to the staff former Northwestern guard Ryan Greer (2018-22) as development and recruiting coordinator. Beyond his playing experience, Greer helped work out professionals for Mark Bartelstein's Priority Sports & Entertainment agency. He came with recommendations from former Irish players Kyle McAlarney and Kieran Piller, who both work with Bartelstein.
"Kieran and Kyle said absolute star, great workout guy," Brey said. "He's kind of taken Nate and all these guys. He's kind of a new guy to get them in individual workouts. They respect him, because they knew he did all the stuff for Mark Bartelstein's pros."
Notre Dame's other newcomers  
Marcus Hammond may need to get acclimated to a new role in his lone season with the Irish. He joined Notre Dame's program as a three-year starter from Niagara. Last season, the 6-3, 173-pound Hammond scored 18.1 points per game while shooting 43% from the field, 37% from 3 and 83.1% from the free-throw line.
Hammond may be coming off the bench at Notre Dame and playing with the ball in his hands less frequently.
"He always was the guy at Niagara that went in and found guys or went it and scored," Brey said. "Now he's like, 'God, I have other playmaking guards.' It's almost like he's shocked when he's open.
"But as far as guarding, he's got those I call it those New York City defensive hands. He gets his hands on stuff.
"He's fast, he can get to the bucket and he's 22. He's played 100 college games. When you have him and Wertz as fifth-year seniors, those guys are old, they know how to play."
Notre Dame's third freshman, Dom Campbell, needs some development to earn minutes this season.
"Dom is really getting in shape," Brey said. "This has been the most taxing physically on him that he's ever been in. He's fighting through it. He's come a long way. I'm interested to see where his body is by October 1."
Notre Dame had interest in Campbell (6-8, 235) enrolling in January, but he wasn't allowed to graduate early from Exeter (N.H.) Phillips Academy. That would have allowed Campbell to get a head start on conditioning. Rivals ranked Campbell as the No. 14 power forward and No. 107 overall in the 2022 class.
"He has a feel, he has hands, he has that low-post wide body," Brey said. "You can throw it to him. I'm intrigued to see where he is Oct. 1."
Blake Wesley's new home   
Guard Blake Wesley, Notre Dame's first one-and-done player, found an intriguing landing spot when the San Antonio Spurs selected him with the No. 25 overall pick in June's NBA Draft. The Spurs had three first-round draft picks and recently traded away All-Star guard Dejounte Murray.
"For him ending up with this organization is really good," Brey said. "They're in a rebuild. So they're going to be very patient with him. They've been thoroughly impressed with him. He has an amazing focus that he was ready."
Wesley returned to Notre Dame on Monday to see his former teammates and coaches. Brey noticed the maturation that has occurred in Wesley while preparing for professional basketball. Off the court, he's much more vocal.
"I never got much out of him when I recruited him," Brey said. "It's so cool to see, because they worked on that when he was out in Vegas with his agents. (Monday) I'm talking to him and I'm like, 'Wow, this is not one-sided.'"
Wesley averaged 17 points in five NBA Summer League games earlier this month. He hasn't had much time with Spurs head coach Gregg Popovich, but he's already received his first directives.
"Shoot the floater more," Brey said of Popovich's message to Wesley. "Keep finding people."
J.R. Konieczny's injury 
Sophomore guard J.R. Konieczny was limited throughout the summer with an ankle injury. Rather than hurrying him back, Brey wanted to get him healthy to be able to play with USA East Coast Basketball next month. Koniecnzy (6-6, 195) was selected as part of an all-star team of collegiate players who will participate in a two-day training camp at Columbia University on Aug. 1-2 before heading to Barcelona, Spain for a series of games.
"It's been tough for him, because he's been in and out with this ankle," Brey said. "Really his summer is going to be this East Coast All-Stars. To go and play with this group and get some confidence."
The South Bend Saint Joseph product played 22 minutes across seven games as a freshman. He will be coached by Utah Jazz assistant coach Alex Jensen with USA East Coast Basketball.
The roster also includes Syracuse's Benny Williams, Duke's Jaylen Blakes, Purdue's Brandon Newman and Ethan Morton, Colorado's KJ Simpson, NYU's Cinque Stephens, Pitt's John Hugley IV, Cal's Logan Alters, Providence's Alyn Breed and Rafael Castro, Middlebury's Jaden Bobbett, Tartleton State's Shamir Bogues and Cincinnati's Jarrett Hensley.
Current 2022-23 roster for Notre Dame men's basketball
| Name | Position | Class | Height, Weight |
| --- | --- | --- | --- |
| #24 Robby Carmody | Guard | Graduate | 6-4, 202 |
| #23 Dane Goodwin | Guard | Graduate | 6-6, 208 |
| #10 Marcus Hammond | Guard | Graduate | 6-3, 173 |
| #14 Nate Laszewski | Forward | Graduate | 6-10, 235 |
| #5 Cormac Ryan | Guard | Graduate | 6-5, 194 |
| #3 Trey Wertz | Guard | Graduate | 6-5, 192 |
| #12 Tony Sanders Jr. | Guard | Junior | 6-7, 209 |
| #25 Matt Zona | Forward | Junior | 6-9, 240 |
| #20 J.R. Konieczny | Guard | Sophomore | 6-6, 195 |
| #13 Dom Campbell | Forward | Freshman | 6-9, 265 |
| #2 Ven-Allen Lubin | Forward | Freshman | 6-8, 220 |
| #1 JJ Starling | Guard | Freshman | 6-4, 195 |
| #4 Alex Wade* | Guard | Sophomore | 6-0, 166 |