No. 4 Notre Dame Crushes No. 17 Syracuse Orange, 98-68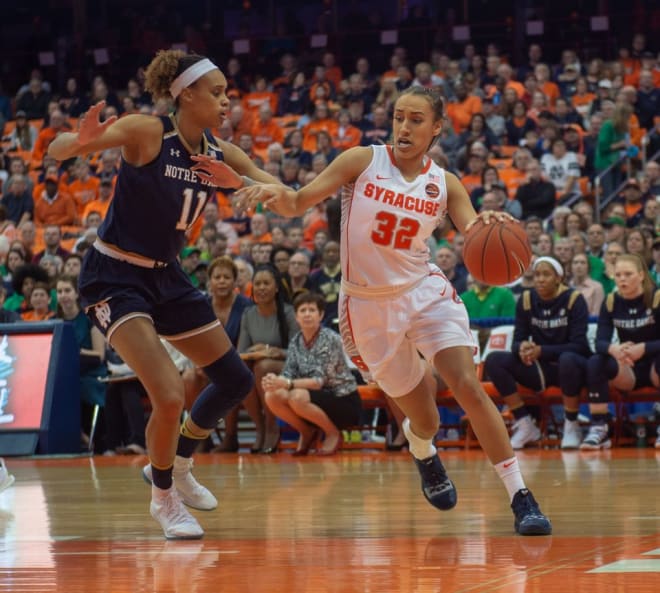 When it comes to pass, the No. 4-ranked and reigning national champion Fighting Irish do it as well as anyone.

A passing clinic saw No. 4 Notre Dame (26-3 overall, 13-2 in the ACC) dish out 29 assists (second most this season) on its 38 baskets while romping past No. 14 Syracuse (20-7, 9-6) at the Carrier Dome with 7,568 in attendance.
Junior Jackie Young handed out a career high 12 assists, and flirted with a triple-double — which would have been her second this year —while finishing with 10 points and eight rebounds. The starting five all tallied in double figures, led by senior Arike Ogunbowale's 24 points, followed by Brianna Turner's 22.
Jessica Shepard posted her fourth straight double-double (17 points, 13 rebounds), and fifth in the last six games, while Marina Mabrey added 17 points and eight assists.
A fast-break pass from Young to Shepard gave Notre Dame the lead for good at 19-18 and then built its biggest lead of the first quarter at the end (24-19) of the initial 10 minutes on a three by Ogunbowale. Notre Dame had eight assists on 10 buckets in the opening quarter with zero turnovers.
In the decisive second quarter Notre Dame went on its 37th run of at least 10-0 with a 16-0 spurt that upped the advantage to 42-23 before taking a 46-27 lead into the halftime intermission.
During those initial 20 minutes, Notre Dame had 15 assists on 20 baskets and turned it over only twice — whereas Syracuse had 12 turnovers — to basically put the game away. The Fighting Irish also had a 32-10 scoring advantage in the paint.
Syracuse enjoyed a 10-0 run to reduce its deficit to 64-44 in the third quarter, forcing Irish head coach Muffet McGraw to call time out. It was only the second time this year Notre Dame allowed a run of 10-0 this year, with the previous coming against Duke last Thursday.
After only two turnovers in the first half, the Irish had nine alone in the third quarter compared to Syracuse's two, yet the Irish still outscored Syracuse 23-20 in those 10 minutes to finish the third quarter with a 69-47 cushion.
Notre Dame gradually built the lead back to as much as 32 points in the fourth quarter against the overwhelmed Orange. The crisp passing set up many open looks and buckets that saw the Irish finish 38 of 66 from the floor (57.6 percent), including 7 of 16 beyond the arc.
The regular season concludes with a home game versus Virginia on Sunday.
Three-Point Play
1.Bracketology
In Charlie Crème's ESPN outlook, Notre Dame would be the No. 1 seed in the Portland Regional, ahead of No. 2 Oregon, No. 3 Iowa and No. 4 Gonzaga. The Irish defeated Oregon 84-74 in the Elite Eight last year, and this November it vanquished Gonzaga (81-65) and Iowa (105-71).
However, if Notre Dame wins the finale against Virginia and the ACC Tournament, it would be difficult to fathom it not ending up in the Chicago Regional as the No. 1 seed instead of conference rival Louisville, who it defeated earlier this year. The Irish control their own destiny in that respect.
Plus, Notre Dame already owns the nation's top RPI and strength of schedule. Through Monday's newly released AP poll, it has defeated No. 3 Louisville (82-68), No. 9 Oregon State (91-81), No. 10 North Carolina State (95-72), No. 12 Iowa (105-71), No. 13 Marquette (87-63), No. 16 Gonzaga (81-65), No. 17 Syracuse (98-68), No. 22 Florida State (97-70), and No. 23 Drake (82-64).
Those nine victories have been by an average of 21.8 points.
2.Turner Turning It On
Since the disappointing five-point, four-rebound effort in 36 minutes during the 72-65 loss at Miami Feb. 7, Turner in the ensuing five games has averaged 17.4 points and 7.8 rebounds while converting 36 of her 46 field-goal attempts (78.3 percent), especially finding a better flow and rhythm in the high-low game with Shepard.
She remains highly active on defense as the top shot-blocker in the ACC. Turner was credited with only two at Syracuse, but her presence altered many an Orange attempt.
3. Not Half Bad
No team in the country operates the fast break like the Irish, but the half-court game has been touch-and-go on occasion, often resulting in one-on-one reliance. Against Syracuse's 2-3 zone, Notre Dame's quick and decisive passing in half-court sets was a significant plus. Outside of nine third-quarter turnovers, it was more a more disciplined and efficient output.