No. 2 Notre Dame Romps 87-63 At No. 19 Marquette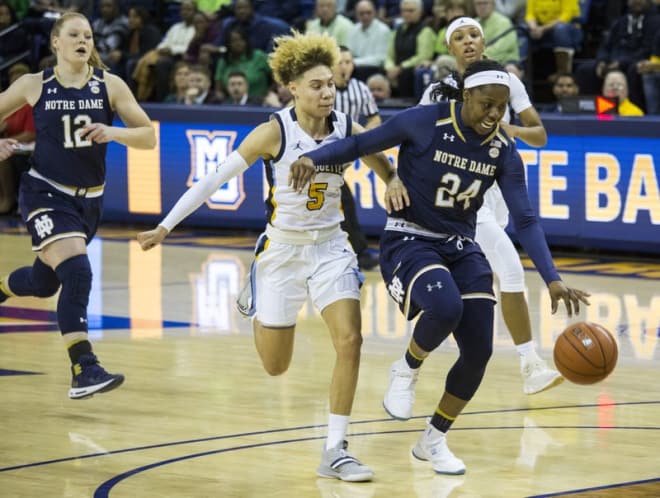 Residing only 15 minutes from her home, senior guard Arike Ogunbowale spearheaded an impressive 87-63 victory versus No. 19-ranked Marquette (9-3) with a career high tying 32 points at a sold-out Al McGuire Center on Saturday afternoon.
In her homecoming game prior to Christmas break, Ogunbowale converted 13 of her 21 field-goal attempts for her fourth 30-point effort this season for the 11-1 Fighting Irish. The Milwaukee native opened the third quarter by converting her first five shots, including a three-pointer, and handing out an assist to extend a 42-29 halftime lead to 55-38. Fifteen of her points came in the third quarter, and she also tallied the last five in the first half.
Notre Dame trailed 18-17 at the end of the first quarter against the fired-up Golden Eagles who returned all five senior starters — all of whom have tallied 1,000 career points — from last year's Big East's champions who lost in overtime last year to the national champion Fighting Irish.
However, the second quarter is when head coach Muffet McGraw's squad asserted itself, outscoring Marquette 25-11 while converting 12 of 16 field-goal attempts (75 percent) for the 13-point halftime lead. The Golden Eagles never threatened thereafter.
While Ogunbowale stole the show in the second half, fifth-year senior forward Brianna Turner was the spark on both ends of the floor, blocking two early shots by Marquette and finishing the first half 8 of 9 from the floor. Notre Dame used its height advantage to its benefit with Turner scoring 20 points (9 of 12 shooting) to go with eight rebounds — while senior Jessica Shepard crushed the boards with 18 rebounds, seven of them on offense, to go with 15 points (7 of 12 from the field).
Shepard also tied the school record with consecutive field goals (17) made by succeeding on her first two.
Junior guard Jackie Young recorded a game high nine assists and was highly effective on the top of the zone defense with Marina Mabrey, who added five assists.
The Irish will head home for Christmas break before resuming action by hosting Lehigh on Dec. 30. McGraw began her coaching career at Lehigh — and will seek her 900th career victory against them after getting her first 88 there.
Three-Point Play
1. Passing Fancy
The ball movement and motion has been exceptional the past three games, with 27 and 25 assists in home wins last week versus Binghamton and Western Kentucky, respectively, but especially with the 26 at Marquette (and only six turnovers). Earlier in the year there was more of a forcing element inside to get Turner the ball in the blocks. Recently, it's been more free flowing with sharp cuts and better timing. This and superb passing in the fast break — where the Irish are most lethal — helped result in 62 of the 87 points coming in the paint. Notre Dame took only eight three-pointers, converting two.
2. Defensive Doings
Overshadowed in the onslaught offensively was limiting the Golden Eagles to 63 points. The Golden Eagles entered the contest ranked sixth nationally with an 85.7 scoring average (and 85 at Notre Dame last year). Notre Dame continued to play mainly zone. Last year's Big East Player of the Year Allazia Blockton, who needed only seven points to become the school's all-time leading scorer on the men's or women's side, finished with four on 2 of 14 shooting, and 1 of 10 in the first half, for four points, well short of her 18.6 scoring average.
3. More Milestones
In addition to McGraw possible reaching 900 wins the next game, Young could become the fifth Notre Dame starter in this year's lineup to eclipse 1,000 career points. She currently is at 984. Nine of the 10 starters on the floor in today's game already were over 1,000, which is believed to be a first in the college game.