Nix targets repeat performance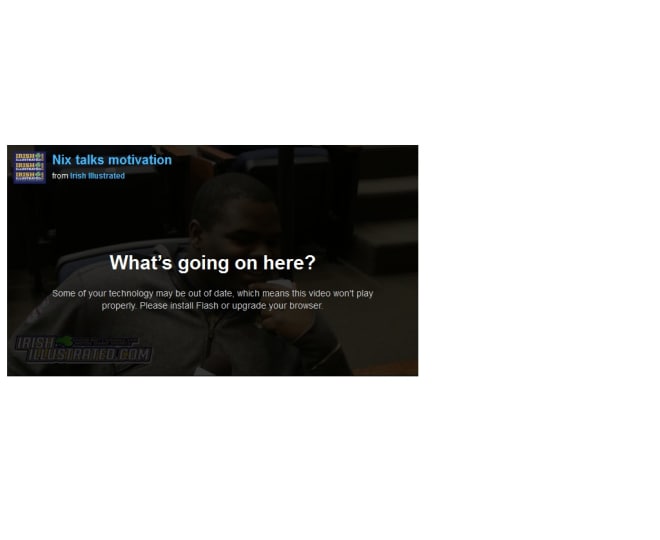 After two-and-a-half years of transformation, Louis Nix doesn't expect much more of it. Aside from his jersey switch to No. 1, the All-American nose guard plans to pick up exactly where he left off last season.
"The Louis Nix way," he said. "I don't know how to explain it."
Recapping it is easier. Nix arrived at Notre Dame three years ago out of shape, then suffered through a red-shirt season stuck at home for road games. He got his first taste of action as a sophomore, got his attitude out of shape last spring, then turned into a potential NFL draft departure last fall.
The ride has since smoothed.
In the locker room Nix's voice still gets laughs. It also gets a lot more respect.
As the Brian Kelly era has trended up, so too has the career of the 347-pound athlete who committed to Notre Dame when it didn't have a head coach. In fact, maybe the Brian Kelly era has trended up because of the nose guard.
"I don't know how long I've been a coach now, 14 years, 13 years in Division I? He's one of the most ferocious competitors," said defensive line coach Mike Elston. "Watch the Alabama game, he was competing on every single play. He's a competitive young man that's trying to win the game.
"I don't see where he needs to take that to another level. I already see it at a high, high level."
With the defense down Kapron Lewis-Moore and Manti Te'o in the front seven, it's on Nix and Stephon Tuitt to recreate Notre Dame's absurdly stout defense, one that produced game-winning goal line stands. The parts might be different, but Nix expect the product to be the same.
"Coming off that ass whuppin' from Alabama, we just want to get back on track and focus and make our way back to a national championship game," Nix said. Hopefully do a better job and put on a better performance for everybody to look at.
"I think I did a pretty good job against the guys and we didn't do as bad as everyone saw. There was a big difference in the score and it kind of looked like we got demolished and we did, but I think there was a lot of good things there."
Nix took the Alabama loss with him to Arizona over spring break, where he trained with Kendall Moore and Malik Zaire, along with former Irish receiver Davonte' Neal. Nix said he plans to be back in the desert this summer, cutting down his 347-pound frame to something leaner by August.
Asked why he didn't take a stereotypical collegiate spring break, Nix said he didn't want to "ball on a budget" and said his finances should improve by next spring, referencing the NFL draft.
With NFL head coaches Bill Belichick, Marvin Lewis and Mark Trestman in South Bend as part of the Coaches Clinic the next two days, it's a safe bet they'll watch Nix this weekend.
"Louis is impacting the game, he's trying to impact every single play," Elston said. "He's forcing the offense to do things that they're not necessarily going to have to do against other teams because of how he plays.
"That's a very important player that can change the game at any time. He changes the mindset of the offensive linemen across from him. They really have to pay attention to him."
Everybody else already is.
<!-