NCAA Tournament Preview: Notre Dame Vs. Clarkson, 10 To 1 Countdown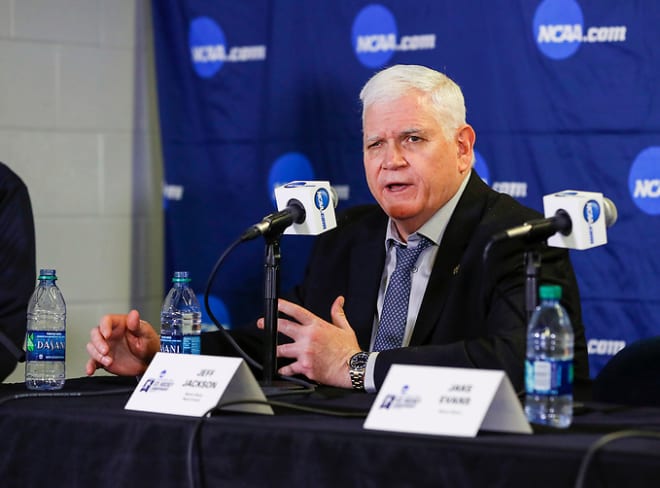 Tonight's face-off in the 16-team NCAA Tournament between No. 12-ranked and 3-seed Notre Dame (22-13-3) and No. 7-ranked and 2-seed Clarkson (26-10-2) at Manchester, N.H., is scheduled for 6:30 p.m. on ESPNU.
It follows the matchup between 1-seed Massachusetts and 4-seed Harvard. The winners will meet the following evening for the right to go to the Frozen Four.

10 NCAA Tournament appearances under 14th-year head coach Jeff Jackson. The program had only one prior to his arrival in 2005. It is also a school record fourth straight appearance. Jackson became the 13th coach in NCAA history to record 500 wins when the Fighting Irish defeated Penn State last week to capture the Big Ten title.
9 Clarkson has not been defeated in its last nine games (7-0-2), which is currently the longest such streak in the NCAA. The Golden Knights defeated Cornell last weekend, 4-3 in overtime, to win the ECAC Hockey Tournament.
8 Conference titles won under Jackson, notably back to back in the Big Ten in its first two seasons in the seven-team league.
7 Playoff goals netted by junior Cam Morrison during his career, the most among anyone on the roster (as are his 12 career playoff points). In each of the last two Big Ten championship games he tallied the winner in 3-2 outcomes.
6 Of Notre Dame's top seven scorers are upperclassmen, even though freshman Michael Graham's 12 goals are tied with junior Cal Burke for the team lead. That type of experience is always a plus in tournament action.
Leading the scoring is senior Bobby Nardella with 32 points (seven goals, 25 assists), followed by senior Dylan Malmquist's 30 (10-20), Burke at 28 (12-16), junior captain Andrew Peeke with 23 (3-20), and then three with 21 apiece: Graham at 21 (12-9), Morrison
(10-11) and junior Mike O'Leary (6-15). Sophomore Colin Theisen is tied with Morrison for the third-most goals with 10.
5 Junior goaltender Cale Morris ranks fifth nationally with a.931 save percentage on the season. It is also second among goaltenders who have played at least 80 percent of their teams' minutes in net. The reigning Mike Richter Award winner as the nation's top goalie went 4-0 in the Big Ten Tournament with a 0.75 goals-against average and a .977 save percentage (stopping 126 of 129 shots, 46 of them versus Penn State in the title game).
His counterpart, Jake Kiely, has started every game for Clarkson and is allowing only 1,89 goals per game, owns a .929 save percentage and has recorded five shutouts.
4 With four consecutive NCAA Tournament appearances, Notre Dame now owns the nation's fourth longest active streak, trailing only Denver (12), Providence (6) and Minnesota Duluth (5), all of whom have won national titles since 2015.
There have also been only four occasions since the turn of the century in 2000 that a school has advanced to three consecutive Frozen Fours: Michigan (2001-03), North Dakota (2005-07), Boston College (2006-08) and North Dakota again (2014-16). The Fighting Irish will attempt to become the fifth this year.
3 Is the magic number for the Notre Dame point production. It is 16-0-1 this season in games where it scored at least three goals, and 6-13-3 otherwise. The 2.87 goals per game it averages ranks a relatively modest 27th among 60 teams. Clarkson is 13th at 3.16.
2 Other times Notre Dame has reached the Frozen Four from the Manchester Regional, where it is again this year. It did it as the three seed in 2011 with wins over Merrimack and New Hampshire, and then as the four seed in 2017 while upsetting Minnesota and UMass Lowell with identical 3-2 triumphs.
1 Category where Notre Dame ranks No. 1 nationally — fewest penalty minutes per game (7.2). Clarkson is No. 7 at 9.0. .