Muffet McGraw 'Energized' By New Challenge At Notre Dame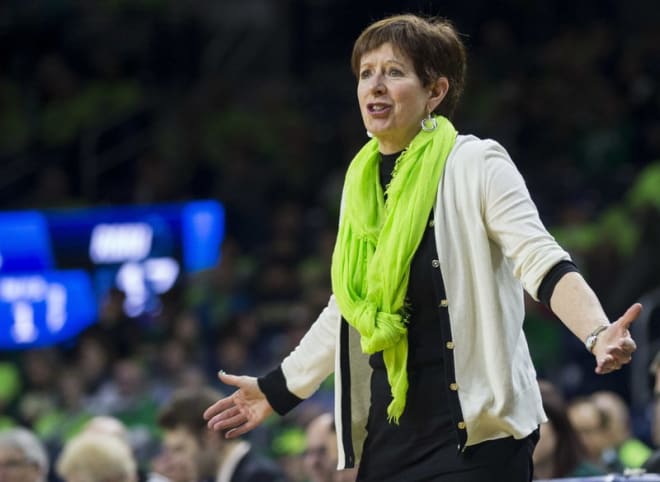 Seldom in college basketball history will any program undergo as much transition in its lineup than the Notre Dame women's team will in 2019-20.
All five starters from this past season were among the top 19 selections in last month's WNBA Draft, and then forward Danielle Patterson, in line to start as a junior next season, opted to start over herself by transferring to Indiana University.
That left Notre Dame with nine scholarship players via the addition of North Carolina graduate transfer guard Destinee Walker to the roster and walk-on guard Kaitlin Cole getting awarded one for her senior year. However, even Walker has missed the last two seasons with a torn ACL (2017-18) and hip injury (2018-19) — thereby making her eligible for a sixth season in 2020-21 if she wishes to use it — while Cole also sat out last year with a torn ACL.
The other upperclassmen is 6-3 forward Mikayla Vaughn, who also medically redshirted two years ago with an ACL tear before averaging 3.3 points per game this past season, the most on the current roster for those who played a full season.
The rest of the lineup for head coach Muffet McGraw and her veteran staff is replete with inexperience: sophomore guards Abby Prohaska, Jordan Nixon and Katlyn Gilbert — also medically redshirted last year because of shoulder surgery — and forward Danielle Cosgrove, plus incoming McDonald's All-Americans Sam Brunelle at forward and Anaya Peoples at guard.
Following a national title in 2018, a runner-up finish last month and seven Final Four appearances in the last nine years, McGraw finds her team in the unusual underdog role, including a No. 17 placement by ESPN in its "Way Too Early" rankings for 2019-20.
"That's way too high, even that early," said McGraw, who will be entering her 33rd season at Notre Dame, of the No. 17 projection.
However, she admits there is some excitement about being the underdog again.
"I really feel energized, I feel like a giant load is kind of off my shoulders," she said. "We have no expectations on us, let's just have fun, get better."
Seconds later, she re-thought that statement.
"Write that down — that's one of those tweets that's not going to age well in December," she said, recognizing her patience will be tested to the limit and maybe beyond. "But that's how I feel right now."
There will be no "tweaks" this season. It's more about starting from scratch.
"We're going to keep things simple," McGraw said. "We're going to have to cut out a lot of the things that we did and just figure out what works for this team … limit what we're doing, because with the new people coming in, it's going to be hard for them. The biggest thing is building chemistry and how we do that.
"We're going to have to scrimmage a lot more. We are really going to rely on our guy practice players, who won't be here all summer. We have to see who we can practice against. We're going to take some lumps probably early on just in terms of the way we're playing. I hope by the conference season we feel like we're in a good spot."
Recently announced for the non-conference slate is the Cancun Challenge with three games in three days during Thanksgiving Weekend. On Nov. 28, will be Florida Gulf Coast, who went 28-5 last year, with a perfect 16-0 mark in the Atlantic Sun Conference, qualifying for the NCAA Tournament.
On day two (Nov. 29), Notre Dame will challenge South Dakota State . The Jackrabbits produced a 28-7 overall record last season, becoming the first Summit League team to advance to the Sweet 16 of the NCAA Championship, where they lost to Oregon.
The Irish then close with South Florida on Nov. 30. The Bulls recorded a 19-16 record during an injury plagued year in which All-American candidate Kitija Laksa did not play due to an ACL injury.

Roster Management

McGraw and her staff were looking for immediate help via the graduate transfer route, leading to the pick-up of Walker, a former McDonald's All-American and top-20 ranked player who averaged double-figure scoring for the Tar Heels her first two seasons before getting sidelined the past two years with her injuries.
Walker will be expected to help fill the leadership void, but not as a point guard.
"She's a great three-point shooter and she's a really good defender, two things we need very, very badly," McGraw said. "I expect her to come in and be a perimeter type of guard who can defend anybody on the floor. She's been cleared [medically] to do certain things, so she is moving in the right direction."
McGraw would like to add a point guard graduate transfer as well because the options in the front court apparently have been exhausted.
"They either went somewhere else or we didn't think it was a good fit," she said, also noting that the staff was looking at only grad transfers because of the current urgency situation where they need immediate help.
Whereas much of this past season's record-setting scoring offense relied on the high-low game with twin towers Jessica Shepard and Brianna Turner, McGraw says next year's blueprint will feature a four-guard offense employing more four-out looks and a Princeton scheme with motion and back-door cuts.
"Princeton runs better with four guards… we'll still go high low and we'll have a guard at the high post, and that could be good too," McGraw said. "If everybody could average 10 points a game, that would kind of be the goal. I don't see one person — at least not the same person every week — getting 20. It's more a team of equal opportunity."
The transfer of the 6-2 Patterson did surprise McGraw, although the breakup was relatively amicable.
"She had as much experience as anyone coming back, so I was disappointed," McGraw said. "I thought this was going to be her opportunity. We certainly wish her well."
Consequently, both Brunelle and Peoples will likely be called on to help right away, Brunelle with her scoring prowess — she easily won the three-point contest at the McDonalds All-American Game — and Peoples with her versatility, especially as a rebounder that Jackie Young also possessed as a guard. Brunelle can be inserted at both the high post and in the four-out look along the three-point line.
"Sam is definitely a stretch four," said McGraw of the 6-2 frosh who has ranked among the nation's top 5 prospects. "I see her guarding the other teams' bigs and then shooting threes for us. I think she will do really well in our offense.
"Anaya can guard, she can run, she can help our transition game … a great rebounder. You hate to rely on freshmen immediately because there's a little bit of a learning curve. These two are really good players. I expect them to contribute. It's just a question of how quickly they assimilate into the team."
Prohaska became the team's top guard off the bench this past season with her instant energy. Point guard Nixon will need to assert herself more consistently in that role after numerous setbacks this year with injuries.
Meanwhile, it's also been a long rehab for Gilbert from her shoulder surgery. She joins Walker, Nixon and Peoples as guards who were former McDonald's All-Americans.
"She's not cleared to shoot threes yet," said McGraw of Gilbert. "She's out shooting, but just [short] jumpers. This summer we expect she'll be able to have contact."
Later this week: Recruiting Update