Mike Brey Transcript: Dec. 6
Click HERE to sign up for an annual subscription to BlueAndGold.com and get your FREE gift code for $99 in Irish apparel and gear!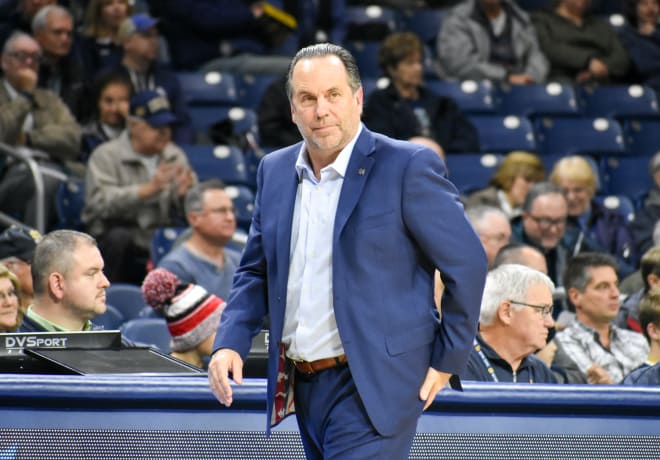 Notre Dame head coach Mike Brey addressed the media on Thursday afternoon ahead of his team's final practice before the Irish travel out to Los Angeles to face UCLA.
Check out all of what Brey had to say below.
Q: How much of what you all learned on Tuesday help you on Saturday against UCLA?
BREY: "We're disappointed certainly that we couldn't get over the hump. I was really happy with how our young guys played in that atmosphere with it being the first time away from our building. Different guys playing confidently and not being afraid and against an older group. I'm hoping that can help us against another really talented group. Oklahoma was young, but these guys are a little younger and certainly gifted out there."
Q: How important was it to get UCLA back on the schedule even for a couple of years?
BREY: "It's great. Certainly, we talked about in the recruiting process trying to get Rex home for a game. The timing of it works really good. To have them coming back as a home game next year in the non-league is really powerful. We want to rotate back to UCLA every couple of years. You aren't going to do it every year. The plan would be to come to them. When you offer to start there, a lot of people want to do a series."
Q: Durham is feeling it, isn't he?
BREY: "I'm really excited about him. The last two games you feel like the lightbulb is going on. There he is in The Garden in New York City and getting comfortable. We are kind of learning about our group and our offensive philosophy as we go. Okay, he's productive in there so let's throw it in. We have something developing there. No one deserves it more. The poor guy didn't have the best of luck physically. We got him out here and got him stronger. I think his frame of mind is good, and he is playing well. I hope he is feeling good."
Q: It's interesting because you said after the game that you are seeing it when we were.
BREY: "Again, there's flashes in practice. No question about it. He's been very productive in practice. He's shot it through 45 practices probably 58 percent from the floor. I think the commitment about a month ago, especially after the DNP, of being more serious and coming in and getting some reps in with Coach Humphrey in the morning … I thought he took his level up. It's helped him and paid off."
Q: Him wanting the basketball in two-straight games where he kind of dominates the action for minutes…
BREY: "It's exciting. I told Coach Humphrey that we don't even know what we have. We're still watching this thing blossom. Ryan Humphrey has been an unbelievable mentor to this guy. We want to keep growing it. My goal today is to tell him how good he is playing and be confident in practice."
Q: And John Mooney is right there with him.
BREY: "Mooney is in a new role. We were throwing it into the low post in the second half, and we were kind of evolving offensively like we can do that. We weren't sure we could do that offensively. These guys are developing and doing things around the bucket. They are good with the ball passing it out if they are doubled or jammed up a little bit.
"John is a really confident guy right now. I just saw a note where he is leading the ACC in double-doubles. He's been pretty effective. I'm thrilled for both of those guys and all of our young guys.
"Prentiss didn't play as well as he's played here. He wasn't afraid. He was just playing. Dane Goodwin gave us really minutes. Laszewski gave us really good minutes again. Even Carmody gave us good minutes even if not as many. We're going to throw them all in there. We're learning as we go."
Q: How much during this stretch from DePaul through the Purdue game do you talk to your team about it being an opportunity to build your non-conference resume?
BREY: "I think everyone knows starting with DePaul of the five power games that are important and opportunities for us. I'm thrilled we got the first two here (DePaul & Illinois). Obviously, the next three starting back in New York get harder, quite frankly. They are opportunities for us. We're a work in progress. We're a part of the process kind of group. I think we are finding out stuff game-to-game about our team. It's kind of new territory for me."
Q: What have you seen from UCLA on the floor?
BREY: "They have young pros. They have some one-and-done guys. Oklahoma was old and veteran. UCLA is young and gifted. They are gifted offensively and the guard Hands is playing amazingly. He kind of makes them go and they have the kid in the middle. They have athletic ability. The one thing about this program is they've always had good players at this place. But, what an opportunity for our kids in one week playing in Madison Square Garden and now Pauley Pavilion. For our new faces, it's like do you guys understand what we just signed up for? I'm excited about getting them out there tonight."