Marcus Freeman Addresses Head-Coaching Goals, Notre Dame Longevity
Marcus Freeman's January arrival as Notre Dame's defensive coordinator came with an underlying acknowledgment.
He's not afraid to address it. His coworkers understand it. Notre Dame fans do as well.
If the early returns in South Bend are successful, it's plausible he won't be around for the long haul. Like his predecessor, 2018-20 Irish defensive coordinator Clark Lea, a promotion may present itself in short order.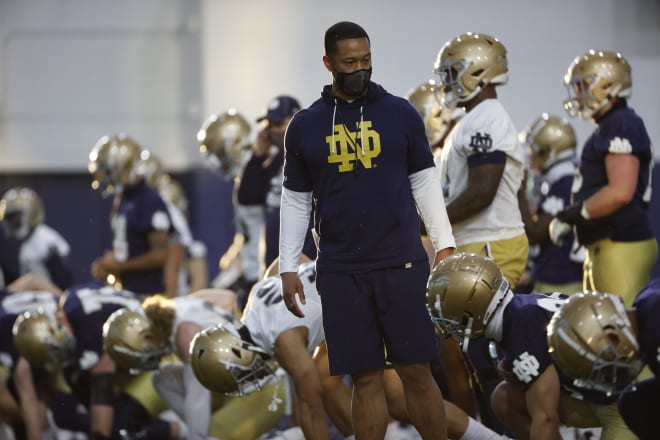 "I never make reservations," Freeman told BlueandGold.com. "I've always said, at some point, I want to try to be a head coach. I want to see what it's like to run your own program."
The 35-year-old's career trajectory suggests the opportunity might not be too far down the road.
In four years as Cincinnati's defensive coordinator, Freeman turned a woeful unit his first year into one that posted three straight top-25 finishes in scoring defense and the Fremeau Efficiency Index (FEI). The Bearcats' 2020 defense ranked fourth nationally in yards per play, third in pass efficiency defense, 16th in sacks per game and 22nd in third-down conversion rate. It was a steadily excellent unit on a 9-1 team.
That body of work earned Freeman the opportunity to coach Notre Dame's defense, which he chose over the same role at LSU.
It also elicited head-coaching mentions already. His name was linked to UCF's opening shortly after Notre Dame hired him. If Cincinnati head coach Luke Fickell had left for another opening in one of the last two offseasons, it's plausible Freeman would've been his replacement.

If Notre Dame's 2021 defense is anything like Cincinnati's recent ones, this offseason figures to bring more buzz about Freeman as a head-coaching candidate. The second part doesn't happen without the first, though. Freeman needs no reminding of that.
"I've always worked as hard as I can where I'm at," Freeman said. "When opportunities present themselves, you look and you see, but I don't have an end goal. People always ask me, 'What's my end goal?' I don't have one. If you told me five years ago I'm going to be the defensive coordinator at Notre Dame, I would've been like, 'I'm good, that's it.'"
That's not to say Freeman now has no interest in the coaching profession's highest title, but it means he can be selective. If the opportunity doesn't arise for a few years, he doesn't see himself growing antsy or unsatisfied in his current role.
"I told somebody the other day, 'Listen, that could be the head coach at Huber Heights Wayne [High School],'" Freeman said, referring to his alma mater in suburban Dayton, Ohio. "I could be the defensive coordinator at Notre Dame for the next 30 years, and before I'm retired, I'd go to be head coach there."

Both of those outcomes feel unlikely at this stage. Freeman's current role has netted many of its prior occupants attractive college head-coaching jobs. His Cincinnati résumé and Notre Dame's returning defensive infrastructure are an attractive on-paper match.
All of that fuels the public acknowledgment that a successful tenure for Freeman at Notre Dame could resemble Lea's in its length. Freeman becoming a head coach likely would mean Notre Dame's defenses remained effective — which was the entire goal of hiring him.
However long Freeman is in South Bend, though, he plans to operate with the same mindset that helped get him here and has revealed itself in his recruiting activity this offseason. Notre Dame has landed nine defensive commitments since his hiring, and six of them are four-star prospects. He has been involved with all.
"All I know is to go as hard as I can," Freeman said. "When the day that comes where I don't want to go as hard as I can, that's when I look at my wife and say, 'I want to retire. I don't want to go as hard as I can anymore and I want to slow down. Then it's not good for me to be in this profession.'"
"But this is unbelievable. The position I'm in, there's nothing better. There isn't. How about I go as hard as I freaking can as the defensive coordinator at Notre Dame and see where it lands me? I'm in a great position. If I'm the defensive coordinator at Notre Dame for the rest of my life, I'm great."
BlueandGold.com's Mike Singer contributed