Make Way For Tommy Tremble
The last three seasons of Tommy Tremble's football career resemble a stationary person's heart rate chart.
Peak. Then back below the surface for a while. Peak again. Then down to a notable but not attention-grabbing role. It's through no fault of his own, but rather due to chilling circumstances and depth chart situations that prevented any extended outburst.
A gruesome high school injury sent the first peak downward, not to emerge again for two years. The second was an expectedly short injury fill-in. After a two-game cameo in Cole Kmet's stead, Tremble retreated into a backup role that was noticeable if one looked for it, but still dwarfed by the eventual first tight end taken in April's draft.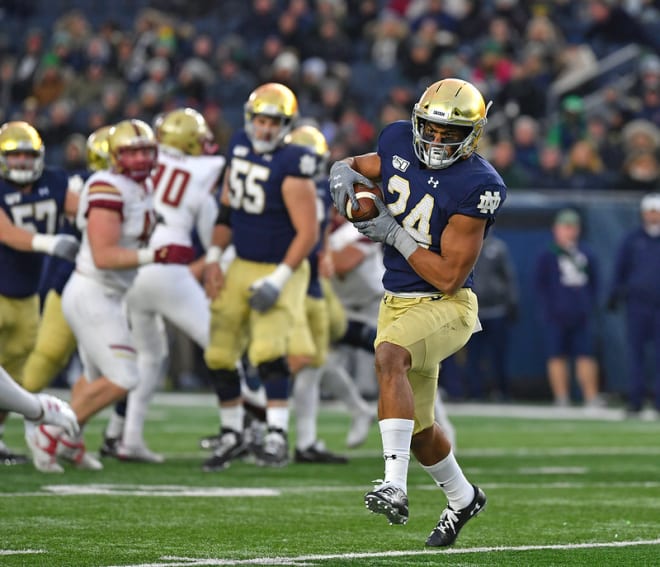 All Tremble — an Atlanta native who is now a junior tight end for the Irish — could do in each instance was be patient. Fortunately, it is one of his strengths. He attacked his rehab and recruiting process following a dislocated ankle suffered in August 2017. He willingly ceded the spotlight to Kmet, a good friend since Kmet hosted him on his official visit.
"He's always happy when he just gets a chance," said Tremble's mother, Abigail. "He's not a kid who's like, 'Throw me the ball!' He's genuinely pleased when his teammates do well.
"He's just excited when he gets an opportunity."
Now, a cleared path to an extended one is here. The 2020 season, in whatever form it is played (if at all), is Tremble's opportunity to shine as Notre Dame's primary tight end. His highlights do not have to exist in snippets anymore. He's Kmet's clear successor after snagging 16 passes and four touchdowns as the second tight end in 2019. Oddly enough, he has the most receptions of any returning Notre Dame pass-catcher.
"There are expectations this year," Abigail said. "That will be what's new and different. It's not happenstances and, 'Oh great, that happened!' but having an expectation that's your job on the team."
No one could blame Tremble for visions of being next in a long line of Irish tight ends to be drafted, especially when he would be a third-generation pro. His maternal grandfather, Rich Watts, signed a rookie free agent deal with the Atlanta Falcons. His father, Greg, won a Super Bowl with the Dallas Cowboys in 1995. Anyone who asked a young Tommy to name his favorite football player heard a resounding "Dad!" in response.
Tremble, though, possesses the skill set to make his own name at the sport's highest level. At 6-3 and 235 pounds, he's a moveable piece who can be an H-back, slot receiver or in-line player. He ran a 4.63 40-yard dash at The Opening's Atlanta regional in 2017, the fastest tight end time at any regional that year (Kmet ran a 4.70 at the NFL Combine, for comparison). Few safeties and linebackers can run with him. He glides like a wind surfer.
"He's an outstanding athlete," Brian Kelly said after his debut last year. "We knew that when we recruited him. He had crazy numbers and all this testing when we recruited him and knew that it was just a matter of maturation. … As he has done that and become more comfortable with balancing both, he started to emerge as football player."
Tremble's junior season is not only about a breakout. Freshman jitters are past him. He has belief in his ability, fostered by last year's crack into the rotation. The other task for an introverted, initially nervous 20-year-old is to continue allowing himself to embrace the stage on which he performs as his time on it increases.

Entitled To Nothing
Tremble enjoyed every sport he played in grade school except one.
Wrestling was a chore, and not because he was lacking in size or strength. No, he hated how much everyone could pay attention to him. This sport was a shy kid's fever dream.
"It was literally center stage," Abigail said. "It's you and one other guy, everyone's watching. He just could not stand that because he's not an individual sport guy. He wants to be on a team. He likes being in the mix."
Football allowed him to be one of multiple attractions. And it was the family hobby. There were 10 teammates with him, and he enjoyed their success too. Abigail remembers seeing him equally juiced after a friend's touchdown or tackle as one of his own.
Even now, that's still the case. After the Camping World Bowl last year, Abigail remembers a particularly exuberant Tommy postgame despite his one-catch, nine-yard stat line. He spent much of the day blocking to fuel Tony Jones Jr.'s 131-yard outburst, and he was thrilled because Jones was thrilled.
Tremble took the same approach to his high school transfer before his senior year. After three years at Johns Creek (Ga.) High School in greater Atlanta, he spent his final one at The Wesleyan School, a private institution. He began practice that summer already armed with Power Five offers, including one from the home-state Bulldogs, where Greg played. It would have been easy to feel like he owned the place.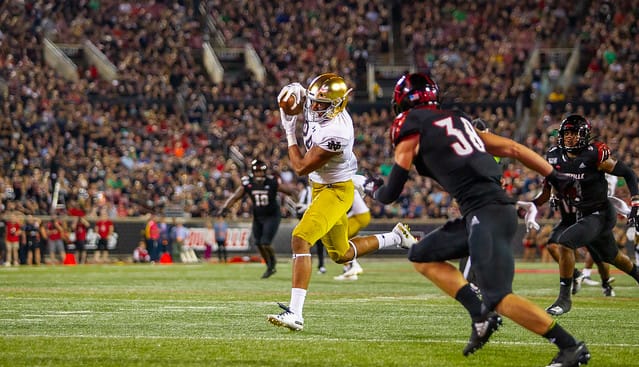 "He showed up without trying to big-time anyone or show up with a chip on his shoulder saying, 'I have 25 offers and you need to respect me,'" said Franklin Pridgen, his coach at Wesleyan. "He went to work and earned tremendous respect from his teammates because of the way he approached it. He was the new guy and knew the rules applied to him like they do to everyone else."
Turns out, Tremble was even human. Pridgen understood he should use Tremble's athletic ability as often as possible, and that meant playing him on defense too. They chose linebacker to take advantage of his size and speed. After a one-week adjustment where he was too fast and overrunning plays because of it, he took off.
"Tommy saw where he could fit in to make everyone better," Pridgen said. "Not steal the limelight, but play a role. Obviously, he had physical gifts that were tremendous. His size, speed and ability to change direction were on an elite level."
But Tremble tantalized Pridgen and Wesleyan for all of six quarters. He remains one of Pridgen's great what-ifs. In the second game of the season, Tremble crumbled to the ground on the far side of the field after trying to make a tackle. His foot bent in an unappetizing way, and he needed emergency surgery to repair it.
His recruitment stayed at optimal mania, though. Tremble's size, speed and fluidity combination still intrigued college coaches who liked him at tight end and linebacker.
"It's hard to say what he would have turned into if he played a full season at linebacker," Pridgen said. "But it would have been pretty special to watch."

Give Him An Opportunity
By nature of his chosen position, Tremble was the exception to the family tradition.
His dad, grandfather and two uncles who played in college all were defensive players. But Tommy had too much affinity for offense to stop playing it. Tight end just fit him He stood out as a high school underclassman because he was bigger than everyone else. But neither he nor his parents were sure just how far it would take him.
So Abigail sent Tommy's film to her brother, Bert Watts, now the linebackers coach at Memphis but then the defensive coordinator at UC Davis of the Football Championship Subdivision. She asked for an honest take on how seriously they should prepare for a recruiting process.
"He goes, 'Uh, yeah. He's going to be really good,'" Abigail recalled. "I learned all about hip-flipping and what was important."
The size, speed, agility and fluidity were apparent then to those who knew what they were looking for. Tremble teased the masses with those assets in his September audition. Playing in a game for the first time in two years in the Irish's Sept. 2 opener at Louisville, Tremble caught all three of his targets 49 yards and a touchdown. Each reception was a first down or a score.
The touchdown came midway through the third quarter, with Notre Dame up 21-14. Tremble lined up in the slot, soared right past a linebacker and cut inside toward the goal post 10 yards down the field when he saw a safety cheat over to Chase Claypool's route on the boundary next to him. The play punctured Louisville's hopes of a win and inflated Notre Dame fans' hopes for him.
For Tremble, it was a confirmation that he belonged in those moments. A redshirt year spent trying to smash through the freshman wall, head sometimes spinning at 10,000 RPMs, felt behind him.
"Tommy's really coming on," then-offensive coordinator Chip Long said in September. "A very versatile guy, very explosive and physical for his size. He just needs to keep playing."
On cue, the more he played in 2019, the more comfortable he grew blocking and catching passes in front of 80,000 in the stands and many more on national television. Notre Dame kept him involved after Kmet's return, often as a blocker and occasionally as a receiver. Both suited him. He played more snaps in the bowl game (35) than the season opener (31).
If Long sensed any nerves, he had a go-to trick: get Tremble a touchdown.
"He rides on that for about two weeks," Abigail said.
Even Tremble knows touchdowns may become less rare this year. With a largely unproven crop of wide receivers, Notre Dame needs him to be one of quarterback Ian Book's most reliable targets from start to finish.
Maybe Tremble will stop short of thinking about being a star because entitlement is not in his nature. But it's OK to want to be one. This same moment has brought recognition to plenty of Irish tight end predecessors. The moment is now his to seize. And as his taste of it last year taught him, it's not as scary as a wrestling match.
"There are all these performers you hear about and you're like, 'Gee, I had no idea John Mellencamp was super shy,'" Abigail said. "But they love being on stage. That's the funny thing about Tommy. He's introverted, a wisecrack on the side. But you give him an opportunity to perform and he loves it. He will rise to the occasion."