Lueders goes with Irish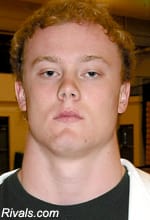 Blake Lueders
all but knew he would end up at Notre Dame when he and his father toured the campus Tuesday.
He just waited a couple more days to let it all sink in before making a final decision.
The 6-foot-5, 250-pound defensive end from Zionsville, Ind., made his commitment official Thursday with a phone call to Notre Dame head coach Charlie Weis that gives the Irish their seventh commitment for the Class of 2010.
"I thought it was the best combination of academics and football in the country," Lueders said. "I just love the tradition. The coaches are great. The players are great. Everything."
Lueders chose Notre Dame over Wake Forest, Northwestern, Boston College and Stanford.
He had already visited South Bend twice before he returning Tuesday for another unofficial visit, this time to get his father comfortable with the coaching staff and the campus. Lueders then went home and sat on it for 48 hours.
In the end, the choice was clear.
"I knew when I was there (Tuesday) Notre Dame was the place," Lueders said. "I just wanted to sleep on it and think about it for awhile and make sure I was right. I was. I'm happy with my choice.
"The whole time I was kind of thinking to myself, like, if I was committed would I be happy? In these past 48 hours I pictured myself going to Notre Dame."
Lueders said his choice has the full endorsement of his parents and he can't wait to line up on defensive end to help Notre Dame "do whatever it takes" to win.
The four-star prospect considers the recruiting process over. He has no plans to take any other visits or look at any other schools.
He also said Notre Dame's upcoming season will have little effect on whether he remains committed in the future.
All Lueders can think about now is putting on the gold helmet.
"Just getting after it and making the team better and everything," Lueders said of what he's most looking forward to. "Notre Dame has a real good shot at making some big runs in the next couple years."