Julian Love & Jerry Tillery Named 2018 Sporting News All-Americans
Click HERE to sign up for an annual subscription to BlueAndGold.com and get your FREE gift code for $99 in Irish apparel and gear!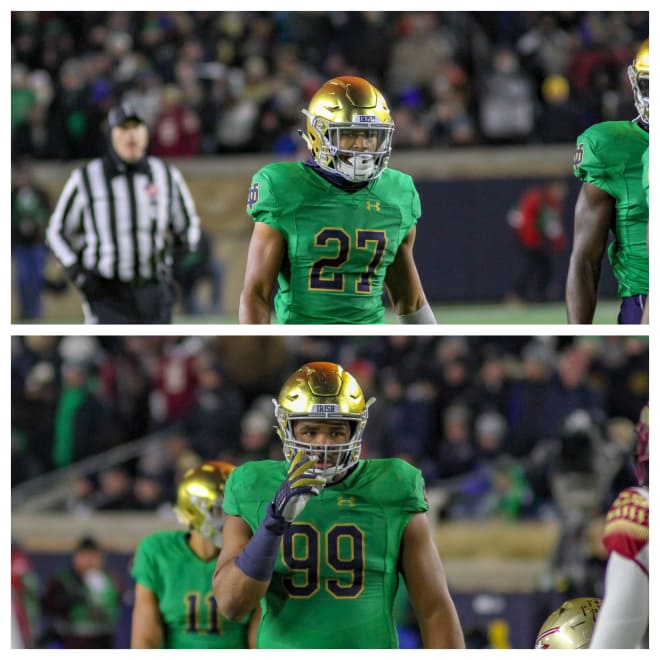 It is no surprise following a perfect 12-0 regular season and College Football Playoff berth that several Irish players are being recognized for their accomplishments on the field during the year.
The All-American honors continue to roll in with cornerback Julian Love and defensive tackle Jerry Tillery being the latest recipients.
Both Love and Tillery were selected to the Sporting News 2018 All-American team with Love getting a first-team nod and Tillery on the second-team.
Love finished the regular season with 61 total tackles, one interception and 15 pass breakups. He holds the Notre Dame record for most pass break ups (38).
"The Notre Dame cornerback is a first-round talent who finished with 15 passes defensed as part of an Irish defense that allowed just 17.2 points per game," the outlet noted about Love.
With the Sporting News nod, Love now has first-team selections by four of the five lists used by the NCAA to determine consensus and unanimous All-American status with the Associated Press, Football Writers Association of America (FWAA) and Walter Camp. The last of the five is the American Football Coaches Association (AFCA), which will be released Wednesday, would give Love unanimous status if he earns a first-team nod.
Tillery added 30 tackles and 10.5 tackles for loss to go with those eight sacks this season and finished second in the nation among interior defensive linemen with 45 total quarterback pressures, according to Pro Football Focus. He was also a second-team selection by the AP.