Jack Swarbrick On The Future Of Notre Dame Football Schedules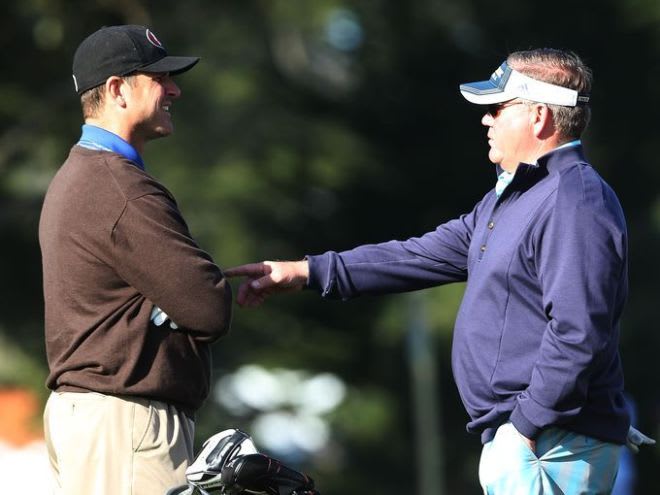 Editor's Note: This is only the first part of a week-long series we will feature with the Notre Dame vice president and director of athletics. The rest will be premium access to our subscribers. Be sure to sign up for our 30-day access that is linked below.
Get a FREE 30-day trial using promo code BGI30
Assembling a football schedule — especially as a football independent — has been compared to a Rubik's Cube by Notre Dame vice president and director of athletics Jack Swarbrick. Just when it looks like one side of a puzzle is falling into place, you discover another might need adjusting.
It happened most recently with the addition of Wisconsin to the 2020-21 slates. With the decision to have them as Shamrock Series games at Green Bay's Lambeau Field in 2020 and Chicago's Soldier Field in 2021, it appeared at the time that Notre Dame would consequently play only five home games in 2020 and seven on the road.
That's how it looked on paper.
Three of the seven road games in 2020 were ACC journeys to Wake Forest, Pitt and Georgia Tech — with the latter already switched from 2019 because that would have meant the Fighting Irish would play at both Georgia and Georgia Tech the same season. Spreading the wealth in the Peach State to 2019 and 2020 worked out much more favorably, but such situations aren't always so accommodating.
The 2020 game also featured two more road games against two of the "untouchables" on the schedule — Navy to open the season (in New Jersey) and at Stanford to close it. That's five road games.
Also scheduled for 2020 was a road game at Purdue on Sept. 19, and then the contest at Lambeau versus Wisconsin in Oct. 3. That's seven on the road.
How can that be for any Power 5 Conference team, which generally prefers to stay at home seven times, with six the minimum? Is that why Notre Dame invested close to a half-billion dollars into the new Campus Crossroads Project?
That's where Rubik took a detour.
Although not officially announced by the University of Notre Dame yet, the Irish and Purdue reshuffled their series, eliminating the 2020 game and then balancing out where they will meet six times in the eight-year period from 2021-28.
The previous contract between the schools had the 2026 game slated at a neutral site. However, because the 2020 game at Purdue has been eliminated to make for a new home game (still to be determined) at Notre Dame to give it the 6-5-1 (six home, five away and the Shamrock Series game with Michigan) model, the 2024, 2026 and 2028 games will be at Purdue's Ross-Ade Stadium, while the Irish will host the Boilermakers in 2021, 2025 and 2027.
With that one home game still to fill in 2020 to give it six, Notre Dame won't make any announcements about future schedules until the addition is made.
"I don't anticipate that ever happening," said Swarbrick of playing less than six games at home in a season. "But I also can imagine an opportunity coming our way (i.e. Wisconsin in 2020-21) which was too good to pass up, and then you have to wind up with more home games to get that down. We're already out into the 2030s with some games and how to balance it home and away."
Some compromise has had to be involved. That includes not having a Shamrock Series game such as this year after having it annually from 2009-16, but still trying to make room for one whenever possible.
While many Irish faithful have disagreed about the decision to have Notre Dame-Wisconsin at two NFL Stadiums rather than on their respective campuses, the reasoning for Swarbrick was two-fold.
"From a competitive perspective, on your resume, two neutral sites (Navy and Wisconsin in 2020) are probably better than one home and one away," he said. "You win the away it's more powerful than either neutral site victory. But it doesn't hurt, and it may help [in the eyes of the Playoff Committee].
"The other one is it's great for the University. It's phenomenal when we go to Chicago for the University of Notre Dame. We'll have the same impact in Milwaukee. That's a big part of the decision we make here. We've been to virtually every major American market in 10 years. We haven't gotten to Houston, and we haven't gotten to Denver, and that's about it. That's part of football's obligation to Notre Dame."
He then points to a photo of Notre Dame's first athletics director, Jesse Harper (1913-17), who also was the first full-time football head coach, located behind him in his office.
"The guy behind me figured that out," he said.
Above all, the feedback from the student-athletes is paramount, and the idea of playing in NFL Stadiums has received high plaudits. So much so that in that aforementioned 2020 season, Notre Dame will play four of road contests in NFL Stadiums (New York, Charlotte, Pittsburgh and Green Bay).
After Notre Dame did not play a Big Ten team in 2015 (a first in 100 years), at least one Big Ten foe is on the schedule every year from now through at least 2028, including Michigan (2018-19), Wisconsin (2020-21), Ohio State (2022-23) and Michigan State (2026-27) to provide variety.
The goal is to have at least four of the five Power 5 Conferences represented as a marker for the CFP committee. The Pac-12 will always be represented with USC and Stanford, as will the ACC with about five games per year for the Irish.
Landing SEC games has been a priority for Swarbrick, and that has so far included Georgia in 2017 and 2019, Vanderbilt in 2018, Arkansas in 2020 and 2025, and Texas A&M in 2024-25.
The Big 12 might be the most challenging to include but the Irish did have back-to-back series with the two linchpins in Oklahoma (2012-13) and Texas (2015-16).
"It's hard to get them all in," Swarbrick said. "It starts with two Pac-12, five ACC — and then the inventory is especially limited for the return game."
There are still plans to fulfill the agreement for a game at BYU after the Cougars took back-to-back visits to Notre Dame in 2012-13. The ACC commitments since then have put BYU on the back-burner. It also remains imperative to not just get Power 5 representation on the schedules, but programs with brand names, i.e. Georgia from the SEC.
"We build and we give our team the platform to get to the CFP, and we want to have the best teams on it," Swarbrick said. "Intent is part of what the selection committee looks at. A program might be down by the time you get to it, but when you schedule that game — who were they, what does it say about your intent?"
Unfortunately, there is a separate price that comes with being independent in football. Swarbrick acknowledges that the 2019 schedule that features road games at Louisville (on Labor Day), Georgia, Michigan and Stanford might well be a case of overscheduling.
"That's one more tough road game than I'd like," he admitted. "It's not ideal, but when you're trying to put this together, it's not like you get to choose every game or where it goes. You're working through situations where the number of transactions with the ACC is really complicated.
"I understand the reaction to '19 … but it's how it fell and it's up to us to try to navigate it."
Regardless, he said that as an independent it's Notre Dame's duty to build the resume with a 12-game schedule that matches or eclipses any 13-game slate a conference team might have with a league playoff.
"We have to be good enough to navigate it," Swarbrick said. "If you're going to be independent, you have to be independent. Independence means playing the best schedule you can. If you're not going to do that, don't be an independent.
"We've chosen to be independent."