Irish Offensive Line Working Through Struggles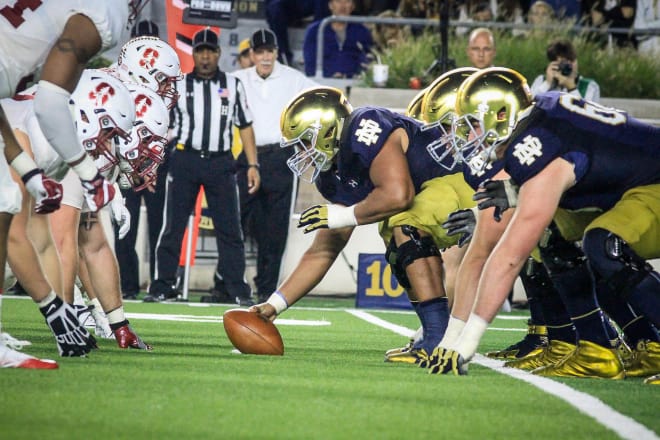 Notre Dame struggled offensively against Stanford, and now scored just one offensive touchdown in the past nine quarters, dating back to the third quarter against Syracuse.
It begins with the offensive line, which head coach Brian Kelly was asked about during his Sunday media teleconference.
Kelly said he wants improvement in several key areas.
• Fundamentals. Things like junior center Sam Mustipher's errant snaps the past two games.
• Sets, sustaining blocks and recognition. Quarterbacks DeShone Kizer and Malik Zaire were under constant pressure in the second half against Stanford, which Kelly partially attributed to the offensive line.
• Composure. Playing well at the end of games, something the entire Irish offensive line has failed to do throughout this season.
• Penalties. Notre Dame's offensive line was flagged four times against the Cardinal — two false starts and two holding calls.
"All of those are the basic fundamentals and foundation of playing winning football, and if we don't improve those, we're not going to win at the level we need," Kelly said.
Notre Dame's starting offensive line has been consistent during its 2-5 start. Despite the offense's inconsistency, it'll still be the same five or six players moving forward, the seventh-year coach said.
"We vetted this out," Kelly said. "They're the best players that we have."
Senior left tackle Mike McGlinchey announced this month that he will return for a fifth year, despite NFL draft projections with him in the first round.
Junior left guard Quenton Nelson, who is also a projected first round pick, is expected to return.
Mustipher, a junior, has played well this year and is the future at the position, despite his recent struggles, which Kelly said is a flaw in mechanics.
And senior right guard Colin McGovern and senior right tackle Alex Bars both have fifth years available after redshirting as freshmen in 2013. Backup right guard Hunter Bivin — who started against Stanford in place of McGovern, who suffered a concussion and was held out — also has a fifth year option.
"They're all players that will return for us, they're all players that are going to be here for at least another year," Kelly said of the starting offensive line. "This is a commitment toward this year and getting them better so we can get through this skid that we're on."
The first trouble signs this season came early, when McGlinchey and Nelson weren't as dominant as expected. And as the losses have mounted, the line became less and less of a strength for the preseason top-10 Irish.
Against Stanford, the Irish could not complete their final drive of the game into a touchdown as Kizer was under constant pressure. He was sacked and tackled for a short gain on Notre Dame's final two passing attempts.
"It's not what we want to do," McGlinchey said. "We had a pretty good game other than that. It's just unfortunate that at the last second there we couldn't get it done. I'm not disappointed in the way we played at all. I'm proud of the five guys that we play with every day and every Saturday are five of the best in the nation."
Kelly said Kizer holding the ball and taking sacks is an offense-wide problem. Whether it's on the quarterback himself taking sacks, lack of precise routes by young receivers or the offensive line not building a clean pocket, it the problem falls on everyone.
"There's a lot going on as to why the ball doesn't come out," Kelly said.