Irish Offense Catches Fire In 95-70 Win Over DePaul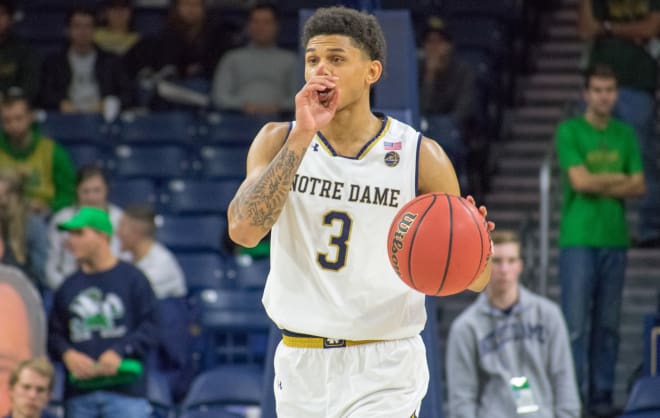 It took six games, but Notre Dame put together a strong offensive performance to help propel the Irish to a 95-70 win over DePaul.
The Irish shot over 60 percent in the second half to turn what was a three-point halftime lead into a 25-point blowout for Mike Brey's group.
Check out Blue & Gold Illustrated's half-by-half recap of the Notre Dame victory.
FIRST HALF
Freshman point guard Prentiss Hubb got the scoring going for the Irish in his third-straight start with a three-pointer from the corner. A layup from junior guard TJ Gibbs made it 5-2 Irish with 17:39 left in the opening half before DePaul caught fire.
The Blue Demons fired off an 8-0 run over the next 1:17 to take an early 10-5 advantage fueled by two three-pointers from Jalen Coleman-Lands.
Freshman forward Nate Laszewski caught fire to get the Irish back in a groove getting a layup to fall off an offensive rebound before connecting on back-to-back triples to tie the game back at 13 with 13:31 remaining.
However, DePaul responded quickly again with a 4-0 to push their advantage to 17-13 at the under-12 media timeout. Paul Reed extended the DePaul lead to 19-13 with a layup.
Junior forward Juwan Durham and senior guard Rex Pflueger combined for six points to close the gap a bit to 21-19, but DePaul's Devin Gage knocked down a triple to make it 24-19 Blue Demons.
The Irish, however, continued to shoot well from the floor which led to a quick 7-0 run to take the lead again at 26-24. Hubb was a key part of the burst with a layup in transition via an assist from Pflueger before finding junior forward John Mooney for a dunk. Gibbs connected on a triple during the stretch as well.
Notre Dame continued to hold strong defensively forcing the Blue Demons to hit just one field goal in eight attempts while the Irish built a 31-28 advantage at the under-4 media timeout. Hubb made the early highlight of the first half when he drove down the middle of the lane and finished with a thunderous dunk on his offhand (right).
The freshman had eight points, four rebounds and three assists to that point. Freshman guard Robby Carmody also got in the scoring column with a layup after dribbling from the corner and hitting at the center of the lane.
A trio of freshmen closed the half for the Irish on a high note to give Notre Dame a 39-36 lead heading into halftime.
Guard Dane Goodwin converted an and-one opportunity off an offensive rebound while Carmody followed with a backdoor cut and a layup. DePaul cut the lead back to 36-34 before Laszewski connected on another three-pointer.
In the first half, Notre Dame shot 48.4 percent (15-of-31) from the field and 42.9 percent (6-of-14). Laszewski led all scorers with 11 points while Hubb added eight points, four rebounds and four assists.
SECOND HALF
Notre Dame came out strong to open the second half with a quick 8-1 run with three-pointers from Gibbs and Pflueger and a jumper via Harvey. Hubb carried over his good play with five points in the first four-plus minutes to also help the Irish build a 52-41 lead with under 16 minutes to play. The Irish hit five of their first eight shots.
It remained an 11-point advantage for the Irish at 55-44 with 14:14 left before Notre Dame began to really pour it on.
The Irish went on a 16-2 run in nearly three minutes to extend its lead to 71-46. Gibbs began finding more of his footing with eight points during the run while Pflueger added six for his best performance early in the 2018-2019 season.
Notre Dame hit 11 of their 17 shots during the first 10 minutes of the half including 4-of-6 behind the arc while forcing DePaul to hit just 33.3 percent (5-of-15).
DePaul finally had a few shots fall their way with a 9-4 run, but Laszewski hit his fourth triple of the game to keep the Irish momentum rolling. It pushed the freshman to a career-high 15 points.
Pflueger was feeling it as the half went on taking two three-pointers and displaying the confidence that the shot was in before it went through the net. His second triple gave the senior a career-high 20 points while Notre Dame led 86-59 with just over five minutes to play.
To that point, Notre Dame had hit 15 of 23 shots (65.2 percent) in the second half to continue their best offensive performance of the young season.
It was a smooth finish for the Irish as the team secured their highest point total of the season in a 95-70 win over the Blue Demons. During the closing minutes, Hubb knocked in a layup to surpass his career-high finishing with 15 points, five rebounds and five assists.
The Irish shot 62.1 percent in the second half, including 53.8 percent behind the arc. Overall, Notre Dame hit 33-of-60 (55.0 percent) from the field and 13-of-27 (48.1 percent) on three-point attempts.
Pflueger led all scorers with 20 points to go with the 15 each from Hubb and Laszewski. Gibbs added 18 to round out the top four scorers for Brey's group.