Irish Hoops Announce Three Fall Signees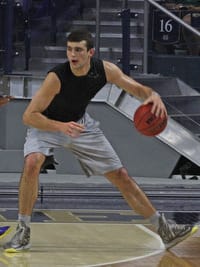 No college recruitment story is the same — and Notre Dame's 2015-16 fall signing class certainly attests to that.
West Orange (N.J.) Seton Hall Prep point guard
Temple Gibbs Jr.
was strongly recruited by the staff for months, with heavy program resources dedicated to follow his games with the New Jersey Playaz on Nike's Elite Youth Basketball League circuit in April. On the other hand, Altamonte Springs (Fla.) Lake Brantley forward
John Mooney
and Mono (Ontario) Orangeville Prep wing
Nikola Djogo
both wrapped up their recruitments with the Irish in a matter of a few weeks.
"Every time I tell people we try to make recruiting this exact science, and it's so far from it," head coach Mike Brey said. "T.J was a guy we worked long and hard on, and it paid off in the spring.
"John Mooney, we didn't know who he was until August when Billy Donovan called me, and said his dad was really reaching out to us. We recruited him for three weeks and we got him. Reminds me a little of the Tory Jackson recruitment, you recruit him for three weeks, he calls you in August and you got him.
"Nik was another great story. It's a great example of you can recruit a guy for two years, get him, and he turns out not to be a good player. You can recruit a guy for two years, get him, and he's a really good player. And you can recruit a guy for three weeks, get him, and he becomes better than all the above. Again it gets back to its an inexact science, and you're living day to day in recruiting."
The headliner of the class is Gibbs Jr., a four-star point guard that chose Notre Dame over offers from Oklahoma, Georgetown, Seton Hall and Pittsburgh among many others. The 6-3, 185-pound senior is the younger brother of Ashton Gibbs - first-team All Big-East guard at Pittsburgh in 2010-11 - and guard Sterling Gibbs, who picked up second-team All-Big East honors in 2014-15 at Seton Hall before transferring to UConn.
"He has good strength and a nose for the ball," Brey said. "I love his toughness. When you're the youngest of those three brothers, and you have to play one on one in the gym and fight for everything, and get pushed around - the kid has a real toughness about him, that 'I-95' edge that I like to refer to.
"He shoots it, has a feel for the game, and can get in there and strip. And again, when you play where he played growing up, AAU and high school-wise, man you played a high level of competition and I think you're really ready."
Mooney was originally committed to Florida under then-head coach Billy Donovan, pledging to the Gators in Sept. 2013. But after Donovan left for the NBA's Oklahoma City Thunder, Mooney reopened his commitment this August - and with a little assist from who he originally thought would be his college head coach, the 6-9, 245-pound senior found the Irish.
"My guys remembered him a little bit," Brey said. "After Billy called me, I didn't remember the name. When Billy called me and said 'do you know Johnny Mooney?', I thought he was trying to endorse a coach for me or something. He was off the board in 10th grade. An Irish-Catholic guy, if he had stayed on the board we probably would have known about him, but he disappeared quickly.
"I talked to Coach Ingelsby after I talked to Billy, and he said they really liked him when they saw him when he was young. He was off the circuit because Team Florida didn't have a team — so not only was he committed, but also he didn't play in the summer. And he was fine with it; he went up to Florida and worked out with their guys, and at the end of the summer everything changed — to our benefit. But as he was described, and I saw some videotape of him, I kept seeing Kurz. A lot of [former Irish forward] Rob Kurz in him. Even facially, dark hair, same body type, similar game."
Djogo — like Mooney — wasn't on the program's initial radar in the class, but Brey stumbled upon him when he visited Orangeville Prep to see Irish five-star center target
Thon Maker
. The 6-7, 185-pound wing was offered by Brey on Sept. 15, and committed to the Irish less than a month later on Oct. 14.
"We're up there watching another prospect and you end up not knowing what you're walking into at Orangeville, and you walk into a lot of prospects," Brey said. "We watched him for two hours there, Anthony Solomon and I, and he's just kind of growing on you. I went over and talked to him afterwards.
"So after being impressed with how he played for two hours, I said 'what are you interested in studying?' And he said 'business.' And I said 'you know, the Mendoza School is No. 1,' and he kind of cut me off and he said 'I know Coach, I've done my research. I know you guys have the best business school.' I landed in Philadelphia the next day en-route to watch a junior, and my message to him was don't do anything crazy this weekend. And then I just said man let's stop messing around, so I called the coach and we offered him the next day.
"But he's old; he's a man, involved with Canada basketball. He can play any of the positions. He guards, he's athletic. A little Vasturia-like, with his feel for the game and skill. Got some toughness about him. It just gives you a lot of flexibility."
Technically Notre Dame is full on scholarships with the three additions, but there are numerous possibilities that could open up a fourth spot, most namely junior point guard Demetrius Jackson declaring early for the NBA Draft. So the Irish will continue recruiting past the three signees in hopes of landing a big man, including five-stars Maker and Austin (Texas) St. Stephens Episcopal five-star center
Jarrett Allen
— although Brey couldn't name them specifically, per NCAA rules.
"Full speed ahead," Brey said. "We've got some big guys that we're on. We want to sign one more guy, that's the goal. Could that be early? Maybe. Could it be late? Yeah, could be late too. But I think we'll keep evaluating seniors, and even since we've had the three commitments, I concentrate on the junior class too so you're into the next phase. But yeah, we're full speed ahead on some big guys that are still out there in the '16 class."