HOOPS Preview: Notre Dame vs. Radford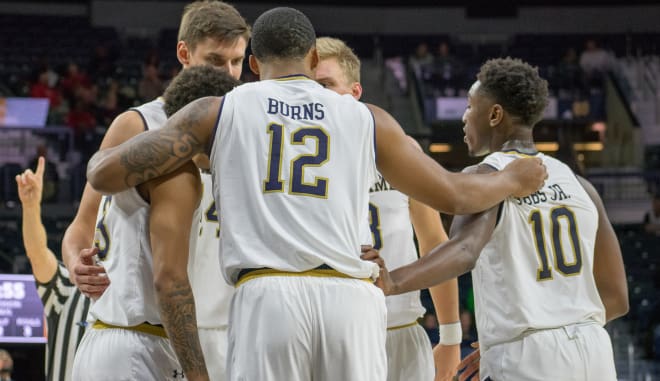 NOTRE DAME (2-0, 0-0 ACC) VS. RADFORD (2-0, 0-0 BIG SOUTH)
Where: Purcell Pavilion (Notre Dame, Ind.)
Rankings: Both teams are unranked.
TV/Time: ACC Network Extra, 7 p.m. ET
Last Meeting: First meeting between the two programs.
Notre Dame (2-0) will face its toughest challenge early in the 2018-2019 season against the defending Big South Conference Tournament champions in Radford (2-0).
The Highlanders are coming off a First Four NCAA Tournament win aiming to return to the Big Dance.
Here is an overview of both programs heading into tonight's matchup.
NOTRE DAME OVERVIEW
It has been an up-and-down start to the season for Notre Dame even with getting two double-digit wins over UIC (84-67) and Chicago State (89-62).
The Irish faced no problems against the Flames despite struggling offensively while facing some adversity heading into the second half against the Cougars after squandering an 18-point first half lead before extending it to just five at the break.
Mike Brey and his staff are still searching for some answers with a young team and so many new faces. Brey has stated since the conclusion of the Chicago State game that the Irish may need to shorten the rotation a little while planning to start a different lineup against Radford.
Through two games, freshman forward Nate Laszewski may be the most consistent of the bunch, at least production-wise. Laszewski notched 12 points in both games while averaging 6.5 rebounds. Forward Elijah Burns and wing DJ Harvey both sit at 10.5 points so far. Burns scored a career-high 15 points against Chicago State providing the spark the Irish needed.
Freshman guard Robby Carmody is close to joining the double-digit club at 9.5 points to go with 3.5 rebounds. Fellow freshman guard Dane Goodwin isn't far behind at 8.5 points and 4.0 rebounds. Prentiss Hubb played 20.5 minutes per game adding 5.5 points and 3.0 assists to the team's efforts.
The Irish veteran backcourt of junior TJ Gibbs and senior Rex Pflueger has yet to get going with the duo averaging a combined 16.5 points, but both shooting under 30 percent from the field.
Junior John Mooney has been solid in the post at 8.5 points and 6.0 rebounds while shooting 61.5 percent from the field and 50 percent behind the arc. Fellow junior Juwan Durham is averaging 4.0 points and 4.5 rebounds in just 13 minutes.
Overall, Notre Dame shot 39.8 percent from the field and just 27.4 percent behind the arc. Both are part of why Brey and the Irish staff are looking to change things up a little.
RADFORD OVERVIEW
The Highlanders are the best team the Irish have faced during this young season even taking down a common opponent between the two: Illinois-Chicago (88-78). Notre Dame defeated the Flames 84-67 to open the year.
Radford shot 47.5 percent from the field against UIC and 57.1 percent (12-of-21) behind the arc while the Irish finished 35.5 percent overall and just 18.2 percent from the three-point line.
Overall, Radford is averaging 89.5 points per game this season when factoring in their 91-57 defeat of Division II Davis & Elkins in their respective opener. The Highlanders have moved the ball well in both games averaging 20.0 assists.
Junior guard Carlik Jones leads the team in scoring after going for 24 points, 10 assists and four steals in the win over the Flames, his first of the young season. Fellow junior guards Donald Hicks and Travis Fields Jr. are averaging 17.0 and 15.0 points respectively.
In the frontcourt against UIC, Radford started 6-foot-5 senior Ed Polite Jr., who is averaging at double-double at 12.5 points and 12.0 rebounds. Senior center Mawdo Sallah provides a presence in the middle with 7.5 points, 5.5 rebounds and 3.5 blocks.
Senior guard Caleb Tanner provides another quality option in the backcourt averaging 15.0 points and 2.0 steals early. Junior guard Devin Hutchinson has also been solid with 7.0 points and 3.5 assists through two games.
Forwards Leroy Butts IV (3.0 RPG) and Devonnte Holland (2.0 PPG) have been the top options off the bench in the frontcourt while freshman guard Josiah Jeffers (3.5 PPG, 2.5 APG) has been part of the rotation as well.
GAME OVERVIEW
When looking at Radford, the Highlanders have moved the ball well through two games, which has helped allow the team to knock down 30 three-pointers in two games and shoot 50 percent overall and 55.6 percent behind the arc.
Notre Dame will have a size advantage overall in the frontcourt, but the defense will be tested a bit with Radford's ball movement and ability to stretch the floor.
With Brey and company looking to find more consistency offensively and a new starting lineup, it will be interesting to see how the Irish come out in this one.
Prediction
Notre Dame 76, Radford 63
I wouldn't be surprised to see this one be a pretty close contest in the first half, but I expect the Irish depth to take over and Brey's group to pull away.
There are a few questions for the Irish heading into this one. Will Notre Dame go with a shorter rotation as Brey has mentioned over the past week? Will a new starting group help the team find more offensive consistency?
That all remains to be seen, but Notre Dame should do enough to pick up a solid win over a quality mid-major opponent.