HOOPS PREVIEW: Notre Dame Vs. Louisville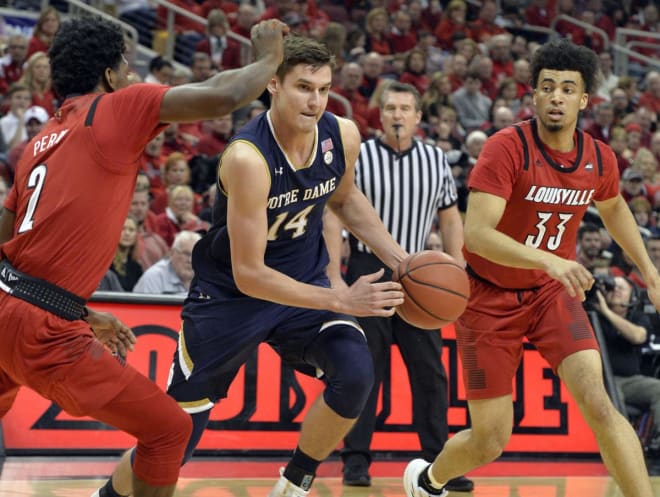 NOTRE DAME (14-18) VS. LOUISVILLE (19-12, 10-8 ACC)
Where: The Spectrum (Charlotte, N.C.)
Rankings: Both teams are unranked.
TV/Time: ESPN2, 7 p.m. ET.
Series Facts: Louisville leads 23-15, but the series is 3-3 since the 2013-14 season when Notre Dame joined the ACC.
Last Meeting: The Cardinals hosted Notre Dame March 3 and posted a 75-61 victory to snap their three-game losing streak. Since Feb. 17, that is Louisville's lone victory while sputtering to a 1-4 finish, including a 66-59 loss to Boston College, who the Irish defeated both times.
Overall the Cardinals are 2-6 in the last eight games, one of them an epic choke versus Duke in which they squandered a 23-point with less than 10 minutes left in the contest.
The win over Notre Dame was highlighted by dominating the inside, including a 49-30 advantage in rebounds and a 46-26 disparity with points in the paint. Sophomore and 6-7 Jordan Nwora, who edged Notre Dame's John Mooney for Most Improved Player in the conference this year by a 30-27 count, scored 20 points and grabbed 11 rebounds, while 6-11 classmate Malik Williams added 16 points to go with 13 rebounds.
Mooney had his own strong game with 22 points on 9 of 16 from the floor and hauled in 13 rebounds, while freshman point guard Prentiss Hubb had his best game in the league with 16 points and six assists. The Irish trailed virtually from the outset and an extremely poor 4 of 14 effort from the foul line never allowed them to really challenge.
Blue & Gold Illustrated takes a look at both teams before they meet tonight.
NOTRE DAME OVERVIEW
The Fighting Irish snapped a seven-game losing streak with yesterday's 78-71 victory against Georgia Tech in the opening round and avoided becoming the first men's team at the school to lose eight straight in the same season since 1965-66, when that 5-21 outfit lost a record 13 straight. Notre Dame is now aspiring to post consecutive victories for the first time since defeating Jacksonville (100-74) and Coppin State (63-56) on Dec. 20 and 29, respectively, the final two non-conference games before the start of ACC play.
It might have to achieve that with only six scholarship players, though — and No. 6 is freshman center Chris Doherty, who has played a total of 34 minutes this season. The seventh option is senior walk-on Liam Nelligan. The MASH unit had already lost guards Rex Pflueger (knee) and Robby Carmody (shoulder) in December, saw wing Nik Djogo have to undergo labrum surgery earlier this month, and sophomore wing D.J. Harvey (hamstring) wasn't in uniform for yesterday's game.
Then, just as 6-10 freshman Nate Laszewski began finding his stroke with a career high 23 points (6 of 9 from three-point range) in the regular season finale loss at Pitt, and then racked up 14 first-half points in the first 17 minutes on 4 of 6 from the field (3 of 4 beyond the arc) versus Georgia Tech, he was undercut on a lay-up that led to a badly bruised tailbone. It sidelined him the second half and left him questionable for today's game. If Laszewski is unable to play, the starting lineup would feature:
Mooney — Became the sixth Notre Dame player yesterday to record 20 double-doubles in a season.
Hubb — Freshman point guard continues to improve at running the team, and enjoyed a quality outing at Louisville last time.
Dane Goodwin — Like classmate Laszewski, the freshman guard is beginning to find a rhythm with three straight double-figure scoring outputs, notably 15 points yesterday in 33 minutes on 5 of 10 from the floor (1 of 2 beyond the arc) and converting all four free throws. He also grabbed five rebounds and handed out two assists. He has played admirably, and perhaps more looseness, with the absence of both Harvey and Djogo.
Juwan Durham — The 6-11 center will be crucial against the formidable Louisville front line that controlled the action in the previous meeting. In 28 minutes against Georgia Tech he tallied 12 points, grabbed five rebounds and blocked four shots, the latter his forte.
T.J. Gibbs — The junior and second-leading scorer has been up and down all year … and it needs to be up this time after going only 1 of 8 from the field yesterday. However, he did have only one turnover in 40 minutes while recording four assists.
We have not seen a spread for this game, maybe because of Laszewski's injury status.
LOUISVILLE OVERVIEW
With a 10-8 record in the ACC and placing in the top half of the league, the Cardinals might seem safe on paper to make the NCAA Tournament, but they have been reeling the past month and a loss to the Irish would leave them 2-7 in their last nine contests, hardly a ringing endorsement for the committee to invite them into the Big Dance.
Nwora (17.3 points and 7.7 rebounds per game) is also the team's best three-point shooter. Joining him in double-figure scoring is 6-5 Dwayne Sutton (10.3 points, 6.9 rebounds) and 6-2 senior guard Christen Cunningham (10.1, and a team high 4.9 assists per contest). More size is added with 6-10 Steven Enoch (9.2 points and 5.2 rebounds), and 6-6 V.J. King came off the bench in the earlier win versus Notre Dame to add 10 rebounds and six points.
Louisville has nine players who average at least 13.4 minutes per game, and that kind of depth could provide an edge against an Irish team that will be playing a second straight day and has much less experience on the bench.
GAME OUTLOOK
The question yesterday was will Notre Dame ever find a way this year to close the deal in a tight game. The Irish played a brilliant first half to take a 52-32 lead at the intermission … and then saw Georgia Tech pull within 72-69 in the closing minute before a clutch Mooney jumper provided the needed separation in the seven-point win.
Now that they got that taste of sweet victory for the first time in 30 days, the hunger for more should be present. Notre Dame comes in with nothing to lose, loose and upbeat. Louisville, on the other hand, needs this victory badly to help solidify its opportunity for an NCAA Tournament bid. Putting some game pressure on them could help lead to an Irish upset — or the sense of urgency could result in a resounding Cardinals win.
Louisville's inside game is its strength, but in 18 ACC games the Cardinals also were fourth in the league in three-point percentage (.340). However, in the earlier meeting versus Notre Dame it was 2 of 22 (nine percent) beyond the arc. Head coach Mike Brey often is glad to trade an opponent's two-pointer for an Irish three, but this has been a different kind of year. We could see Notre Dame pack it in and taking its chances with the Cardinals having another woeful shooting day from three-point range.
Prediction
Louisville 73, Notre Dame 66
A victory yesterday against Georgia Tech was not going to be surprising, but defeating the Cardinals a night later will take much more doing. Notre Dame is an impressive 9-4 in this tournament and felt reborn yesterday, but Louisville needs this game more for its postseason hopes.