HOOPS Preview: Notre Dame At Pittsburgh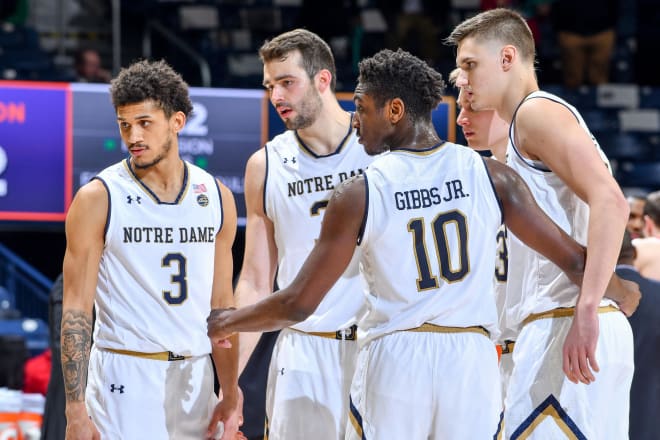 NOTRE DAME (13-17, 3-14 ACC) AT PITTSBURGH (12-18, 2-15 ACC)
Where: Petersen Events Center (Pittsburgh, Pa.)
Rankings: Both teams are unranked.
TV/Time: Raycom Sports (or WatchESPN), 12:00 p.m. ET.
Series Facts: Notre Dame leads the all-time series 34-30 (4-3 in ACC).
Last Meeting: The Irish defeated the Panthers 67-64 in the first round of the ACC Tournament on March 6, 2018.
The final regular season game of the 2018-2019 season is here, and the Irish are on the road one final time before the ACC Tournament begins next week.
Notre Dame will travel to Pittsburgh to take on the Panthers to close out the regular season as the two teams battle for 14th place in the league and avoid a last place finish.
Blue & Gold Illustrated takes a look at both teams before they meet this afternoon.
NOTRE DAME OVERVIEW
A familiar feeling.
Notre Dame again had an opportunity to pick up a good win, but late offensive struggles doomed the Irish once more.
Mike Brey's group led 58-54 with under four minutes to play, but Notre Dame finished 1-of-5 from the field while Clemson went 3-of-5 to help pull off the 64-62 victory. To make matters worse, forward Nate Laszewski had a chance to tie the game in closing seconds, but the freshman missed his second attempt for the Tigers to hang on.
The Irish used a 7-0 run to end the first half to tie the game, however Clemson shot 46.2 percent in the second half to escape.
Forward John Mooney had arguably his best game of the season with 18 points and 20 rebounds to pace the Irish, but did so on 16 attempts from the field. Guard TJ Gibbs added 14 points on 14 attempts and guard Dane Goodwin finished with 12 points (4-of-7 shooting) and five rebounds.
Big man Juwan Durham had eight points and two rebounds in 20 minutes, while guard Prentiss Hubb played the whole contest with seven points, three rebounds, four assists and five turnovers. Forward Chris Doherty and walk-on guard Liam Nelligan were held scoreless in two minutes of action.
It was another 'close but not enough' type of ending for Notre Dame, which was without both DJ Harvey (hamstring) and Nik Djogo (shoulder) on the wing leaving just seven scholarship players and Nelligan. The Irish again shot under 40 percent (36.4) for the game and came up just short.
A season of let downs continued for the Irish. And it won't be an easy end to the regular season with a road matchup against the Panthers with just seven scholarship players available as Harvey is likely out again.
PITTSBURGH OVERVIEW
After a 0-18 mark in ACC play a year ago, it took Pittsburgh just two games to get into the win total this season with an upset win over Louisville at home in year one under Jeff Capel.

In fact, the Panthers were 2-2 through four games of league play after a 13-point win over top-25 Florida State. Which was quite the start for a roster that saw three of its top four scorers transfer from a team that finished 8-24 (0-18).
Then the heart of the ACC got to Capel and company.
The Panthers have lost 13-straight games since that 2-2 start and are battling to avoid another last place finish within the league. On the positive side, three of Pittsburgh's top scorers are freshmen, so the future appears to be a little bit brighter.
Freshman guard Xavier Johnson has led the way for the Panthers this season at 15.8 points, 3.9 rebounds and 4.5 assists. He is joined in the backcourt by senior guard Jared Wilson-Frame (12.2 PPG, 4.8 RPG) and freshman Trey McGowens (11.3 PPG, 3.3 RPG). Another freshman — Au'Diese Toney (7.9 PPG, 5.8 RPG) — resides out on the perimeter as well.
In the frontcourt, sophomore Terrell Brown (5.8 PPG, 4.4 RPG) is likely to get the start to round out the lineup.
With the transfers, Pittsburgh is down to 10 scholarship players but Capel has used a nine-man rotation as of late. But sophomore guard Khameron Davis (2.5 PPG) missed the Panthers last game against Miami and is questionable for this afternoon, so the Panthers may have eight available.
Junior guard Malik Ellison (6.0 PPG, 3.6 RPG) has been the top option off the bench for Capel. Senior guard Sidy N'Dir (5.8 PPG) could earn a start on Senior Day for the Panthers. Junior forward Kene Chukwuka (4.0 PPG, 3.2 RPG) will see time as well.
The biggest change under Capel thus far has been defensively. Pittsburgh ranks 65th in defensive efficiency, which is over 100 spots better than the last two seasons. Under Jamie Dixon, the Panthers had five seasons of ranking 60th or higher in that metric from the 2009-2010 season to the 2015-2016 campaign including four finishes of 30th or better.
Per KenPom.com, Capel's team is 48th in defensive effective field goal percentage (47.9 percent) and 33rd in two-point field goal percentage defense (46.4 percent).
Pittsburgh allows just 69.0 points per game and opponents shoot 41.2 percent from the field and 33.5 percent behind the arc. The team is still searching offensively sitting at 70.4 points per game on 42 percent shooting overall and 32.5 percent on three-pointers.
The Panthers hope for a positive note to end the regular season.
GAME OUTLOOK
All of Pittsburgh's defensive numbers and Notre Dame's inconsistency offensively will likely equal yet another low scoring contest.
If Davis is out for the Panthers, the two teams will be down to 15 scholarship players that will see time. Pittsburgh will have the edge there with eight, but it will be a battle of which team can fend off fatigue the most.
This game will also determine who finishes 15th in the league and will face the 10th seed to open the ACC Tournament next week, which is Georgia Tech entering the weekend.
Prediction
Pittsburgh 66, Notre Dame 63
Even though these teams are for the most part evenly matched, it is hard to see the Irish winning this one. Their confidence is shot and Pittsburgh will have the homecourt advantage. The Panthers play good enough defense to keep this one in the 60s which favors Pittsburgh in the long run.
Pittsburgh ends their long losing streak and puts another notch in what has been a tough year for Notre Dame.