Freshman QB Kenny Minchey stays on target in first spring at Notre Dame
Kenny Minchey has known for a long time that his knack for throwing a football on target was different than most quarterbacks.
Since fifth grade to be exact.
"We were like the only team in the league that would throw deep balls," said Minchey, now an early enrolled freshman quarterback at Notre Dame. "We used to do that, and I just remember it would always fall where I wanted it to go, because I would throw with my dad every day."
Where Minchey wants the ball to go, he's confident he can get it there. It's taken a lot of repetition, Minchey admitted, but it also feels natural to him.
"I've been doing it for awhile," he said. "It's part of my throwing now, my throwing motion."
The 6-foot-2, 215-pound Minchey completed more than 60% of his passes in each of his final three high school seasons at Hendersonville (Tenn.) Pope John Paul II. He starred as a junior with 3,280 yards, 32 touchdowns and nine interceptions on 215-of-351 passing (61.3%).
A shoulder injury limited Minchey's senior season to six games, but he was even more accurate with the ball. He completed 67 of his 99 passes (67.7%) for 1,042 yards and 15 touchdowns with only one interception.
Minchey ended up in Notre Dame's 2023 recruiting class after a late push from the Irish led by former offensive coordinator/quarterbacks coach Tommy Rees. Minchey ditched his pledge to Pittsburgh in mid-November, officially flipped to Notre Dame eight days later and signed with the Irish in December.
Then in early February, Rees left for Alabama, and Minchey had to eventually prepare to play for new offensive coordinator Gerad Parker and new quarterbacks coach Gino Guidugli. On the same day Parker's promotion from tight ends coach was officially announced, Minchey's family surprised him on campus for his birthday.
"It was pretty cool, because I hadn't seen my little sister in a while," Minchey said. "It's pretty cool to see her. With my parents, we went to go eat and hung out for a little bit."
His family helped him navigate his recruiting process, so it only made sense they were by his side through the uncertainty in February.
"My parents were a big influence on making sure I was making the right decision as far as coming here in the first place," Minchey said. "It's also understanding no story is smooth. Every story has some bumpy roads."
No matter how bumpy the road, Guidugli doesn't expect Minchey to be too affected by it.
"Kenny is super smart," Guidugli said. "He obviously has arm talent. Things are just happening really fast.
"Kenny's pulse doesn't get much above — if his baseline pulse is 60, Kenny's doesn't variate very much. He's like 61 and maybe 59. He doesn't get too high or get too low.
"He understands. It's about getting him in there, getting reps, getting more comfortable and catching up to the speed of the game."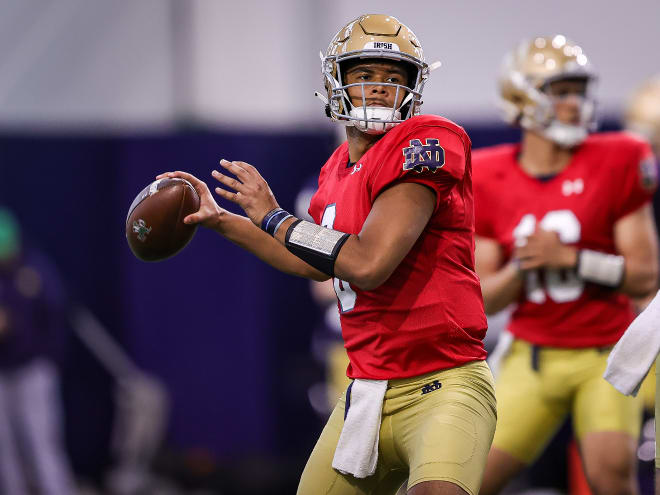 The chances that Notre Dame needs Minchey to play in 2023 with Wake Forest grad transfer Sam Hartman and junior-to-be Tyler Buchner at the top of the quarterback depth chart remain low. But Minchey didn't choose to skip the second half of his senior year of high school to coast at Notre Dame. He's pushing himself to adapt to a new place, a new offense and a new level of competition.
The fact that he's learning some of the details about Notre Dame's offense, program and university at the same time as Hartman, the ACC's all-time leader in passing touchdowns with 48 games played in college football, adds an interesting dynamic.
"It's pretty cool, because we both came in at the same time to learn the playbook," Minchey said. "We took a break from that and started learning it again. Us being here at the exact same time, getting classes, everything like that, we're all doing the same stuff."
The transition from Rees' offense to Parker's offense hasn't been extreme, but the Irish have started to stretch the field through the first five spring practices.
"At first, it was kind of like baby steps getting everything installed," Minchey said. "Now we've put in a couple shot plays. It's pretty cool to see open up."
That gives Minchey an opportunity to show off the confidence in his arm. He's able to do so with a talented trio of early enrolled freshman wide receivers: Braylon James, Jaden Greathouse and Rico Flores Jr.
Like his ability to throw with accuracy, their presence has been a constant for Minchey.
"They're all great," he said. "Coming in that was kind of a pitch from the coaches to me is that I'm going to have those guys to throw to while I'm here. Braylon's long. Jaden can do everything. He can go up top. Then Rico, he's smooth, as you can see, out there. It's great to have guys like that."