Freshman Ausberry brings speed, versatility to deep Irish linebacker corps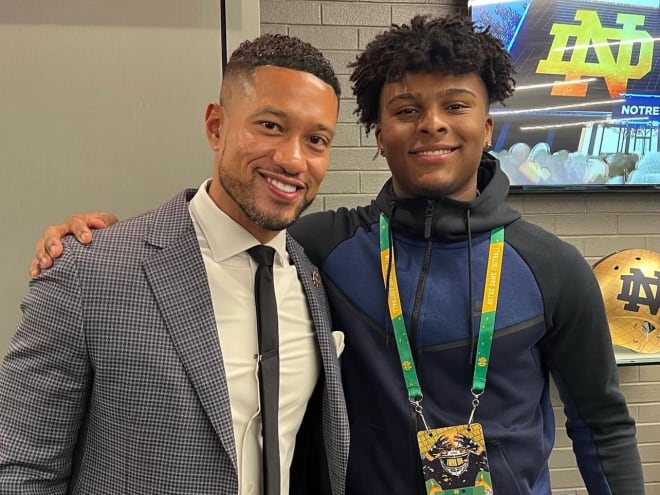 SOUTH BEND, Ind. — Notre Dame early enrolled freshman linebacker Jaiden Ausberry isn't afraid of a little homework, even when it pertains to football.
When ultimately choosing a school last summer, the now 6-foot, 215-pound Baton Rouge, La., product did his research, and in the process gave former Irish All-America safety Kyle Hamilton a call.
"He was telling me this place is going to change your life forever," Ausberry said last Friday during a media session that included several other Notre Dame defensive newcomers.
"And he's not lying, because I've seen it with other players that came here, and that's when I really figured out this was where I was going to college."
Now he's researching how he can change Notre Dame football for the better, at least his little corner of it.
It starts with learning all three linebacker positions, just as classmates Drayk Bowen and Preston Zinter are undertaking during winter workouts and will continue to do so this spring. Bowen is actually also learning a handful of positions for the Irish baseball team as well, with a three-game, season-opening series at Lipscomb on tap this weekend in Nashville, Tenn.
Bowen is probably the most camera-ready and versatile of the three mid-year linebacker enrollees, but Ausberry may be the one who brings the best raw speed to the equation.
"I ran a 4.4 or 4.5 (40-yard dash)," he said. "But I think what I really have to work on is block destruction. In high school you could just throw kids all over the place. In college, you're going against guys that are like 6-6, 360-pound offensive linemen, so you really have to know how to use your speed and leverage against them."
Ausberry figures, based on his body type and skill set, he'll end up at the rover position among the three linebacker options. That puts him in the same lane as sophomores-to-be Jaylen Sneed and Nolan Ziegler.
Grad senior Jack Kiser is the incumbent starter at the position. But the third-highest-graded defender on the Irish roster in 2022 (per Pro Football Focus among players with more than 10 snaps) would like to compete at will (weakside) linebacker in the spring and have an every-down role.
Notre Dame's fourth linebacker coach in four years — recently hired grad assistant Max Bullough — will preside over the position battles and depth-cart jostling. Bullough replaces James Laurinaitis, who recently left ND for his alma mater, Ohio State.
The 31-year-old Bullough spent the past three years as assistant linebackers coach/grad assistant at Alabama.
As far as personnel, the Irish lose only backup grad senior Bo Bauer, and he was injured for much of the 2022 season anyway. Two of last year's vaunted four-man linebacker class migrated to defensive end — Joshua Burnham full time and Junior Tuihalamaka as part of a position timeshare that could easily turn into a permanent shift.
Grad senior JD Bertrand, looking to be Notre Dame's leading tackler for a third straight season, is the returning starter at middle linebacker. Grad senior Marist Liufau struggled as a starter at the will linebacker and will be challenged by junior Prince Kollie and Kiser.
Ausberry could earn a niche role, based on his blitzing ability, if he can't push into the two-deeps. That was his strong suit last season when he played middle linebacker and played it for a school — Baton Rouge University Lab — that actually sits on LSU's campus. Where Ausberry's father, Verge, played linebacker collegiately and where Verge Ausberry currently serves as a deputy athletic director.
"My close friends and my family were with me 100 percent, because they realize I've been around LSU my whole life," Jaiden said of spurning LSU in the recruiting process. "My high school is right there, my dad works right there, so they understood what it meant by me coming here.
"I don't really pay attention to what other people are saying, because that doesn't really faze me or affect me. I really only cared about what the people closest to me had to say. They were behind me 100 percent, and that's all that mattered."
And his two biggest fans these days are the two freshman linebackers he walked in the door with roughly a month ago.
"We all try to push each other on and off the field," Ausberry said. "We try to stay close. We study the playbook together, ask questions together. Us just staying tight, staying together is really going to help us in the future when we're juniors or seniors all three starting together."