Film Room: Brandon Wimbush Vs. Ball State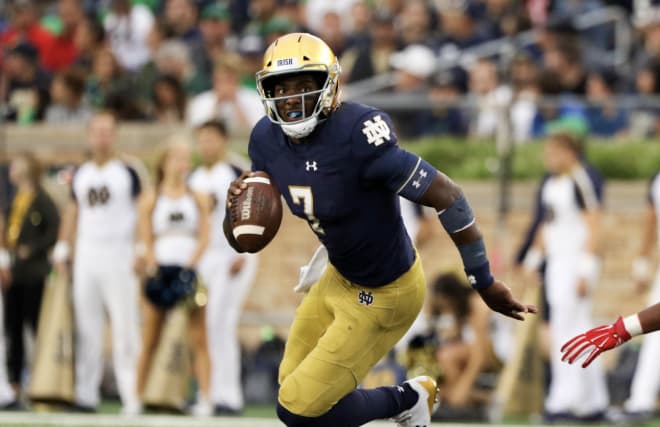 Notre Dame improved to 2-0 on the season after beating Ball State 24-16. Senior quarterback Brandon Wimbush had an up-and-down performance, setting career highs for both passing yards (297) and interceptions (three).
To kick off the breakdown of Wimbush's performance, let's take a look at his statistical production, beginning with his pass chart against Ball State:
A few interesting things became apparent when doing this breakdown. First, Wimbush completed 54.9 percent of his passes, marking the first time during his career that he has completed at least 54 percent of his throws in back-to-back starts and just the second time he has eclipsed 50 percent in consecutive games.
Wimbush did that while throwing more deep balls (20-plus yards) than he did short throws (less than nine yards). In fact, 22 of Wimbush's 31 throws went at least 10 yards past the line of scrimmage.
This game was also evidence that Wimbush in some ways has certainly improved since last season. He completed 11 of 22 passes beyond 10 yards, good for a 50.0 percent completion rate. Wimbush was just 4 of 12 (33.3 percent) on such throws against Michigan in week one, and he completed just 40.5 percent of those throws in 2017. He is at 44.1 percent on such throws through two games this season.
The Irish quarterback completed 22 deep balls all of last season (12 games), but he hit five against Ball State and already has eight completions of more than 20 yards through two games. Wimbush is currently on pace to complete 48 deep passes during the regular season based on the rate he's hit deep balls through two games.
Wimbush had two dropped passes and a throwaway, giving him an adjusted completion rate of 64.5 percent.
Wimbush also completed 54.5 percent of his passes when facing pressure, better than his 49.3 percent clip last season. Of note is that Wimbush attacked pressures with his arm, not scrambling once when pressure came. That is both good and bad; him being able to beat Ball State's pressures with his arm is a positive, but he cannot go away from running the ball, which is his best attribute.
Here is how Wimbush performed on the different types of backfield actions and other situational moments in the game:
Wimbush completed just 50 percent of his drop-back throws (drops and quicks), and was less than 50 percent on deep drops. He was at 58.3 percent on movement throws (play-action, bootlegs), and he completed two of three passes in the screen game.
Wimbush was boom or bust on first down, completing 9 of 12 attempts (75.0 percent) for 145 yards with a drop, but his other two incompletions were interceptions. Wimbush wasn't as good on third and fourth down, completing just 3 of 10 throws.
POSITIVES
Most of the post-game reaction was on the mistakes Wimbush made in the game, and there certainly were some big ones. An objective analysis of the game, however, shows there are without question areas where Wimbush has improved his game since last season. Expect the Notre Dame coaches to focus on building up those areas while working to limit the mistakes.
The first notable area where Wimbush showed improvement was with his willingness — and ability — to stay in the pocket and make plays with his arm. He has obviously improved his ability to feel the pressure and to keep his eyes down field on his reads.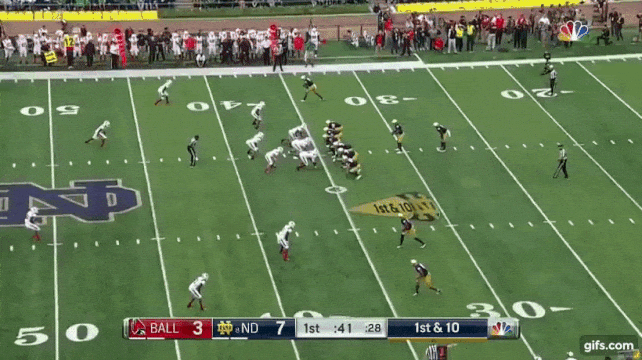 Ball State brings an inside twist blitz with its inside linebackers, and the second backer comes through untouched. Wimbush sees that a defender is closing in on him untouched, but he does a good job staying deep, getting his eyes on the Y-Stick and delivering an accurate pass while taking a hard shot.
We saw Wimbush make several plays like this, including a crucial fourth-down situation in the second quarter.
You can see that clip here: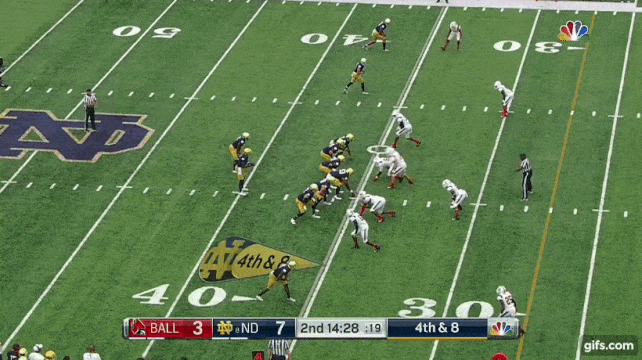 There were instances in this game when Wimbush was reluctant to take off and run, but this clip is one in which he rightly stayed in the pocket. Wimbush initially looked for slot receiver Chris Finke on an in cut, but the linebacker dropped underneath his route, forcing Wimbush to look deep (which is why he pumped).
The deep in cut by Chase Claypool was late/slow, so Wimbush had to hold onto the ball longer than desired, but he threw the ball into the open area before Claypool came open and Claypool made the catch to convert the fourth-and-eight.
Wimbush showed much-improved down-field ball placement ability in the game as well. It was the second game in a row we saw that from him. Against Michigan it was on outside go routes, but against Ball State it was on routes across the field, an area he often struggled last season.
You can see an example here: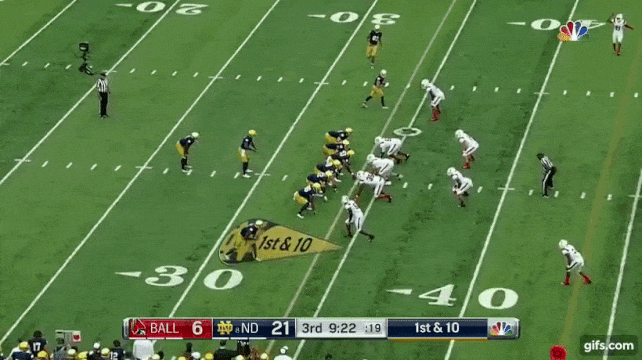 I would like to see Wimbush throw this ball a second sooner, but when he does release it the ball is put right where it needs to be.
Ball State had a defender jump under Claypool's deep out route to the left and the safety stayed deep on Finke's post. Wimbush saw that Miles Boykin was coming clean on the deep drag route from the backside. Boykin doesn't throttle down soon enough, so Wimbush throws it on his back shoulder, stopping him in the open area.
If Wimbush leads Boykin on the play he would run him right into the defense. This ball had to be put right where Wimbush put it, and the result was a big 26-yard gain.
We saw Wimbush make a similarly well-placed ball on a deep seam route to running back Jafar Armstrong (see below) that went for 27 yards, getting over top of the linebackers and in front of the deep coverage. He had another well-placed seam route to running back Avery Davis, but the ball was dropped, taking away a possible touchdown toss.
Here is another example: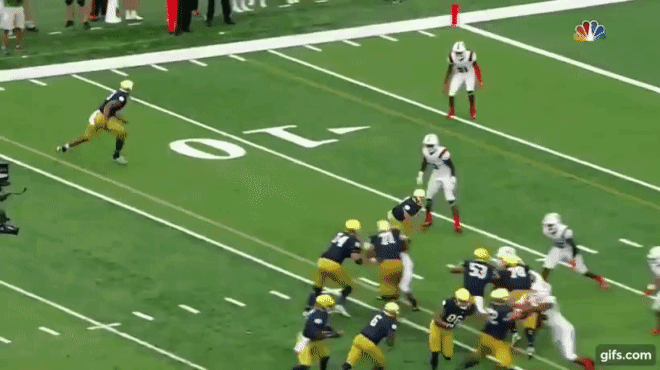 Wimbush was on the move on this throw, and he saw Finke coming clean on the drag. Finke couldn't throttle down because of the linebacker working underneath him.
The only way this play works is if Wimbush throws Finke open, which he does, and Finke makes a tough, in-traffic catch. If Wimbush leads Finke the ball either gets picked or Finke gets drilled, by putting it on the back shoulder he gives Finke a chance to make the play, but he also keeps it away from the pursuing linebacker.
Wimbush still needs to throw with better timing on a more consistent basis, there is no question about that. But we did see multiple down-field throws where Wimbush was not only accurate, he threw with good timing.
Here is an example: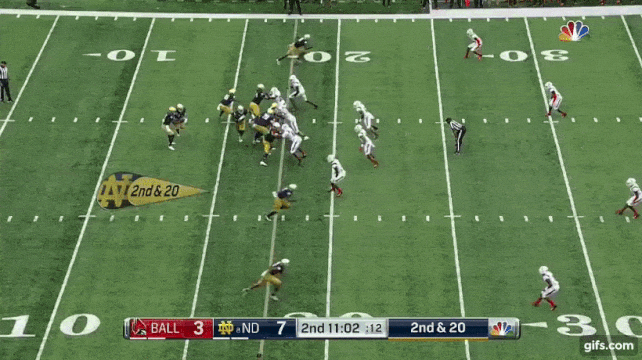 Armstrong is in the slot on this play and he is running a deep out/corner route. Wimbush releases the ball when Armstrong starts to break (timing) and gets the ball outside accurately, allowing Armstrong to get to it with room to work on the sideline.
If there is no defense closing the ball is placed perfectly to allow Armstrong to catch and turn up field. The defense did close, which is why the timing of it was so important. If he waits on this throw the defense would have closed on the route and broken up the play.
Here is another example of Wimbush being accurate and throwing with good timing on a down-field throw.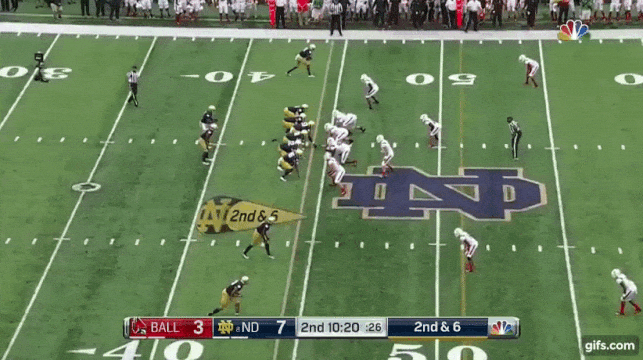 If Wimbush waits any longer this play is broken up. He gets the ball over the second level and the timing allows Armstrong to catch the ball and square up. The accuracy of the throw is also ideal.

Again, if he leads Armstrong down the field the ball is either picked off or Armstrong gets drilled. By putting the ball on his back shoulder Wimbush allows Armstrong to square up the ball in the open zone between the second and third levels.
Another positive from Wimbush in this game — and we also see that in the above clip — was his willingness and ability to attack the middle of the field, especially down the field.
Wimbush completed three balls down the middle of the field and beyond 10 yards, and he had two more balls in this zone get dropped. In 2017, he completed just 13 balls over the middle and beyond 10 yards the entire season. He is currently on pace to hit 24 over the middle passes past the 10-yard mark, which is a pace that is almost double what he did last season.
The Irish quarterback was not consistent properly working through his progressions, especially working on deeper drops. That will have to improve moving forward, but we saw a few plays where Wimbush did work through his progressions properly and get the ball out.
Here's an example:
The pre-snap look tells Wimbush to get his eyes on the back-side safety. If he works to the sideline on Boykin's vertical release Wimbush would have hit tight end Cole Kmet on the backside seam route.
The safety stayed on the hash and played Kmet's seam, so Wimbush came back to the sideline comeback route to Boykin. Wimbush also did a good job working his feet through the progression, including squaring his feet and snapping the ball accurate to the outside.
AREAS FOR IMPROVEMENT
Any good coach is going to build on the positives we saw from Wimbush in this game. He made some impressive throws and the data (and film) shows he has advanced his game. But part of building on his strengths and areas where he has developed is continuing to get him to improve across the board.
While Wimbush made some really impressive throws against Ball State, the truth is he made some throws and decisions in this game that could get Notre Dame beat if they happened against a better opponent. It is those areas that Wimbush must work to improve.
Timing as a passer is one area where Wimbush must continue to get better. He has certainly improved from last season, but there is still room to develop.
Pocket footwork is another area that caused some issues for Wimbush on Saturday.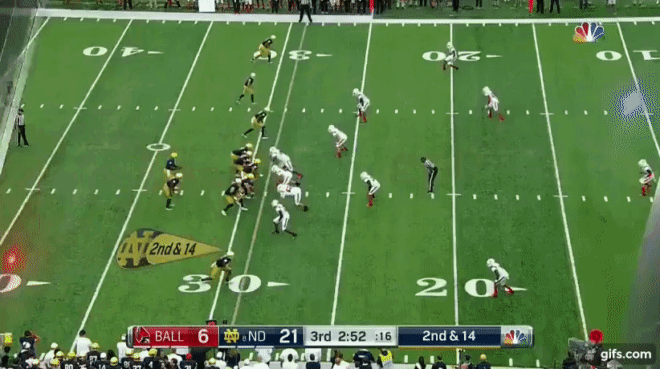 This should be a relatively easy completion for Wimbush, but his hips fly open and he steps too wide, which causes him to throw off his back foot. With his hips flying open and his weight being on his heel, Wimbush's arm naturally dips, which not only saps power from his throw, it also causes the ball to dive into the ground.
When Wimbush gets away from his mechanics he can get in trouble. He has shown an improved ability to make good throws with different arm angles, but he must keep his footwork clean in order to make sure those different arm angle throws have the juice and accuracy needed to make the plays.
Wimbush also showed a tendency to step into the pocket while working through progressions.
Here is what I mean: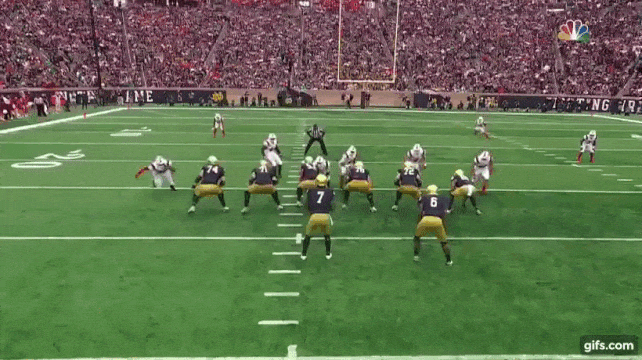 The Irish signal-caller got to the top of his drop and then immediately started working into the pocket. What he should have done from a mechanical standpoint was get to the top of his drop, gather his feet and keep his depth.
Wimbush made the right read on the throw, but by stepping into the pocket as he worked through his progression he allowed the pass rusher to influence his release. When he released the ball the defender was right in front of him, which prevented Wimbush from really stepping into the throw and driving the deep in cut, which he hit earlier in the game.
If Wimbush kept his depth he could step into this throw and likely would have completed the pass.
Mentally he did the right thing (read wise), but his mechanics kept him from making the completion. At times, Wimbush did stay deep, so it's more about consistency.
Wimbush had a couple of snaps where he didn't properly react to pressure, and it cost him. Here is an example: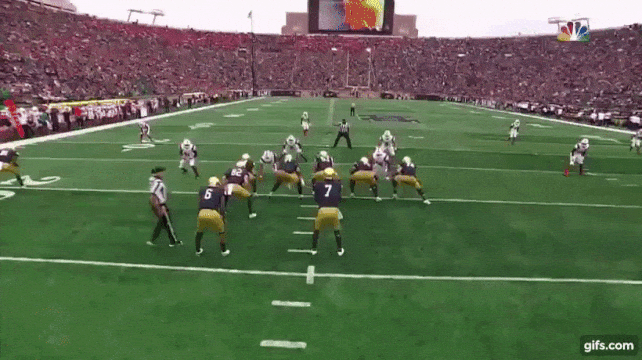 Right guard Tommy Kraemer did a really poor job picking up the twist, and he allowed the defender to get a free run at Wimbush. It would be easy to blame Kraemer, and he certainly bears some responsibility for this play, but Wimbush has to see the miss by his blocker and react accordingly.
The first mistake Wimbush made was locking onto the post route by Claypool. He might have been able to get the ball over top to Claypool on the post, but the drop by the safety and the free run by the blitzer should have caused him to come down to Boykin on the in route, which came open late.
Every quarterback is going to make mistakes and poor reads, but when those mistakes result in interceptions you are putting your team in a really bad spot.
Wimbush also tried to do too much at times.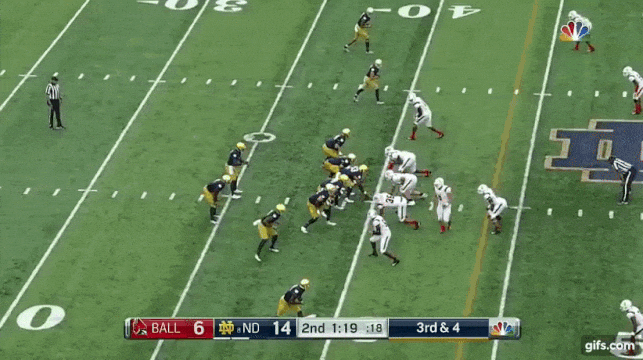 Wimbush must learn that it's okay sometimes to just take the easy throw and to give his teammate a chance to make the play. He is Notre Dame's best playmaker on offense — there is no doubt about that — but he cannot do it all alone. Far too often he tried to make plays instead of staying within the offense and just taking what the defense was giving him.
That is what happened on this third-and-four play. Wimbush needs to see Finke coming on the cross and he needs to dump it down. Another option is to see the depth of the flat defender, which would have allowed him to bang a quick back shoulder throw to Armstrong on the wheel route.
Either way, the odds of making a first down on those two throws are greater than Wimbush twisting and turning and spinning. Sometimes that is what is needed, but here Wimbush didn't have to do it and there were better options.
OVERALL ANALYSIS/GRADE
If you take a deep breath, break the game down objectively and weigh the positives and negatives it is clear that Wimbush has definitely improved his game. We saw a lot of throws in this game that we just never saw from him in 2017.
But the reason we aren't spending more time talking about those improvements is because the decision mistakes he did make and the few mechanical mistakes he made were costly. Wimbush must continue working through those mistakes, learn from them and limit — or stop — them from happening. At least to keep them from resulting in turnovers.
Wimbush showed some fire in the game, and he showed some welcome emotion, but that emotion also led to him getting frustrated in the second half. Against Ball State we saw a few instances where his frustration with mistakes by teammates caused him to press, and that caused him to make mistakes.
Emotion is good if harnessed, and bad if not. Wimbush didn't harness that well enough at times against Ball State.
The 297 yards were impressive, the ability to press the ball down the field was impressive, and those things are going to raise his grade. Throwing two interceptions that were no question his fault dragged it back down.
Grade: C