{{ timeAgo('2023-03-07 23:35:31 -0600') }}
basketball
Edit
Familiar script punctuates the end of the Mike Brey Era of ND basketball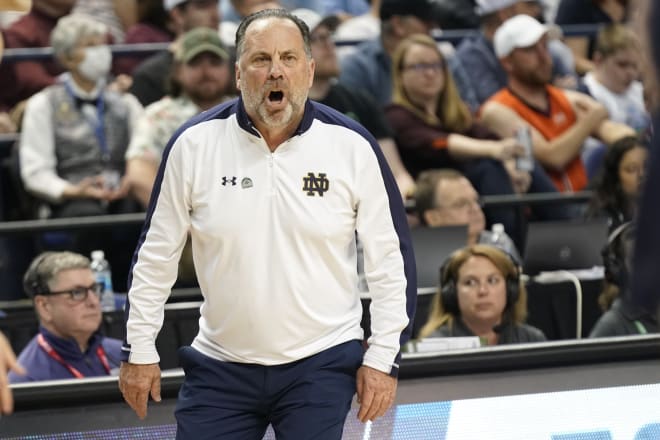 At this point, consider the frightful fortunes handed Notre Dame's men's basketball team this season — Mike Brey's last — as borderline abuse.
One of the worst men's basketball seasons in Notre Dame's history — at least record-wise — ended with one last severe stomach thump Tuesday night in the Greensboro ( N.C.) Coliseum, a 67-64 loss to 11th seed Virginia Tech (19-13) in the first round of the Atlantic Coast Conference Tournament.
An 11-21 season for the 14th-seeded Irish included a 3-18 record against ACC teams, with 12 losses decided by single digits, a half dozen by one possession.
One shot.
Tuesday's hero could have been Nate Laszewski. With 2.4 seconds left the 6-foot-10 grad senior, Notre Dame's leading scorer at 14 points a game, took an inbounds pass and shot-faked talented defender Justyn Mutts to free himself for a clear shot.
"Nate wanted to take it," Brey said.
Like all other big shots at the end of close games, it drew iron, but no net.
Season over.
Mike Brey's coaching career at Notre Dame over.
Probably just as well for how much this 23rd year at Notre Dame must have aged the 63-year-old.
No Notre Dame team has ever lost more games. The 21 losses matches the 21 of the 1965-66 team. And the losing percentage (.344) is the worst since the 1995-96 season (9-18, .333), Notre Dame's first season in the Big East.
Brey left the floor one last time muttering about the officiating on a controversial call in the final minute.
It's safe to complain now and he didn't hold back with his coaching career, at the very least, on hiatus. It came with 42 seconds to play and had just followed a dramatic turnabout a few seconds earlier.
First the turnabout.
With Notre Dame up 62-61 with 1:10 to play, Cormac Ryan, who turned in a terrific performance in his last Notre Dame game with 18 points (7-of-14 shooting), recorded a steal near the top of the key and took off with the ball toward the ND basket. He didn't get far beyond the 10-second line before he was caught from behind and turned it back over to Virginia Tech's Sean Pedulla.
Pedulla turned back and took off toward the Hokies basket. He saw Mutts, who was behind the Irish team caught in transition, near the basket. And Mutts finished off the uncontested layup for a 63-62 Hokies lead with 1:02 to play.
Bad luck, but worse luck was coming.
On the ensuing Notre Dame possession, Notre Dame's 6-9, 242-pound junior, Matt Zona, was coming around a screen and made contact with the 6-1,195-pound Pedulla. Pedulla initially was called for a foul.
Because Pedulla wound up with a bloody lip, the play was reviewed by officials. After a lengthy examination of video, the contact by Zona was ruled excessive and a technical dead-ball foul was charged to Zona on top of the original call.
It was the fifth foul of the night for the seldom-used Zona (6.4 minutes a game) who played well finishing with nine points (3-for-4 on 3s), four rebounds, two assists and two blocks in 17 minutes.
The Irish got two free throws out of it from Trey Wertz (replacing the fouled-out Zona) for the initial foul call, but Pedulla got two foul shots (he made one) for the technical and Virginia Tech also got possession.
The Hokies turned the opportunity into an uncontested dunk by Mutts on an Irish defensive breakdown for a 66-64 lead with 30 seconds to play.
"I've got to digest that (game) a little bit," Brey said. "I'll be very honest, now that I'm not in the league anymore. I think that last play, if you have an 'A' officiating crew, they say 'Basketball play,' and we shoot the free throws and we play basketball.
"I think we got a little over-analyzation on that part of it. Look, Virginia Tech made plays, but I don't think that was handled right. We had some turnovers and made some mistakes, but I think you go 'basketball play' in a great game like that and you shoot the free throws and let the game play out. That's a big-time (crew's decision)."
Brey called the game "amazingly physical," and that didn't play well for the Irish, who play with a short bench as routine and were missing JJ Starling (knee injury), an 11-point scorer who was named this week to the ACC All-freshman team.
After Mutts' dunk, the Irish possession wound up with Ryan driving to the basket in traffic. His shot near the rim was tipped by 6-4 freshman Rodney Rice, and the 6-7 Mutts, who totaled 18 points, grabbed his 13th rebound.
Pedulla made a free throw with 9.8 seconds left for the 67-64 Hokies lead.
Notre Dame's Marcus Hammond, who carried the Irish in the first half and totaled a season-high 23 points, tried to get a 3-point shot attempt off from the wing, but it was blocked out of bounds by Mutts, setting up Laszewski's attempt in the final second.
Brey, the all-time winningest ND coach with a 483-280 mark, saw his club battle in a game that featured 16 lead changes and five ties.
It was similar to the clash in South Bend in that way, a game in which Virginia Tech won 93-87.
In the first game on Feb. 11 in South Bend, Grant Basile had 33 points and Mutts 19, and Laszewski poured in 33 as each team shot over 50% from the field.
Basile came back with a team-high 20 Tuesday night, but Laszewski had just four on 2-for-8 shooting. Dane Goodwin, who averages 11, had just six as the Irish shot 42.9% from the field, including 8-for-21 from the 3-point line.
The Hokies finished at 48% and 7-for-19.
If Brey has any specific long-term plans, he has yet to reveal them.
He just knew he was headed back to the team hotel to enjoy a cigar with his staff and try to figure out what to do with all the Irish whiskey he's received — he doesn't drink it that often — from well-wishing friends and coaches from other ACC schools.
"I've been unbelievably honored for 23 years," he said about his tenure. "I've been able to be the coach at Notre Dame — it's been a flat-out honor… Even though this year didn't go as well, I'm proud of how we've run the program and I think we are going to get a heck of a coach.
"But to walk around for 23 years and have people go, 'Hey, that's the Notre Dame coach.' Man, that's awesome.
"Can you make sure now they say, 'Hey, that's the former Notre Dame coach?'
"That'd be all right."
ACC MEN'S BASKETBALL TOURNAMENT
SCORES/SCHEDULE
AT GREENSBORO, N.C.
(All Times EST)
FIRST ROUND
Tuesday
No. 13 Georgia Tech 61, No. 12 Florida State 60
No. 10 Boston College 80, No. 15 Louisville 62
No. 11 Virginia Tech 67, No. 14 Notre Dame 64
SECOND ROUND
Wednesday
No. 8 Syracuse (17-14) vs. No. 9 Wake Forest (18-13), noon, ESPN
No. 13 Georgia Tech (15-17) vs. No. 5 Pitt (21-10), 2:30 p.m., ESPN
No. 10 Boston College (16-16) vs. No. 7 North Carolina (18-12), 7 p.m., ESPN2/ESPNU
No. 11 Virginia Tech (19-13) vs. No. 6 NC State (22-9), 9:30 p.m., ESPN2/ESPNU
QUARTERFINALS
Thursday
No. 1 Miami (24-6) vs. 8/9 winner, noon, ESPN/ESPN2
No. 4 Duke (23-8) vs. 5-12/13 winner, 2:30 p.m., ESPN/ESPN2
No. 2 Virginia (23-6) vs. 7-10/15 winner, 7 p.m., ESPN/ESPN2
No. 3 Clemson (22-9) vs. 6-11/14 winner, 9:30 p.m., ESPN/ESPN2
SEMIFINALS
Friday
Semifinal, 7 p.m., ESPN/ESPN2
Semifinal, 9:30 p.m., ESPN/ESPN2
CHAMPIONSHIP
Saturday
Semifinal winners, 8:30 p.m., ESPN