Dubious Defensive Days At Notre Dame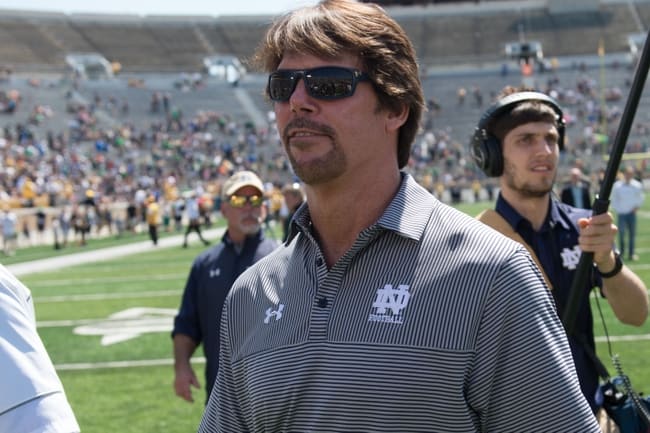 Notre Dame's 50-47 double-overtime loss at Texas on Sunday night took Longhorns head coach Charlie Strong off maybe the hottest seat in America in his profession. Or at least it has temporarily.
Conversely, Notre Dame's Brian VanGorder might now hold that dubious distinction among defensive coordinators. Throughout most of Fighting Irish head coach Brian Kelly's teleconference on Monday afternoon, he found himself taking the defensive, no pun intended, about his third-year coordinator.
The 132 points Notre Dame has surrendered in its last three games — a 38-36 loss at Stanford, a 44-28 defeat to Ohio State in the Fiesta Bowl and the 50-47 setback in Austin — set a school record for the most over such a stretch. Those 132 points yielded come out to an average of 44.0 points per game.
The previous record was 129, or 43.0 per game, in 2014. Unfortunately, that also occurred during VanGorder's first season at the helm when Notre Dame lost 55-31 at Arizona State, 43-40 at home to Northwestern in overtime and 31-28 versus Louisville.
That's not even including a 49-14 drubbing at USC in the regular-season finale and the 49-39 victory versus Navy the week before traveling to Arizona State. When you add those five games up, it comes out to 43.5 points per game, just short of the current 44.0 number through the past three contests.
Context with such data is important for fairness and perspective. Two of Arizona State's touchdowns came on interception returns, and the Sun Devils also had a short field to work with on other occasions. Scoring is much more prolific in today's college football, overtime adds to the scoring, and the Irish defense has had its share of injuries, especially at the end of 2014.
Nevertheless, the skepticism of whether VanGorder's NFL approach could cut it in the college game probably took root at the end of 2014 with the home losses to Northwestern and Louisville. The Wildcats had averaged 12.5 points in their previous four games (all losses), yet hung 43 on the Irish. The Cardinals started a backup freshman QB in Reggie Bonnafon, who would later move to receiver.
When such numbers and setbacks continue two years later, then it is only natural that in this results-oriented business VanGorder's future with the operation is going to be called into question, or be in serious doubt. The opportunity for turnaround remains in 2015, but there needs to be appreciable and tangible improvement if there is going to be confidence about his return to Notre Dame in 2017.
Here were other forgettable three-game stretches of defensive futility besides the aforementioned current and 2014 stretches:
1956: 120 points
This was the standard of futility for nearly a half century for this 2-8 team. In consecutive games it lost 47-14 to Michigan State, 40-0 to Oklahoma and 33-7 to Navy for a total of 120 points yielded (40.0 per game).
Yet the next year the Irish finished in the top 10, highlighted by the 7-0 shutout of Oklahoma to end the Sooners' 47-game winning streak. It showed that turnarounds can happen with the same staff.
2004: 120 points
Third-year head coach Tyrone Willingham was ousted after the final two games. A 41-38 loss to Pitt at home and 41-10 at USC dropped the team to 6-5. Then in the Insight Bowl, the Irish fell 38-21 to Oregon State, meaning it surrendered 120 points over three games (40.0 per game again).
Yet it was excellent defense under the same defensive coordinator, Kent Baer, that propelled an 8-0 start in 2002.
1991: 112 points
Yes, even during the 1988-93 glory years under Lou Holtz, the defense struggled immensely on occasion under coordinator Gary Darnell (1990-91), who succeeded Barry Alvarez (1988-89).
The 8-1 and No. 5 Irish were in the national title hunt again this year before finishing the regular season with losses to Tennessee (35-34), after leading 31-7, at Penn State (35-13), and then surviving a 48-42 shootout at Hawai'i. Those 112 points given up resulted in a 37.3 points per game average.
Holtz took over the coaching and the play calling on defense for the Sugar Bowl against No. 3 Florida, a 39-28 Irish win, and a new coordinator was hired in Ball State's Rick Minter. Also replaced was defensive line coach Dick Bumpas — who became one of the most revered defensive coordinators in recent years at TCU before recently retiring.
1999: 108 points
Head coach Bob Davie's third Notre Dame team finished 5-7 after losing the final four games while yielding at least 38 points in each of those contests — the first time the Irish gave up that many over four games. It lost 38-14 at Tennessee, 37-27 at Pitt, 31-29 at home to Boston College and 40-37 at Stanford. Because we only include three-game stretches here, we'll use only the last three games, which comes out to a 36.0 average.
What's especially amazing is Davie made his bones as a defensive coach, and his right-hand man, Greg Mattison, has been esteemed in the college game for a few decades and also found success in the NFL.
----
• Talk about it inside Rockne's Roundtable
• Subscribe to our podcast on iTunes
• Learn more about our print and digital publication, Blue & Gold Illustrated.
• Follow us on Twitter: @BGINews, @BGI_LouSomogyi, @BGI_CoachD,
@BGI_MattJones, @BGI_DMcKinney and @BGI_CoreyBodden.
• Like us on Facebook