Denbrock Defines 'Notre Dame Football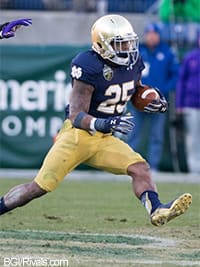 Notre Dame's 31-28 Music City Bowl win versus LSU last December was head coach Brian Kelly's finest moment as a play caller in his five seasons with the Fighting Irish for at least three reasons:
• It was the 16th time in his 65 games Notre Dame didn't have a turnover. The Irish are 16-0 in such contests under Kelly, and 29-20 otherwise.
• Against an upper-tier defense, Notre Dame rushed for 263 yards and 5.2 yards per carry. It was able to keep the ball on the ground nearly twice more (51 plays) than pass (26 times) because it controlled the line of scrimmage.
• The passing game was efficient, with the Irish completing 18 of 26 attempts (69.2 percent) for 186 yards while using the skills of both Malik Zaire and Everett Golson at quarterback. LSU had to defend both the read option and the pass, helping spread it too thin.
An argument can be made that the game was an anomaly. With no game to play until another nine months, Notre Dame could tailor a specific game plan to LSU. Fighting Irish associate head coach Mike Denbrock disagrees.
"No, I hope it wasn't game specific," Denbrock said after Notre Dame's ninth practice this spring, prior to Easter break. "It's the way Notre Dame should play football every Saturday: Line up, physicality, leaning on the big boys up front to create space for the running backs and getting the ball in space to some skilled receivers. ... Playing sound, fundamental football. When I think of Notre Dame football, that's what I think of and that's really what we're trying to get to.
"It's a beginning. I wouldn't pigeonhole it by saying every game's going to look like the LSU game, but I would say we definitely want to enter every week and every game with the mentality that we're going to physically take the fight to our opponent and we're going to match ourselves up and see what good can come of it."
When asked if he handled play-calling duties as the offensive coordinator against LSU, Denbrock responded: "I was involved, as I always am, in some of the play calling."
As for who will do it in 2015 (Kelly, Denbrock or newly hired offensive coordinator Mike Sanford), Denbrock laughed off the inquiry.
"I will defer to Coach Kelly on that one and let him make that decision," Denbrock said.
Denbrock said even though his new job title is different, his role from last season hasn't changed appreciably.
"It's almost exactly the same as it was a year ago," he said. "It's kind of my responsibility to oversee the offensive staff, to construct a game plan with all the other offensive coaches."
Over the past 10 years, every national champion but one rushed for more than 200 yards per contest during its march to No. 1 (as did most teams in the major bowls). In this year's final Associated Press top 10, nine of them rushed for more than 200 yards per contest, most notably national champion Ohio State with a 264.5 average. The lone exception was Florida State, who as the 2013 nation champion averaged 203.1 yards rushing per game.
What helps define "Notre Dame football" that Denbrock speaks of? One is if the running game dips under that 200 mark, the program doesn't seem quite the same. The rushing figures at Notre Dame often reveal the trajectory or success of the football program.
Joe Kuharich (1959-62) and Hugh Devore (1963)
Notre Dame was 19-30 during these dark years, and the Irish rushing average was 159.7 yards. (The previous lowest single-season figure it had was 170.8 during the 2-8 campaign in 1956.)
Ara Parseghian (1964-74)
This 11-year Golden Age with a 95-17-4 record and two consensus national titles produced 259.7 yards rushing per game. The lowest was 190.9 in his debut campaign, the only time one of Parseghian team's finished with an average below 200 on the ground.
Dan Devine (1975-80)
Highlighted by the 1977 national title, this regime had an output of 215.9 yards rushing per game. Only once did it finish with less than 200 — and that was Devine's worst season, 7-4 in 1979.
Gerry Faust (1981-85)
During this 30-26-1 run, the only time the Irish finished above 200 was the one time they did win a bowl game, 238.8 yards in 1983. Even with workhorse and then all-time leading rusher Allen Pinkett in the backfield, the Irish averaged a pedestrian 146.9 yards rushing per game during a 7-5 season in 1984 and a relatively modest 164.4 with the 5-6 finish in 1985.
Lou Holtz (1986-96)
This 11-year term mirrored Parseghian's, averaging 251.6 yards per game. The only year the Irish didn't average more than 200 rushing yards was Holtz's first (189.4)
Bob Davie (1997-2001)
His best seasons were the only two in which the Irish finished with more than 200 yards rushing: 212.5 in 1998 when Notre Dame began 9-1 before quarterback Jarious Jackson was injured, and 213.5 during the 9-2 BCS season in 2000, prior to the bowl debacle versus Oregon State.
Ty Willingham (2002-04)
The rushing average dipped to 146.3 yards per game over three seasons, and Willingham was ousted after the third.
Charlie Weis (2005-09)
The run plummeted even more with a measly five-year rushing average of 117.2.
His best season was his first with a 147.1 figure during a 9-3 campaign. It was the only time in history Notre Dame finished in the Associated Press top 10 (No. 9) while averaging less than 190 yards rushing during the regular season. It was in this decade under Willingham and Weis that Notre Dame became labeled as more "finesse" than physical.
Brian Kelly (2010-present)
In Kelly's five 12-game regular seasons with the Fighting Irish, Notre Dame averaged 120.8, 165.8, 202.4, 149.0 and 150.8 rushing yards. Care to guess in which season the regular season record was 12-0? It was the 202.4 mark, which fell to a final 189.4 after a 32-yard effort in the BCS National Championship Game debacle versus Alabama.
Is a 200-yard rushing average the elixir or silver bullet to football prosperity? By itself, no. It takes more: Defense, special teams, passing balance, coaching, recruiting to a system …
But it's not a coincidence that the pattern in the past, present and most likely in the future supports Denbrock's contention that "Notre Dame football" is much more often at its best with rushing excellence.